Ohio State had a battering ram at quarterback last year.
Seemingly every time the Buckeyes needed to get a yard or two to move the chains on third downs, J.T. Barrett either carried the ball or handed it off to Mike Weber or J.K. Dobbins. Even when Weber or Dobbins earned the third-down carries, defenses had to account for Barrett.
Down three points to Michigan in overtime in 2016, Ohio State faced a 4th-and-1 situation. It didn't take any creativity or out-of-the-box thinking. Everyone knew Urban Meyer would call for the inside zone, which is exactly what he did – and it worked, per usual.
"Used to be, when the dual-threat stuff – I don't want to say it was automatic, but it was pretty good," Urban Meyer said at a press conference Monday.
Without Barrett, he no longer has the luxury of relying on what came to be a nearly assured first down in short-yardage situations. Dwayne Haskins has 21 rushes for 43 yards in six games, and he's not a particularly fast or powerful runner.
It's an uncomfortable position for Meyer, one he's still working through.
"3rd-and-1 is tough right now. That's another weakness," Meyer said. "So a weakness right now is balance on offense and those short-yardage. We had a couple of close ones Saturday. And there's a time you're going to have to throw it and we have. But there might be more times to throw that."
Indiana stuffed Dobbins for no gain on 3rd-and-1 midway through the third quarter of Saturday's game. Meyer opted to go for it on 4th-and-1, but the Hoosiers once again stuffed Dobbins at the line of scrimmage and got the ball on their 42-yard line.
After a few weeks of multiple Ohio State offensive linemen being named champions, which is given to players who have outstanding efforts, no offensive linemen were honored as champions for their performances against Indiana. Meyer said the execution in the run game, from both players and coaches, must improve.
"This week (the offensive line) didn't play particularly well," Meyer said. "So we gotta get back to – I think protection was very good. We've got to get back to the word 'balance.' We've been saying that and we're going to work again this week at that."
Though Meyer views 3rd-and-1 situations as a weakness, it's certainly not a debilitating issue.
The Buckeyes converted first downs on all four of their other third or fourth downs with three or fewer yards required to move the chains in Saturday's game. Weber and Dobbins each rushed for first downs on 4th-and-1 situations. Dobbins also converted a 3rd-and-1 with a three-yard rush, and Haskins hit Binjimen Victor on 3rd-and-2 for a 13-yard pass that continued a drive.
This season, Ohio State has converted 19 of 26 first downs with Haskins in the game when facing third- or fourth-and-short situations. The Buckeyes have converted first downs on 50 percent of their third downs, the 10th-best rate in the nation and the best in the Big Ten.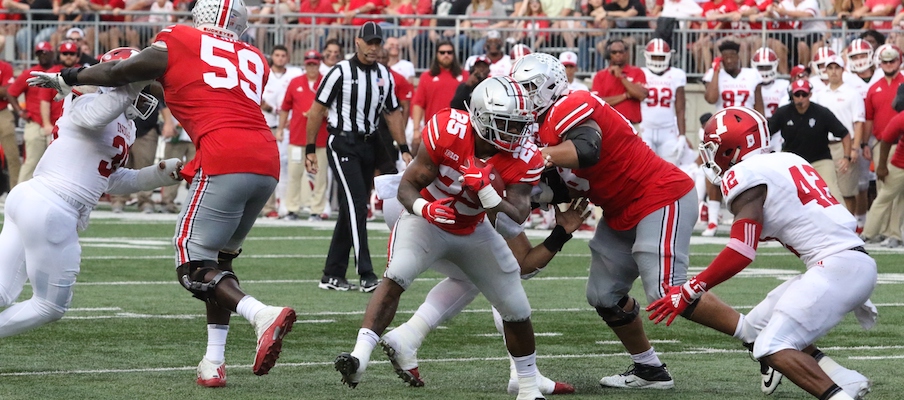 Of the 19 short-yardage conversions, 15 came on the ground. Dobbins rushed for eight of the conversions, while Weber carried the ball on seven of them. Dobbins has averaged 3.8 yards per carry on his conversions, and Weber averages 6.6 yards per rush when converting the third and fourth downs in those situations.
Haskins has completed four passes to four different players – K.J. Hill, Binjimen Victor, Austin Mack and Weber – to convert first downs on third- and fourth- and short.
When a quarterback isn't a threat to run, Meyer said, defenses "plus you by two," meaning they don't have to account for him when defending runs. That leads to more passes in short-yardage situations, and it's an option Ohio State has kept open.
"We had one last week where we were short yardage and we threw a little out cut and got the first down," Meyer said. "We just have to be willing to do that."
Of the seven failures to convert first downs, three came when Dobbins could not gain the necessary yardage.
Haskins was sacked on a scramble attempt on 3rd-and-3 against Tulane and rushed for no gain on fourth down against Penn State. He also threw an incompletion to Austin Mack on 3rd-and-goal against TCU and did not complete a pass to Terry McLaurin on 3rd-and-3 against the Nittany Lions.
In the past, Meyer has used specific quarterbacks – including Tim Tebow and Barrett – only in red zone and short-yardage situations. He didn't rule out using Tate Martell in that situation, and said the coaching staff continues to have that conversation.
"Tate's a very dynamic player," Meyer said. "Those are questions we have every two hours."
Martell hasn't played a meaningful snap in a non-blowout game this season, but he has dynamic speed and elusiveness that has led to him averaging 6.7 yards per carry. Meyer might not want to risk him to injury, though, with true freshman Matthew Baldwin and graduate transfer Chris Chugunov being the only other scholarship quarterbacks on the roster.
Plus, bringing him in on third downs could mess with the offense's high pace if he would sub out and Haskins would have to run back in from the sideline. Either way, he's not the fullback-like runner Barrett offered the offense last season, and did not convert his only rush on 3rd-and-short this season.