The Indiana Hoosiers, for the second consecutive year, hung around a bit longer than everyone thought.
I guess history does repeat itself. 
13 months after going into halftime losing to Indiana, Ohio State was again down in the second quarter. The Buckeyes proceeded to turn it up and went on a 34-9 run to end the game, beating the Hoosiers 49-26. 
In this edition of Inside the Box, we'll discuss another big day from Haskins, the Buckeyes' awful rushing attack, more issues in the back four of the defense, and how Ohio State's well-rounded roster helped them remain undefeated. 
Haskins Had Another Huge Day
Midway through the season, Dwayne Haskins' first year leading the offense is projected to be historic. Ohio State had unlimited success through the air against Indiana as Haskins tossed for 455 yards, a new career high and just three yards short of the Buckeyes' single-game high. 
Not only is the redshirt sophomore on pace to break Ohio State's single-season passing record, but Haskins could also end up having one of the most prolific seasons in conference history. The signal-caller is currently sitting at 1,919 yards through six games, putting him at a projected 3,838 for a 12-game season. This mark would be within 200 yards of Curtis Painter's 2006 standard (3,985 yards).
If his yards were not enough, Haskins' insane touchdown numbers will surely help etch his name into the record books. With 25 scores through the air in just six games (!), the Heisman candidate is on pace to smash Drew Brees' current Big Ten standard of 39 touchdowns passes in a single season.
Comparing Haskins' first six games to J.T. Barrett's output in his final year at Ohio State, where it felt that new records were being broken on a daily basis, one would be hard-pressed to find the better player.  

Some could argue that the play of backups can alter the final stats of the quarterbacks, but the difference between them is marginal at best. Haskins' backups have directly influenced 46 plays from scrimmage (pass or rush attempt) where Barrett's backups took control for 55 plays while having played in an additional game.
J.T. Barrett is undeniably one of the greatest talents Ohio State has ever seen, but Dwayne Haskins is proving to be something special.
Continuing, Ohio State revitalized their downfield passing against Indiana. The Buckeyes added two touchdowns of 20+ air yards against the Hoosiers, including this beautiful pass to Bin Victor.
This haul was something else.pic.twitter.com/jFMWmuhfvJ

— Eleven Warriors (@11W) October 6, 2018
A week after throwing for just 58 air yards, Ohio State proved they can still take the top off of a team when they try to stuff the box. 
After a Strong Start, the Buckeyes' Rushing Attack is Now a Weak Point
In the last three games, Ohio State has put together one of the worst rushing performances in recent memory.
There is no excuse as to why the Ohio State University can only put up 154 rushing yards on 48 carries. The Buckeyes' yards per carry (YPC) average has regressed each week, culminating in a miserable 3.2 YPC outing against the Hoosiers. Ohio State's 3.5 YPC since Week Four is the 27th worst in the nation.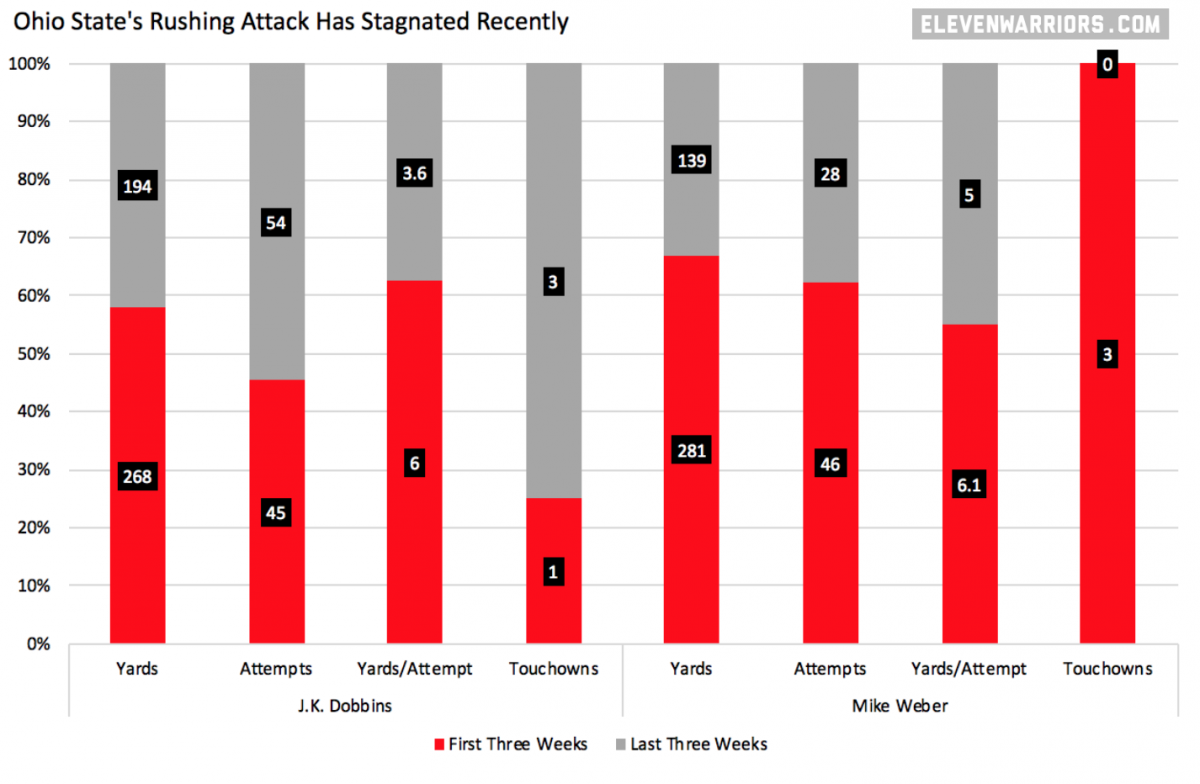 Dobbins' performance is disappointing as he has struggled to get anything going recently. The running back duo combined for 183 yards per game in the first three weeks but have slowed to just 111 per contest in the last three.
The Bucks have run the ball on 49.70% of their plays in the past three games, but have gained just 27.09% of their total yards on the ground. Florida State is the only FBS school with a worse rushing yards percentage with an equal or greater run play percentage.
This number can be skewed by Haskins' huge passing numbers, but it is clear that the Buckeyes have not been able to control the line of scrimmage recently. The inability to get consistent yardage on the ground is troubling to say the least.
The Back Four Needs A Leader
In recent years, Ohio State has been dubbed DBU thanks to the outstanding play of Tyvis Powell, Malik Hooker, Denzel Ward, and many more.
That title may be stripped away this year.
Ohio State's secondary continued their bad, no-good play on Saturday, allowing Peyton Ramsey to throw for over 300 yards. It was the second time this year the Bucks have allowed 300+ passing yards and the first time that they allowed two 100+ yard receivers. Indiana had four passes of 30+ yards and added to continue Ohio State's troubles with big plays.
It is unrealistic to expect OSU to churn out another 20+ interception year as it did in 2016, but last year's 14-pick mark seemed achievable at the beginning of the year. Instead, the Buckeyes have managed four interceptions on the year with only half of those coming from the secondary.
Ohio State's Secondary Has Fallen Off of a Cliff

| Team | Interceptions | Interceptions/Game (Rank) | Pass Yards/Game Allowed (Rank) | Passer Rating Allowed (Rank) |
| --- | --- | --- | --- | --- |
| 2016 | 21 | 1.6 (4) | 172.2 (6) | 94.2 (2) |
| 2017 | 14 | 0.9 (51) | 195.9 (27) | 112.6 (10) |
| 2018 | 8 (Projected) | 0.7 (74) | 222.2 (53) | 121.1 (35) |
This secondary is unlikely to have the loaded first round talent of the 2016 unit and lacks a true lockdown corner like the 2017 squad had, but no player has proven to be anywhere close to elite in pass coverage this year. Even Jordan Fuller, one of the most valuable players for the Buckeyes, has only recorded three pass-breakups on the year (as many as Pete Werner had against Indiana).
There is still half of a season to play and a number of opponents to fix their issues, but until then, let's hope that someone in the secondary steps up.
Ohio State Did not Play a Complete Game but are Getting Closer
The Buckeyes' running attack and secondary have looked bad as of late, but luckily, football is a team game. And Ohio State is better than almost everyone else in the nation.
While the ballcarriers gained just 3.2 YPC on Saturday, Haskins was able to gain over 10 yards a pass attempt. While the defense surrendered over 400 yards of total offense to the Hoosiers, the offense still out-gained them by 200+ yards and held the ball for thirteen more minutes. It is almost as if the two units played off each other, stepping up as necessary to ensure an exciting homecoming game for the over 100,000 fans in the Shoe.
The Buckeyes Dominated the Box Score

|                                Metric | Ohio State | Indiana |
| --- | --- | --- |
| Total Yards | 609 | 406 |
| Turnovers | 3 | 2 |
| Time of Possession | 36:42 | 23:18 |
| Third Down (Converted - Attempted) | 8 - 16 | 3 - 14 |
Indiana led in a number of categories but could not put it all together, eventually succumbing in Columbus to a superior team. 
Ohio State has still failed to put together a complete game, but as long as the team can continue to work off of each other, the Bucks should be able to cruise into November.