Ohio State's recruiting class of 2017 is entering a pivotal season.
Those Buckeyes are entering their third season in Columbus, which means they're expected to be ready to play significant roles for Ohio State if they haven't already. Each of them now have two years as Ohio State players under their belts, and by the end of the upcoming season, all of them will be on the back end of their careers while some of them will have decisions to make about whether it's time to go to the NFL.
With that in mind, Eleven Warriors is taking an individual look this offseason at each of Ohio State's third-year players – some of who are now classified as true juniors while others are redshirt sophomores – and the expectations that preceded their Ohio State careers, how they have performed in their first two seasons as Buckeyes and the outlook for the remainder of their careers.
After taking a look at Chase Young, Ohio State's top-rated recruit in the class of 2017, in the first installment of the Third-Year Reset, our second installment brings us to the other top-10 prospect in 247Sports' composite recruiting rankings who signed with the Buckeyes: cornerback Jeffrey Okudah.
Projected to be Ohio State's next great cornerback from the time he arrived in Columbus, Okudah's role has steadily increased over the course of his first two seasons as a Buckeye and now, he looks as though he should be ready to live up to the hype.
Third-Year Reset
Before He Became a Buckeye
A star on both sides of the ball at South Grand Prairie, Okudah was not only a lockdown cornerback in high school, but also lined up at running back and wide receiver – gaining 795 total offensive yards in his senior season for the Warriors – and returned kickoffs.
Okudah was ranked as the No. 8 overall prospect and the No. 1 cornerback prospect in the recruiting class of 2017. He was one of five Texas natives in the Buckeyes' class of 2017, along with Baron Browning and J.K. Dobbins – both also top-50 overall recruits – as well as Ellijah Gardiner and junior college transfer Kendall Sheffield.
He proved his elite athleticism while competing at The Opening finals in 2016, recording the second-highest Nike Football Rating among all prospects in attendance, behind only Dobbins.
Career to Date
Okudah immediately earned playing time in Ohio State's cornerback rotation as a true freshman in 2017, appearing in all 14 of the Buckeyes' games and playing defensive snaps in 10 of them, all the while also emerging as a regular on several special teams units.
He finished his freshman season with 17 total tackles and one pass breakup. While he was the fourth cornerback for most of the year, he played a season-high 62 snaps in the season-ending Cotton Bowl against USC, which Denzel Ward sat out to preserve his health for the NFL draft.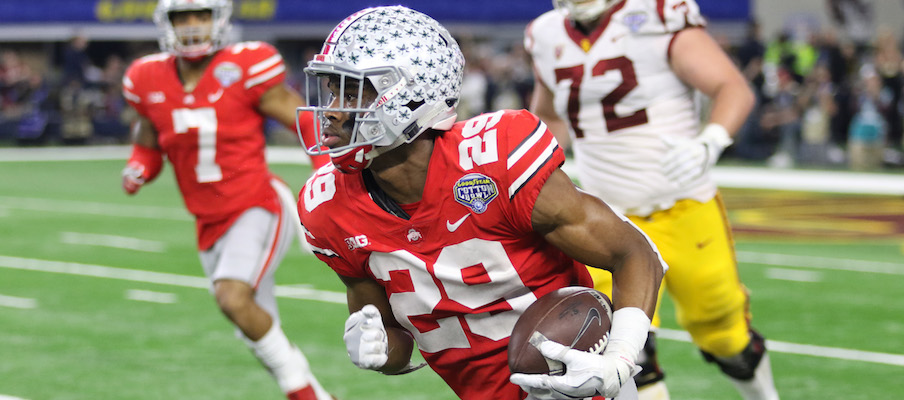 Okudah continued in that role as the third man in the Buckeyes' outside cornerback rotation last season. While he only actually made one start in the secondary in 2018, he saw substantial playing time throughout the year, finishing with 570 total defensive snaps.
For the season as a whole, Okudah recorded 32 total tackles with eight pass breakups. He saved his best game of the season for last, recording five tackles and two pass breakups – including a touchdown-saving shoestring tackle – in a spectacular performance against Washington in the Rose Bowl.
Okudah had some inconsistent play and issues with penalties, as just about all of Ohio State's defensive backs did last season, but for the most part, he was effective in coverage. According to Pro Football Focus, Okudah allowed catches on only 37.5 percent of the throws he was targeted on last season, the best rate among all returning Big Ten cornerbacks who played at least 200 snaps in 2018.
He also continued to see regular playing time on special teams as a punt gunner, where he paired with Terry McLaurin to provide elite-level coverage in that area.
Third-Year Outlook
Expectations have been high for Okudah throughout his entire career – with many people believing he already should have seen more playing time for the past two seasons – but his strong finish to his sophomore season ensured that those expectations will be higher than ever going into his junior year.
Okudah is a lock to start at outside cornerback for the Buckeyes this year and should play a vast majority of Ohio State's defensive snaps as long as he is healthy. It's unclear whether new secondary coach Jeff Hafley will rotate his cornerbacks regularly, but Okudah and Damon Arnette – perhaps especially Okudah – are in line to be on the field far more often than not.
At 6-foot-1 and 200 pounds with excellent length and speed, Okudah has the tools and has flashed the ability to emerge as one of college football's best cornerbacks. He's made steady improvement over the course of his first two years in Columbus, and the tutelage of Hafley – who spent the last seven years coaching NFL defensive backs – could be what he needs to take the next step in his progress.
"My goal is just to get 1 percent better every single week," Okudah said this spring. "I feel like I did a good job of just getting 1 percent better every week (last season), and hope I can take that into this next year."
In order to establish himself as one of the nation's best players at his position, Okudah needs to prove he can create takeaways – he doesn't yet have an interception in his Ohio State career – though if he plays up to his potential, opponents might avoid throwing the ball his way as much as they can help it.
As Ohio State's defense looks to take a leap forward after being plagued by mistakes and giving up big plays throughout last season, Okudah's ability to blossom into the consistent shutdown cornerback he has the upside to be would go a long way toward making that happen.
He'll likely to continue to be one of the Buckeyes' lead punt gunners, too. He excels in that capacity, and new special teams coordinator and assistant secondary coach Matt Barnes said Ohio State will continue to utilize its best players on special teams this season.
Beyond 2019
If Okudah performs up to expectations in his junior season, there's a real chance he could become the sixth Ohio State cornerback in seven years to be selected in the first round of the NFL draft.
Okudah will have a decision to make after this season about whether to go pro or stay at Ohio State for one more year, but he's been viewed as a potential early NFL draft entrant since before his collegiate career even began, and he's been projected as a first-rounder in some early 2020 mock drafts.
Those projections are based on the hope that Okudah can consistently play throughout his junior season at the same level at which he played in the final game of last season, but it wouldn't be the first time in recent history that one great year propelled an Ohio State cornerback to top draft status. Ward was only a starter for one year before he was the No. 4 overall pick in the 2018 NFL draft, and Marshon Lattimore only started for one year before he was the No. 11 overall pick in the 2017 NFL draft.
Ohio State would certainly love to have Okudah for two more years, but the best-case scenario for everyone would be for him to play at a level that gives him an easy decision to go pro as a top draft prospect.