Ohio State's recruiting class of 2017 is entering a pivotal season.
Those Buckeyes are entering their third season in Columbus, which means they're expected to be ready to play significant roles for Ohio State if they haven't already. Each of them now have two years as Ohio State players under their belts, and by the end of the upcoming season, all of them will be on the back end of their careers while some of them will have decisions to make about whether it's time to go to the NFL.
With that in mind, Eleven Warriors is taking an individual look this offseason at each of Ohio State's third-year players – in descending order of their 247Sports composite recruiting rankings – and the expectations that preceded their Ohio State careers, how they have performed in their first two seasons as Buckeyes and the outlook for the remainder of their careers.
The sixth installment of the Third-Year Reset brings us to running back J.K. Dobbins, who immediately emerged as the first star of the 2017 class as a true freshman and enters his third season at Ohio State as one of the Buckeyes' most prominent and important players.
Third-Year Reset
Before He Became a Buckeye
As a sophomore and a junior at La Grange High School, J.K. Dobbins was one of the most productive running backs in the entire state of Texas. He rushed for 2,243 yards and 37 touchdowns in 2014 and 2,750 yards and 35 touchdowns in 2015.
In the summer before his senior year, Dobbins was the Nike Football Rating Champion at The Opening, posting a 4.45-second 40-yard dash, 4.09-second 20-yard shuttle, 43.1-inch vertical jump and 42-foot powerball throw for the best performance among all participants.
Dobbins suffered an ankle injury on the first play of his senior season at La Grange that knocked him out for the rest of the year. Even with that injury, Dobbins finished as the No. 46 overall prospect in 247Sports' composite rankings for the class of 2017.
He was one of five prospects from the state of Texas in Ohio State's recruiting class of 2017, along with five-stars Jeffrey Okudah and Baron Browning, three-star wide receiver Ellijah Gardiner and junior college transfer Kendall Sheffield.
Career to Date
Dobbins became an instant star for the Buckeyes in their 2017 season opener at Indiana. Filling in for an injured Mike Weber, Dobbins became just the sixth true freshman to start a season opener in Ohio State history and ran for 181 yards – the most ever by a freshman in his Ohio State debut – in the Buckeyes' win over the Hoosiers.
That performance established Dobbins as Ohio State's new starting running back, and he went on to rush for 1,403 yards for the 2017 season – also a new record for an Ohio State freshman. He was named as a Freshman All-American by ESPN and also received second-team All-Big Ten recognition.
Dobbins led Ohio State in rushing once again last season, becoming the first back in Ohio State history to ever rush for 1,000 yards in both his freshman and sophomore seasons, with 1,053 yards and 10 touchdowns.
His yards per carry, however, dropped from 7.2 in 2017 to just 4.6 in 2018. While Dobbins earned second-team All-Big Ten honors once again last season, his dip in production came as a disappointment after he entered the season as one of the nation's most hyped running backs.
Dobbins acknowledges that last season was a "down year" for him, and said he realized a "need to get back to the basics" this offseason as he looks to return to his freshman-year form. Running backs coach Tony Alford agreed with that assessment and felt that Dobbins didn't practice quite as well last season as he did in his first season.
"I thought that when J.K. got here, he was so hungry and wanted to take every single rep," Alford said this spring. "But then he had a little bit of success. We spoke about it. In some regards, it was kind of like he had arrived, and he hadn't.
"He admitted it," Alford continued. "J.K.'s a very mature, young guy, and he said, 'You're right, I need to do a better job here, and help me.'"
Nonetheless, Dobbins' second consecutive 1,000-yard season was enough to move him up to 19th in career rushing yards (2,456) and 18th in yards from scrimmage (2,854) in Ohio State history, setting him up to potentially be one of Ohio State's most productive running backs ever by the end of his junior year.
Third-Year Outlook
Even though his performance took a step back last season, there's plenty of reason to be confident that 2019 will be Dobbins' biggest season yet.
While he split carries for the past two seasons with Weber, who is now in the NFL with the Dallas Cowboys, Dobbins is in line to be the clear-cut feature back this season. Ohio State won't want to wear Dobbins out, so it's likely he'll still be spelled regularly by Master Teague and/or Demario McCall, but he's expected to receive a clear majority of carries and will almost certainly be the back who Ohio State relies upon in key game situations this year.
Ohio State's offense became much more pass-oriented last season with Dwayne Haskins at quarterback, and that had an adverse effect on the running backs. While J.T. Barrett forced defenses to account for his ability to run the ball, Haskins did not offer the same threat. The improved passing game more than made up for that for the offense as a whole, but it did allow defenses to key in on Dobbins and stop him short much more frequently on running plays.
This year, however, the Buckeyes are set to have a dynamic running threat at the quarterback position once again in Justin Fields, which could open up more running lanes for Dobbins.
Perhaps most importantly, Dobbins believes his regression last season has reminded me how hard he has to work to be great this season, and Alford liked what he saw from Dobbins' practice effort this spring.
"He's practicing like he did when he was a true freshman, which is exactly what I wanted," Alford said.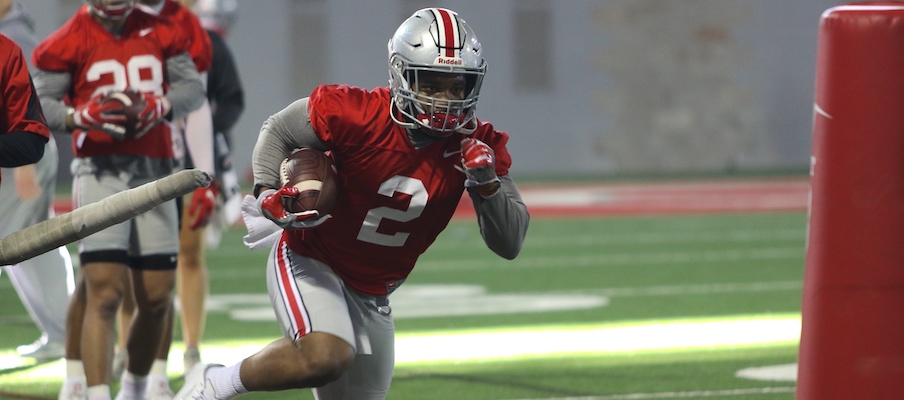 A strong, well-built runner with an explosive burst and a signature jump-cut, Dobbins has shown he has the ability to be an elite running back. Given the inexperience of Fields, who has only been at Ohio State since January and did not start any games in his lone season at Georgia, Ohio State will likely lean heavily on Dobbins – especially early in the season – which gives him a chance to rack up huge numbers if he gets hot.
Dobbins has a chance to join two-time Heisman Trophy winner Archie Griffin and become just the second running back in Ohio State history to rush for 1,000 yards in three seasons. Griffin is also the only Buckeye to ever rush for more than 4,000 career yards (with a whopping 5,589), so a move up the record books to as high as second on Ohio State's all-time rushing yards list is within Dobbins' grasp.
Dobbins is aware of his potential to establish himself as one of the most productive running backs in Ohio State history, and he's motivated to make that happen.
"I just want to be legendary," Dobbins said this spring. "I want to be like Ezekiel Elliott and Archie Griffin and guys like that. Write my name in stone."
Beyond 2019
If Dobbins wants to make a run at Griffin's all-time records at Ohio State, he'll need to stay at Ohio State for both his junior and senior seasons. It's probably more likely, though, that the 2019 season will be his last season as a Buckeye.
Dobbins has already established himself as a potential early-round NFL draft pick with his production in his first two seasons at Ohio State, and if he can perform up to his ability and take advantage of his status as the Buckeyes' clear-cut lead running back to have his best season yet this fall, he could even end up being a first-round pick in the 2020 NFL draft.
It's not uncommon for NFL-caliber running backs to go pro after just three years in college, and Dobbins is already uncommonly experienced and proven for a running back entering his third season at a major college program. Dobbins has already received education pertaining to the decision he will have to make after this season, too, as he attended the NCAA's Elite Student-Athlete Symposium for potential NFL prospects alongside fellow rising junior Chase Young in March.
Dobbins has been projected as a first-round pick in some early 2020 mock drafts, and if he performs well in 2019, there might not be much room for his draft stock to grow by returning to Ohio State for one more year.
It's possible Dobbins could be swayed to stay for his senior season if he wants to finish his career with truly historic numbers or finishes this year with unmet goals, but Ohio State should prepare for the likelihood that this season will be Dobbins' last season in scarlet and gray – and hope he performs well enough to leave no doubt that he's ready for the next level.