Ohio State's recruiting class of 2017 is entering a pivotal season.
Those Buckeyes are entering their third season in Columbus, which means they're expected to be ready to play significant roles for Ohio State if they haven't already. Each of them now have two years as Ohio State players under their belts, and by the end of the upcoming season, all of them will be on the back end of their careers while some of them will have decisions to make about whether it's time to go to the NFL.
With that in mind, Eleven Warriors is taking an individual look this offseason at each of Ohio State's third-year players – in descending order of their 247Sports composite recruiting rankings – and the expectations that preceded their Ohio State careers, how they have performed in their first two seasons as Buckeyes and the outlook for the remainder of their careers.
The third installment of the Third-Year Reset brings us to Baron Browning, who arrived at Ohio State as the nation's top linebacker recruit but still has a lot to prove entering his third season as a Buckeye.
Third-Year Reset
Before He Became a Buckeye
Browning was a dominant force for the Kennedale Warriors, earning state defensive player of the year honors for Texas' third-largest high school football classification in his senior season after recording 75 total tackles with 10 tackles for loss, 10 pass breakups, four forced fumbles and two fumble returns for touchdowns. He helped lead Kennedale to its first-ever berth in the Texas 4A state semifinals and was a finalist for the high school Butkus Award, which honors the nation's best linebacker.
An elite athlete who finished with the second-best score among all linebackers at the 2016 finals of The Opening, Browning was ranked as the No. 11 prospect across all positions for the class of 2017.
Browning was one of five Texas natives in the Buckeyes' recruiting class of 2017, along with fellow five-star recruit Jeffrey Okudah, running back J.K. Dobbins, wide receiver Ellijah Gardiner and junior college transfer Kendall Sheffield.
Career to Date
As a true freshman in 2017, Browning appeared in 13 of Ohio State's 14 games but only played 95 total defensive snaps, primarily in the second half of lopsided wins. Although he was an early enrollee, Browning missed the majority of his first spring and summer while recovering from a shoulder injury, and was behind Chris Worley and Tuf Borland on the middle linebacker depth chart. His only consistent playing time in his first season as a Buckeye came as a member of the kickoff coverage unit.
Browning began the spring of 2018 cross-training between both middle and outside linebacker, setting him up to potentially earn an open starting spot outside. After Tuf Borland injured his Achilles that spring, however, Browning moved back inside.
Browning started the first two games of last season while Borland was eased back into the lineup, and continued to rotate in at the middle linebacker position throughout the season, but never played more than 40 snaps in any game. Browning played over Borland as the middle linebacker in the 3-3-5 defense and played in some two-linebacker nickel packages as well, but his share of snaps in the base defense dwindled in the second half of the season, while he also missed two games due to injury.
In total, Browning has recorded 37 total tackles with five tackles for loss through his first two seasons as a Buckeye.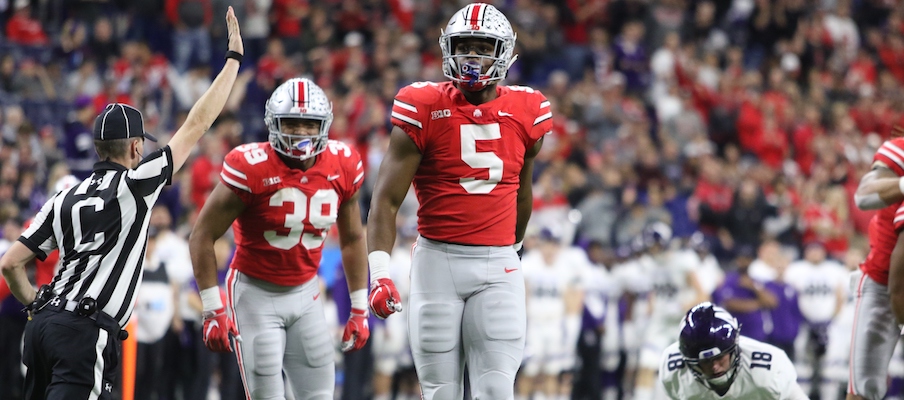 Given that he arrived at Ohio State as the program's highest-rated linebacker recruit since 247Sports began its composite ranking system in 2000, Browning's first two years as a Buckeye can be considered underwhelming. He was expected to make an immediate impact as a true freshman and emerge as a difference-maker by his sophomore season, but so far, his Ohio State career to date has been forgettable.
He still has the time and potential, though, to change that.
Third-Year Outlook
While Browning hasn't yet performed up to the hype he came into Ohio State with, there are several factors to take into account that have held him back to some degree.
Because Browning hasn't yet consistently played in a starting capacity, it's fair to question whether he's truly had the opportunity to show what he's capable of. All of Ohio State's linebackers had their share of struggles during Bill Davis' two years coaching the position for the Buckeyes, so it's fair to question the quality of coaching he's received so far in his collegiate career. He's had to battle through his share of injuries, too, which have put speed bumps in his development.
That said, 2019 could be a make-or-break year for Browning's Ohio State career, as his chance to become a star for the Buckeyes defense could be now or never.
With a new linebackers coach in Al Washington and two new co-defensive coordinators in Greg Mattison and Jeff Hafley, Browning enters 2019 with a clean slate and a chance to earn the starting middle linebacker job, even with Borland back as a returning starter from last year. He also faces competition for that starting job, however, from sophomore Teradja Mitchell, who is a threat to surpass him on the depth chart even though he is a year younger.
Borland missed the end of this spring with a knee injury, which meant Browning took the majority of snaps at middle linebacker with the first-team defense, including in the spring game. But that competition is set to continue into preseason camp, and all three linebackers still have a chance to potentially seize the job.
Browning has all the physical tools to be a great linebacker, but he still has to prove it on the field, and Borland is regarded as one of the team's best leaders while Mitchell made a big impression on his coaches with his development this spring. That makes it possible that Browning could enter the season anywhere from first on the middle linebacker depth chart to third.
Washington didn't commit to anything when asked this spring about how the depth chart could stack up or how playing time would be divided up among the linebackers, but he did say he was pleased with Browning's effort and football IQ.
"He is a smart, smart player, and really talented," Washington said of Browning. "He'll be waiting in my office every day. He's worked his tail off, man. Really has. I'm not just saying that."
Ohio State's new coaches are cross-training their inside linebackers to be able to play at both the Mike and Will linebacker positions, so it's possible Browning could see some playing time at the weakside spot as well, though Malik Harrison is in line to start there. Regardless of who starts at middle linebacker, Browning is the likely frontrunner to play that position in nickel packages, as he's the best athlete and pass defender of the three who are competing to start there.
Regardless of whether Browning enters the season as the starter, he could potentially earn his way into that role by making plays whenever he does get on the field, and it wouldn't be a huge surprise to see him emerge as a breakout player for Ohio State's defense this year.
At this point, though, it's still hard to forecast how big of a role Browning will play in his junior season and what kind of impact he will make.
Beyond 2019
When Browning was recruited to Ohio State as a five-star prospect, it certainly seemed like a very real possibility – if not a likely scenario – that he would leave early for the NFL after just three years, having already established himself as a star for the Buckeyes and a top pro prospect.
After two quiet seasons to start his career, Browning would need to have a big junior season to emerge as an early-round pick for the 2020 NFL draft.
That could still happen, but he needs to establish himself as a consistent playmaker on Ohio State's defense first before any legitimate conversation about going pro can be had.
If Browning doesn't start at middle linebacker this season, he could potentially be in line for a move to weakside linebacker – which some have theorized would be his best position, anyway – in 2020, when Harrison will have moved on to the NFL himself. Current sophomore Dallas Gant is already pushing for playing time, though, and looks like the probable next man up at that spot.
Borland and Mitchell are also slated to still be on the roster at middle linebacker in 2020.
That's why Browning's best opportunity to emerge as the five-star linebacker he has the talent to be is right now, and it's possible that opportunity could pass him by if it doesn't happen this year.
If Browning emerges as a star for Ohio State's defense this season, the Buckeyes will certainly hope to keep him around for his senior year. If he doesn't earn considerable playing time for the Buckeyes in 2019, however, there's no guarantee that will change in 2020.