Ohio State's recruiting class of 2017 is entering a pivotal season.
Those Buckeyes are entering their third season in Columbus, which means they're expected to be ready to play significant roles for Ohio State if they haven't already. Each of them now have two years as Ohio State players under their belts, and by the end of the upcoming season, all of them will be on the back end of their careers while some of them will have decisions to make about whether it's time to go to the NFL.
With that in mind, Eleven Warriors is taking an individual look this offseason at each of Ohio State's third-year players – in descending order of their 247Sports composite recruiting rankings – and the expectations that preceded their Ohio State careers, how they have performed in their first two seasons as Buckeyes and the outlook for the remainder of their careers.
Third-Year Reset
The 14th installment of the Third-Year Reset brings us to Jerron Cage, who arrived at Ohio State as a four-star defensive tackle but remains buried on the Buckeyes' depth chart at the position entering his redshirt sophomore season.
Before He Became a Buckeye
Cage was a three-year starter on the defensive line at Cincinnati's Winton Woods High School, where he earned Division II first-team All-Ohio honors in each of his final two seasons. He was named the Southwest District defensive player of the year after his junior season, in which he recorded 48 tackles with 10 sacks. He followed that up with a whopping 81 tackles while playing both defensive tackle and defensive end as a senior. 
He finished his high school career with 43 tackles for loss and 24 sacks.
Cage was ranked as the 10th-best prospect in the state of Ohio, 14th-best defensive tackle and No. 235 overall prospect in the recruiting class of 2017. He was one of two defensive tackles, along with Haskell Garrett, and seven Ohio natives (Josh Myers, Brendon White, Jaylen Harris, Marcus Williamson, Amir Riep, Thayer Munford) in the class of 2017.
Career to Date
Cage did not see any playing time as a true freshman in 2017. As a redshirt freshman last year, he appeared in just three games – early-season blowout wins over Oregon State, Rutgers and Tulane – for a total of 17 snaps.
Ohio State has been loaded with depth at the defensive tackle position for the past two years, and that's kept Cage off the field. 
While he likely would have redshirted regardless in 2017, when the new rule allowing players to participate in up to four games and still redshirt was not yet in effect, he was a fourth-string defensive tackle on the Buckeyes' depth chart last year. With Dre'Mont Jones, Haskell Garrett and Taron Vincent leading the way at the 3-technique position and Robert Landers, Davon Hamilton and Tommy Togiai leading the way at nose tackle, there was no room for Cage in the rotation.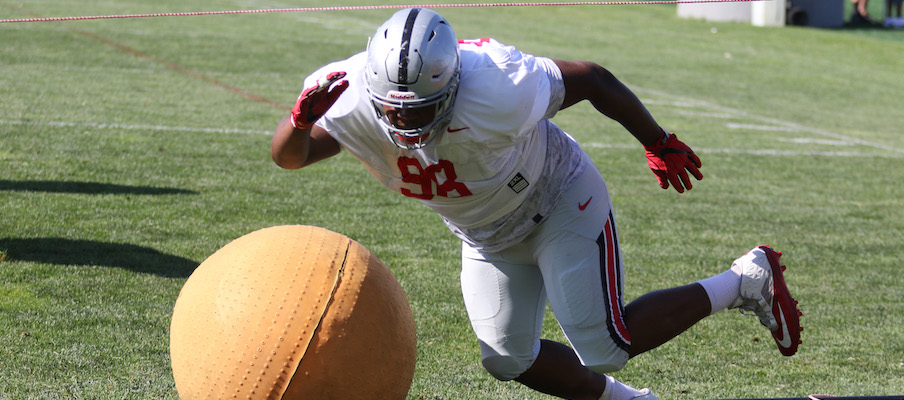 Third-Year Outlook
In order to earn regular playing time on Ohio State's defensive line, Cage needs to earn his way into the three-deep at one of the Buckeyes' two defensive tackle spots, and he's going to have to beat out a returning veteran to make that happen.
Jones is the only defensive tackle from last year's rotation who is not still on the team this year, and Jashon Cornell has moved back inside – after playing defensive end for one year – to take his place in the 3-technique rotation. That leaves Cage as the fourth-team 3-technique tackle entering preseason camp.
With Antwuan Jackson also stuck on the fourth row of the depth chart at nose tackle, Ohio State defensive line coach Larry Johnson could potentially expand his rotation to four groups at defensive tackle in order to get all eight of the Buckeyes' veteran scholarship players at the position on the field.
"You can never have too many," Johnson said. "I've never felt that we have too many. We've got a plan to play those guys. They're all going to play."
Realistically, though, it's unlikely that the fourth-team defensive tackles will be called upon to play more than a few snaps except in lopsided games. That means Cage will need to have a big preseason camp, and demonstrate that he belongs higher on the depth chart, in order to become a more substantial contributor on Ohio State's defense.
All the talent in front of him at defensive tackle means Cage still faces an uphill battle to playing a bigger role in 2019.
Beyond 2019
While Cage doesn't have a clear path to a higher spot on the depth chart this year, he should have a better opportunity to earn significant playing time in 2020. Cornell, Landers and Hamilton are all seniors this year, so there will be open spots in the defensive tackle rotation alongside Togiai, Vincent and Garrett, and current freshman Jaden McKenzie will be the only other returning defensive tackle competing for those spots with Cage and Jackson.
Ohio State has two defensive line commits for the 2020 class who could potentially end up at the 3-technique tackle position in Darrion Henry and Ty Hamilton, but they could also factor in at defensive end. The Buckeyes will also look to add at least one more defensive tackle to their next recruiting class before the end of the cycle, but Johnson prefers to ease freshmen into playing time rather than thrusting them into big roles in the rotation right away.
As of now, Cage appears likely to factor as a third-team defensive tackle behind Garrett, Togiai, Vincent and Jackson in 2020. That's probably not the role he envisions for himself going into what would be his fourth year on the roster, but he should at least have the opportunity to earn semi-regular playing time as a redshirt junior.
Should he see his Ohio State career through to his fifth-year senior season, 2021 could be his best opportunity to compete for a major role in the Buckeyes' defensive tackle rotation, potentially even a starting job depending on his continued development and who else is on the roster at that time.
2019 will be an important year for him, nonetheless, to prove on the practice field that he can be a playmaker on Ohio State's defensive line and make his case for a bigger role in the rotation going forward – even if that role doesn't come this year.