Over the summer, Eleven Warriors is taking a look at the state of every position on the Ohio State football team.
When you think about Ohio State's defensive line, do you think about Chase Young or Larry Johnson first? Either one isn't a bad option, to say the least.
With Young rushing off the edge and Johnson coaching and recruiting at as high a level as ever, the Buckeyes should once again have an impactful defensive line.
The Personnel
Ohio State expects to have 17 scholarship defensive linemen on the team next season.
Robert Landers (RS-Sr.): Though injuries hindered his effectiveness last season and limited his playing time, Landers has a full season of experience starting, and he's expected to once again start at nose tackle in the fall. Undersized at 6-foot-1, 285 pounds, he uses his low center of gravity and quickness to penetrate into the backfield. He has 51 tackles, including 17.5 tackles for loss and two sacks, in 39 career games. He's a native of Dayton.
Davon Hamilton (RS-Sr.): As a fifth-year senior, Hamilton isn't in line to start at nose tackle, but he'll likely play a similar amount of snaps to Landers. At 6-foot-4, 310 pounds, he offers a different style of play in the middle of the defensive line. That has led the Pickerington native to pick up 38 tackles, including 10.5 tackles for loss, in his career. 
Jashon Cornell (RS-Sr.): Though Cornell has spent a sizable chunk of his collegiate career playing defensive end, he moved back inside to play 3-technique when Dre'Mont Jones headed to the NFL. He says he prefers to play defensive tackle and believes he can become a disrupter in the interior. With Jones gone, the Buckeyes need to find a defensive tackle who can live in backfields, and though the former defensive end has just seven tackles for loss and three sacks in his career, he believes he can fill that role. Cornell exited the spring appearing to be the likely starter.
Jonathon Cooper (Sr.): With one season as a starter in the books, Cooper hopes to produce with greater impact and consistency as a senior and second-year starter. He had 2.5 sacks and 6.5 tackles for loss in 2018. The Gahanna native said he isn't disappointed with his career thus far, but he desires to fulfill the potential he held entering the program as a near-five-star prospect. Cooper has been praised for his work ethic by Johnson and could become a team captain. 
Antwuan Jackson Jr. (RS-Jr.): Ohio State recruited Jackson out of high school, but he chose Auburn, which he attended for a year before leaving for Blinn College. He then transferred to Ohio State after becoming the top-ranked junior-college prospect. Jackson played just 24 snaps in four total games last season, and he exited spring camp as the fourth-string nose tackle. With Landers and Hamilton being seniors, Jackson's biggest chance for extended playing time will come in 2020.
Chase Young (Jr.): The best player on the team, and one of the best players in the country. Off the edge, Young can produce in a variety of ways. But his pass-rushing acumen led to him racking up 10.5 sacks as a sophomore. He headed to Columbus as the No. 7 overall recruit in his class, and he has lived up to every expectation. Without Nick Bosa or Dre'Mont Jones, he'll receive the bulk of attention from offenses.
Haskell Garrett (Jr.): Following the 2018 season, Garrett appeared to be the likely candidate to slide into the starting 3-technique spot vacated by Jones. But given Cornell's position switch and Vincent's continued ascendance, he finds himself fighting for playing time. As a former top-75 recruit, Garrett has the potential to turn into an impactful defensive tackle. But he'll have to fight for reps at a suddenly crowded position.
Jerron Cage (RS-So.): In two years, Cage has played just 17 snaps, and he remained in a reserve role even with Ohio State searching for its next 3-technique. The Cincinnati native still remains behind Cornell, Garrett and Taron Vincent on the depth chart. Given Jones' absence, though, there's room for him in a rotation if he makes a jump this summer.
Taron Vincent (So.): The former five-star prospect came off the bench, playing 98 snaps as a true freshman, and he appears to be in line for a larger role as a true sophomore. He had three tackles, including one for a loss, in eight games last season. Like Cornell, Garrett and Cage, he's a possible riser this season with a gaping hole at 3-technique caused by the loss of Jones. Vincent entered the program as the No. 20 overall recruit and the top-ranked defensive tackle in the 2018 recruiting cycle.
Tommy Togiai (So.): Widely regarded as the strongest player on the team at 6-foot-2, 300 pounds, Togiai would start at most colleges in the country, But with Landers and Hamilton back for their fifth-year senior seasons, his playing time will remain capped. However, the Idaho native managed to squeeze his way to 114 snaps as a true freshman – more than Vincent – and will make a push for even more in 2019.
Tyreke Smith (So.): The Cleveland Heights graduate found himself on the Rushmen package early in his freshman season and played more snaps than any other first-year defensive lineman. Though the 6-foot-4, 267-pound edge rusher is still looking for his first sack, he likely won't have to wait too long. With an improved get-off at the line of scrimmage, Smith will push for a starter-level amount of snaps. He might be the Buckeyes' best hope for a consistent pass rusher across from Young.
Tyler Friday (So.): Early in his freshman season, Friday had three games with double-digit snaps. But he never cracked seven snaps in a game after the fourth game of the year. As a likely second-team defensive end, he'll play a larger role in the defensive end rotation. He has an edge on some of the other underclassmen, due to his experience, but he'll have to hold off some of the freshmen who will want his playing time.
Javontae Jean-Baptiste (RS-Fr.): After entering the program weighing only 215 pounds, Jean-Baptiste spent most of his freshman season putting on weight as he transitioned to the collegiate game. He's 6-foot-5, 245 pounds and has a bevy of natural athletic gifts that make him stand out from the pack. But since he didn't play a snap in his first year, he'll likely once again be a reserve. Given his athleticism, Jean-Baptiste could push to play on more passing down.
Alex Williams (RS-Fr.): At 6-foot-7, 270 pounds, size certainly isn't the problem for the Pickerington North graduate. He stands out on the field. However, he didn't play a snap as a true freshman, instead adjusting to the game. Williams was one of the Buckeyes' two lowest rated recruits in their 2018 class, and he needs more time to adjust. Whenever he takes the field for the first time this fall will be his first snaps.
Zach Harrison (Fr.): For a decent chunk of Harrison's recruitment, it appeared that the Olentangy Orange five-star defensive end would end up elsewhere. But instead of playing for Michigan or Penn State, he'll line up on Johnson's defensive front as an edge rusher. Harrison was the No. 12 overall prospect in his class. He has a relatively raw package of technical skills, but his athleticism shines. Ohio State isn't forced to play him much as a freshman, due to its depth, but he'll have a chance to push for a starting spot in 2020.
Noah Potter (Fr.): Both Potter and Harrison enrolled early this spring, getting a chance to jump into the defense sooner. Potter, a Mentor native, was the No. 334 overall prospect in his class. Though he understands Johnson sometimes doesn't play freshman many snaps and realizes the Buckeyes have a deep defensive end rotation, he has expressed a hope to play as much as possible as a true freshman. 
Jaden McKenzie (Fr.): As the only defensive tackle in Ohio State's 2019 recruiting class, McKenzie will almost assuredly redshirt. The No. 766 overall prospect in his class will likely end up at 3-technique, but the Buckeyes already have four players ahead of him on the depth chart. McKenzie is a native of of North Carolina, but Johnson snagged him late in the recruiting cycle.
Ohio State has one defensive line commit.
Jack Sawyer (2021): He became the first 2021 prospect to commit to Ohio State, giving the Buckeyes the best player possible to build their class around. Sawyer is the No. 2 overall prospect in his class and the top-rated defensive end. In a similar manner to some of the other highly ranked edge rushers to commit to Ohio State, he's physically imposing at 6-foot-5 with impressive athleticism and agility for his young age. The Buckeyes will play two seasons before he even steps on campus, but there's reason for fans to be excited about him already.
Outlook In 2019
Every year under Johnson, the Buckeyes put together an impactful front four. And though they have a new head coach and new assistants elsewhere on the defense, with Johnson still in place, they can expect a quality defensive line without much of a drop-off in production.
Young, who hopes to become the first player in program history to record double-digit sacks in two seasons, put together a special 2018 season after being thrust into a larger-than-expected role after Nick Bosa's injury. As a junior, the likely future top-10 NFL draft pick will be the primary focus of opposing offensive lines, especially now that Dre'Mont Jones has headed to the NFL. 
State of the Position
Across from Young, Cooper will start for the second year in a row, but Smith will aid him as an edge rusher. The Buckeyes need someone else to rush the passer consistently, and they'll most likely get the most snaps among the defensive ends across from Young.
With both Landers and Hamilton returning, along with Togiai in his second year, Ohio State has a host of options at nose tackle. Provided everyone stays healthy, which was an issue with Landers, Johnson will be able to rotate them regularly and keep everybody fresh.
Not having Jones impacts the Buckeyes more than anywhere else on the defensive line, but they moved Cornell back inside to help replace him. Right now, Cornell looks like the likely starter in his 3-technique defensive tackle position, but both Vincent and Garrett have a chance to push him for the starting spot.
Ohio State has one of the top defensive linemen in the country in Young, and with so much talent alongside him, Johnson won't be hurting for depth either.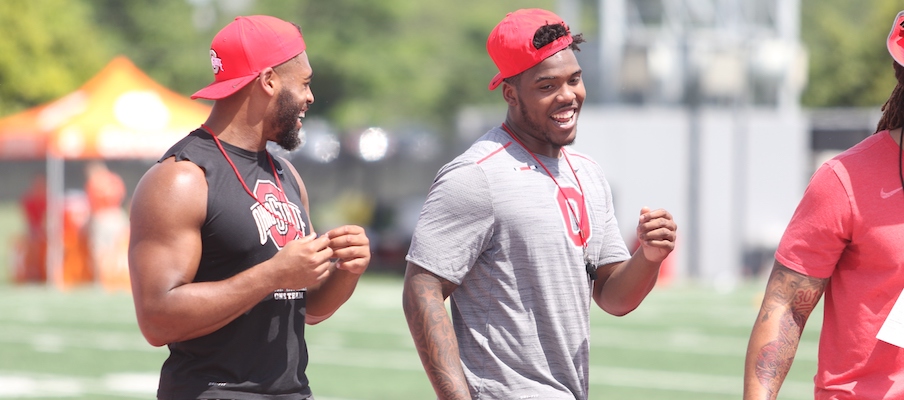 Strengths of the position
Everything positive that has happened up front in Ohio State's defense the past few years has stemmed from Larry Johnson. His combination of recruiting and development places him among the most successful assistant coaches at any position in the country. He has consistently made the defensive line the most feared unit on the defense, despite losing key contributors every season.
Once again, Johnson has positioned his front four to uphold its standard of play, even though Jones and Bosa left for the NFL. Young rightly gets most of the headlines, but the unit's depth can't be overlooked either.
Young picked up 10.5 sacks in his first season as a starter. The 6-foot-5, 265-pound physical specimen both looks and plays like Johnson created him in a lab to rush passers. In what's assuredly his last collegiate season, Young is primed to make a major impact off the edge. 
Across from Young, Ohio State has a bevy of options, namely Cooper and Smith. The Buckeyes don't have a proven secondary pass-rusher, but they've got plenty of options and will use the preseason to determine who might be able to fill that role. Smith has garnered plenty of hype and appears to be a possible three-and-done player if he fulfills his potential.
At defensive tackle, the Buckeyes have arguably more depth than at any other position on the team.
Landers and Hamilton give them a pair of starter-quality nose tackles and Togiai is a significantly overqualified third-stringer who could start on many teams. Though Jones left a vast gap, Johnson will be able to rotate a trio of 3-techniques, including Cornell, Vincent and Garrett. 
At both defensive end and defensive tackle, Ohio State is set up to succeed both in 2019 and in future seasons. Two former five-star prospects – Vincent and Harrison – and five former four-star prospects are underclassmen. And Sawyer, a top-two overall recruit in his class, will be around in 2021 to join the loaded unit.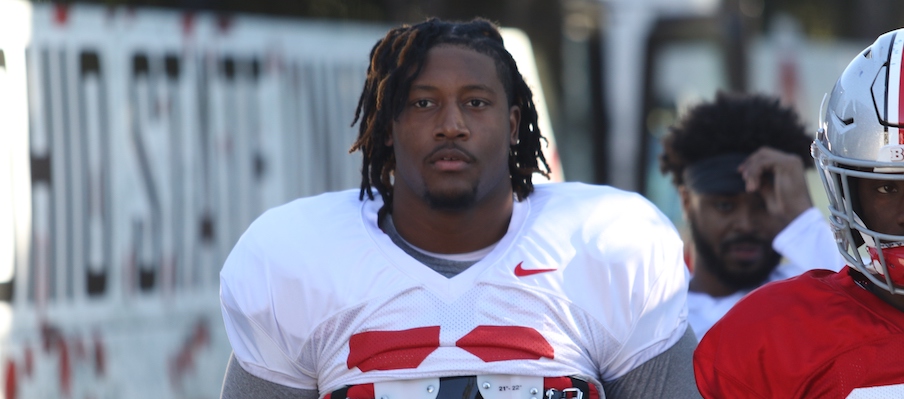 Weaknesses of the position
With Johnson's ability to replenish, Ohio State has few clear areas of weakness on the defensive line. But uncertainty remains at a couple spots.
Sure, Cooper has a year of starting experience and Smith is expected to take an increased role, but neither are locks to be the pass-rusher the Buckeyes need across the line from Young. While Young eats up the majority of the attention from offenses, Johnson needs to count on someone to consistently win off the edge on the other side. It could be either or both Cooper and Smith, it could be neither or it could be someone else. Regardless, that role hasn't yet been filled.
Also, though Cornell appears to have the edge, Ohio State hasn't named a starter at 3-technique. Vincent and Garrett also are in the mix. In an optimal scenario for the Buckeyes, someone would emerge and lay claim to the spot without leaving any doubt.
Long-Term Outlook
With the way Johnson rotates his linemen, a projected future depth chart doesn't mean as much as it could at other positions. If he feels comfortable in three nose tackles, he'll play three nose tackles. 
Regardless, here's a look at what could be to come.
2019 Projected Depth Chart
Defensive end: Chase Young, Tyler Friday
Nose Tackle: Robert Landers, Davon Hamilton
Defensive tackle: Jashon Cornell, Taron Vincent
Defensive end: Jonathon Cooper, Tyreke Smith
2020 Projected Depth Chart
Defensive end: Tyreke Smith, Tyler Friday
Nose Tackle: Tommy Togiai, Antwuan Jackson
Defensive tackle: Taron Vincent, Haskell Garrett
Defensive end: Zach Harrison, Javontae Jean-Baptiste
2021 Projected Depth Chart
Defensive end: Tyler Friday, Noah Potter
Nose Tackle: Tommy Togiai, Jerron Cage
Defensive tackle: Taron Vincent, Jaden McKenzie
Defensive end: Zach Harrison, Javontae Jean-Baptiste
The Buckeyes have a stable of defensive ends on their 2019 roster, led by Young. Given the young talent Johnson has recruited, that'll remain an area of strength for the foreseeable future.
Smith, Friday, Jean-Baptiste, Williams, Harrison and Potter are underclassmen. So even if Smith leaves for the NFL after his junior season, Ohio State has ample ability to replace him. With such talent, expect a healthy dose of rotations on the edge in the coming seasons.
Still, starting matters to players, of course. And with Young and Cooper set to start this fall then head to the NFL after the season, two starting defensive end spots will open for the 2020 season. Smith will likely fill one. But on the other side, it'll be up for grabs. Friday's the most experienced underclassman defensive end other than Smith, but he'll face stiff competition in Harrison, Jean-Baptiste, Williams and Potter.
Ohio State will also lose its two starting defensive tackles after the season. But with Togiai, Jackson, Vincent and Garrett waiting, Johnson has a succession plan already in the works. Expect to see the Buckeyes target high-level defensive tackles in 2020 and 2021 to ensure that continues.