Two decades ago, Mickey Marotti worked alongside Urban Meyer at Notre Dame as the football program's director of strength and conditioning. Three years into his seven-year stint with the Fighting Irish, he began training Justin Tuck.
Before Tuck became a Pro Bowl defensive end for the New York Giants, he starred for Notre Dame in the early 2000s. Known as "The Freak" due to his athletic gifts, he redshirted his freshman year in order to put on weight after playing linebacker in high school. The following year, he served as a situational pass rusher before combining for 19.5 sacks in his final two collegiate seasons.
Javontae Jean-Baptiste didn't play a single snap for Ohio State as a freshman in the fall. But as a lanky 6-foot-5 defensive who entered college as a four-star 215-pound linebacker with a moldable physique, he carries enough similarities that Marotti has compared his frame to Tuck.
"Coach Mick says he reminds him of Justin Tuck," Chase Young said on Dec. 27. "Came in about that same size, grew to about 250, 255. I think Javontae is going to be a real good pass-rusher. That's a lot what he works on. I think next year, he told me he's trying to get in that nickel package. That's what he's really working on right now, perfecting his craft, his hands, getting his hands better and his first step."
Jean-Baptiste and Marotti don't often discuss the comparison to Tuck, but the second-year defensive lineman remembers his strength and conditioning coach telling him about it "at the beginning," which he now sees as "something to work at."
"(Marotti made the comparison) just because the way Justin Tuck came in and how we have similar builds and how he sees how he turned out, he could envision me turning out like that too," Jean-Baptiste said after the Rose Bowl on Jan. 1.
Entering his first spring practice as a Buckeye, Jean-Baptiste isn't overly concerned with what his role might be in the fall. He didn't step on the field as a freshman largely due to his less-than-ideal size, and he knows he must get bigger in order to earn snaps.
When Jean-Baptiste stepped on campus, he weighed between 215 and 220 pounds. By the end of the year, he had packed on mass, weighing 236 pounds on Jan. 1. He still hadn't reached his goal, though. Jean-Baptiste set a goal of reaching between 250 and 255 pounds in the following two or three months.
"He came in and he was a little bit smaller guy, smaller than the normal defensive end size, and he had to put on some weight before he could play," Jonathon Cooper said. "But seeing him grow throughout these couple months with him, I mean, he's definitely matured. I feel like he's going to be a great player for us, and he's got something special in him. I relate with Javontae because I came in and I was, like, his weight. Credit, he is taller than me, but I was his weight and I was going through what he's going through."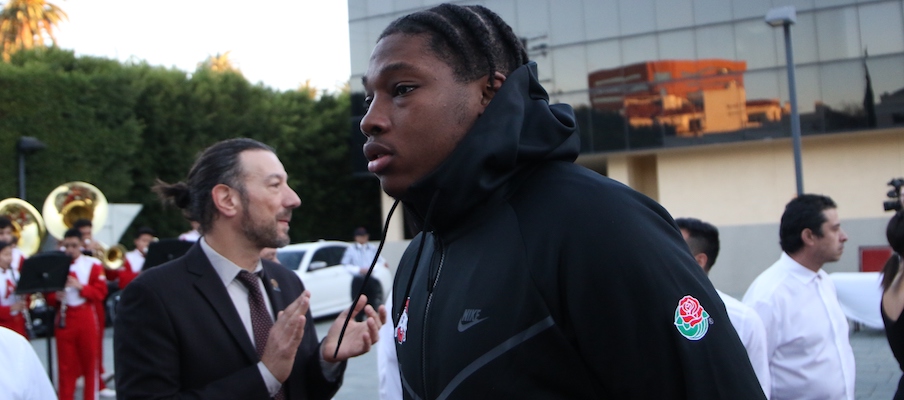 If Jean-Baptiste can add 15 to 20 pounds in the next couple months, he will have put on between 30 and 40 pounds in less than a year. In order to earn playing time next fall, though, the weight gain will be necessary. Jean-Baptiste said it'll be easier to pack on weight in the offseason by focusing solely on eating and working out instead of practicing frequently.
At this point in his career, Larry Johnson said on Dec. 30, Jean-Baptiste is in the "development" stage.
"The biggest thing is just his growth, getting stronger," Johnson said. "He's got all the athleticism. He's going to have a chance to be a really good player for us. I like his upside, I really do. He's real long, rangy. He's got good pass-rush ability. It's just a matter of getting strong. He's a young player, has to get strong, and that's what he's working on right now."
An immediate path to playing time isn't a given for Jean-Baptiste, even with added weight.
Young and Cooper, a pair of starters, will return for what will likely be both their final years at Ohio State, Plus, rising redshirt senior Jashon Cornell will be back for his last season. Tyreke Smith and Tyler Friday each earned playing time as true freshmen in the fall, and Smith played snaps on the Rushmen package that could fit Jean-Baptiste. Alex Williams redshirted, as well. The Buckeyes also welcome a pair of gifted in-state freshman – five-star Zach Harrison and four-star Noah Potter – who could factor into the rotation.
However, Ohio State didn't land Jean-Baptiste for him to play early in his career. He was always intended to be a long-term project. At some point, he'll be expected to pay dividends. But for now, Jean-Baptiste is just trying to get bigger and improve his technical skills.
"I feel like at pass-rush, I've grown a lot," Jean-Baptiste said. "I've got better with my hands and getting off the ball some more."