Whenever Ohio State's offense scores, defenders grab their helmets, loosen up, finish their conversations with their teammates and position coaches, then gather around each other on the sidelines.
Only one play – a kickoff – happens between an extra point and the first defensive play of a series, and in those moments while waiting with the defense to run onto the field, Tuf Borland has learned to train his eyes squarely on Teradja Mitchell.
"Every week, it just gives us a spark watching from the defensive huddle on the sidelines when he's running down on kickoff," Borland said on Wednesday. "You just know he's going to blast somebody and put them on the ground."
Ohio State's coaching staff bumped up Mitchell, a freshman linebacker, to a full-time kickoff gunner for the Penn State game, and he has since excelled. When Borland watches him sprint down the field, he always believes Mitchell is "going to put somebody on the turf."
MYHITTA #7EERAW BOOM HE IS READY GO BUCKS pic.twitter.com/C5TxVcYDme

— Terry mitchell (@TMitch13_) October 1, 2018
Two days after Ohio State's win against Michigan, Urban Meyer complimented Mitchell's special-teams performance, calling him one of the "unsung heroes" in the blowout victory for "wiping guys out on kickoff."
Like nearly all freshmen, he wanted to play his natural position of middle linebacker, but soon realized he needed to take advantage of the opportunity on special teams in order to earn defensive snaps.
"At first, I mean, you come in as a freshman, you'd be like, 'OK, special teams,'" Mitchell said in the locker room after the Big Ten championship game. "But I definitely love it now. I embrace it. Love the role. Love kickoff. Kickoff is crazy. I just love it."
Mitchell says he felt he "did well" with the role he was given this year.
"My mentality was just to come in and whatever was asked of me, I just do it, execute it," Mitchell said. "So, if that was special teams, I would go as hard as I can in special teams. If they needed that linebacker, then I would be ready to be there."
Mitchell secured a spot on the kickoff unit, but Meyer and his coaching staff didn't bring him to Ohio State to play special teams. Ultimately, they expect him to become a force at middle linebacker.
"Everyone sets goals for themselves. I would say, just come in next year and work my butt off this offseason and compete for a starting spot, compete for a spot on the field and help contribute to the defense."– Teradja Mitchell on next season
Mitchell, a 6-foot-2, 236-pound Virginia Beach, Virginia, native, was the No. 44 overall prospect and the second-ranked inside linebacker in the class of 2018. He committed to the Buckeyes over Florida State, citing the Fisher College of Business and potential early playing time as reasons for his decision.
The snaps on defense didn't materialize in Mitchell's first year on campus; he had just two defensive snaps the entire season. He'll have to work to stave off a crowded group of young linebackers all fighting for reps next season, as well.
Borland will almost certainly return to Ohio State, and he still has two more years of eligibility remaining. Baron Browning, a sophomore and former five-star prospect, backed up Borland, but he might eventually move to outside linebacker. Fellow freshman K'Vaughan Pope could also work his way into the lineup at middle linebacker.
Mitchell can't control the competition, though. All he wants is an opportunity to make an impact on defense, and he hopes it comes as soon as next season.
"Everyone sets goals for themselves," Mitchell said. "I would say, just come in next year and work my butt off this offseason and compete for a starting spot, compete for a spot on the field and help contribute to the defense."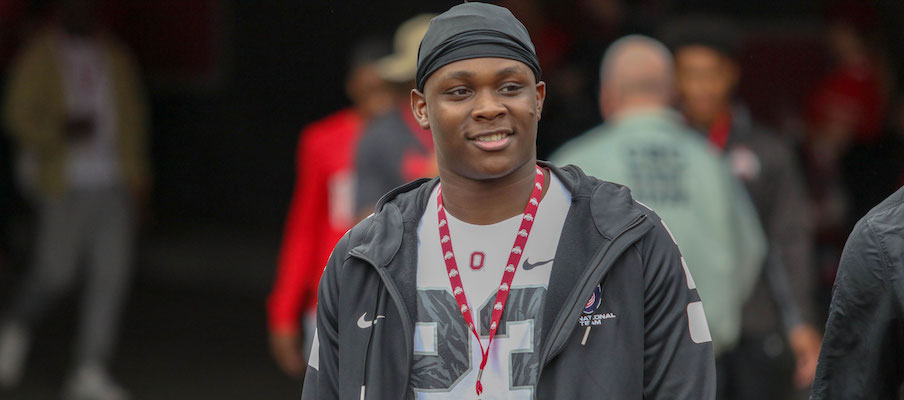 Provided Mitchell remains at middle linebacker, as expected, a starting job would be tough to snag from Borland, whom he said he looks up to on defense. But Mitchell could absolutely earn a spot on the two-deep depth chart with an impressive offseason. He's a talented player on the second level who entered the program as a highly regarded prospect and made an impact on special teams, which is essentially the proving ground for Meyer and his coaching staff.
Borland said young middle linebackers prove they are ready to take snaps on defense when they do "the little things," including performing well in the weight room, learning in the classroom and "showing up with a willingness to work."
"I would just say the thing about Teradja is he comes in every day wanting to work, wanting to improve," Borland said. "And I think that's the thing that's going to set him apart is just that willingness, that openness just to kind of soak it up, whether it be the coaches, whether it be the older players. He's just going to soak it all up and apply it to his game."
Mitchell admits that he didn't have a sufficient work ethic when he arrived at Ohio State. He learned that quickly when going through "brutal" summer workouts and says his increased drive has been his biggest improvement since stepping on campus.
"Just learning how to grind through, when you hit that wall, just pushing through, just mentally being tough," Mitchell said. "That's why I thank coach Mick (Marotti) for that. Seniors and the older players, they definitely instilled that."
Prior to the Buckeyes beating Northwestern to win the Big Ten title, Mitchell hadn't played for a championship since middle school. He deeply missed the feeling.
No snaps on defense and no celebrating from the stage? No problem, this time. He just wanted that ring, and he earned it with another stellar performance on the kickoff team.
Next year, Mitchell hopes he'll add another conference title to his collection, and this time, he might also make an impact on defense.