For a visual representation of what Ohio State did to Michigan in this year's edition of the rivalry game, one need look no further than a pair of hits made in The Game by redshirt freshman slot cornerback Shaun Wade.
The first one came early in the third quarter, when Wade walloped Michigan running back Karan Higdon to break up a pass (which some argued should have been a fumble), then stepped over Higdon like Allen Iverson once stepped over Tyronn Lue.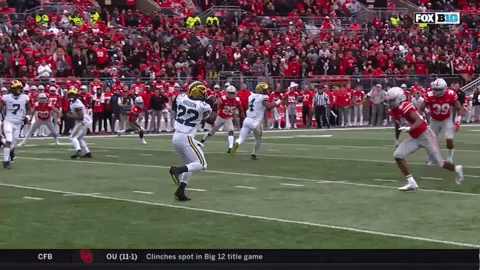 Wade laid the wood again on a screen pass to Michigan tight end Sean McKeon, driving into McKeon's shoulder and sending him flying backward and into the ground with a standup thump.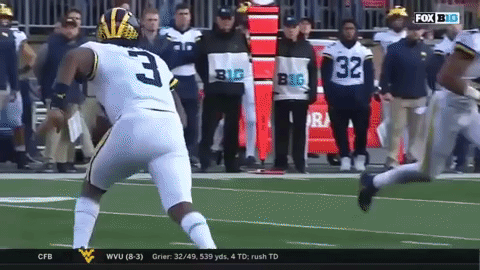 Wade's ability to make plays like those are a big reason why he became the Buckeyes' first-team slot cornerback for their second game of the season against Rutgers and never looked back.
While Wade has the top-notch speed and athleticism that one looks for in an outside cornerback, the position at which he began this season, the 6-foot-1, 195-pound second-year Buckeye has also shown physicality as a tackler and hitter – a prerequisite for playing the nickelback position.
Wade has also continued to see occasional playing time at outside cornerback, while he's also seen some work at safety, including a full game against Nebraska in which he played every snap of the game at either safety or slot cornerback.
Regardless of where he's lined up, Wade has shown a penchant for making big plays in his first playing season for the Buckeyes. He leads the team with three interceptions, including one in the Buckeyes' 45-24 Big Ten Championship Game win, in which he perfectly played a deep ball by Northwestern quarterback Clayton Thorson and picked it off in the end zone.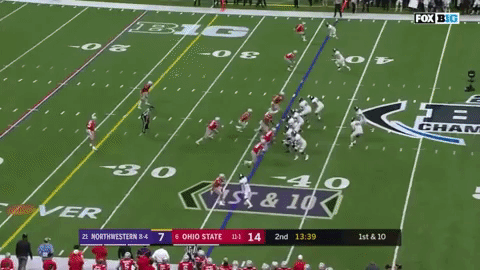 Wade also came up with a key punt block in the Buckeyes' third game of the season against TCU, as well as a key forced fumble deep in Ohio State territory in the Buckeyes' seventh game of the season against Minnesota.
After being forced to take a redshirt in his first season as a Buckeye due to an abdominal injury, Wade has emerged as Ohio State's most versatile defensive back this season, and one of the Buckeyes' top playmakers on the back end.
Wade credits his coaches – including defensive coordinator Greg Schiano and co-defensive coordinator/safeties coach Alex Grinch – and his veteran teammates – including safeties Jordan Fuller, Jahsen Wint and Isaiah Pryor, and cornerbacks Damon Arnette and Kendall Sheffield – with enabling him to have a breakout year.
"I improved very well," Wade said in the locker room after the Big Ten Championship Game. "Coach Schiano got me right, Coach Grinch got me right. Moving to safety, learning a new position; from learning from Jordan or Damon Arnette or Kendall or who else is at safety, Jah and Isaiah, they taught me a lot of things. Just going hard for them. Those are my brothers."
Ohio State head coach Urban Meyer has described Wade as one of the Buckeyes' most improved players this season.
"He certainly has made a development," Meyer said before the Big Ten Championship Game. "He's a very talented guy."
While Wade has made big plays, he's had his share of lapses in coverage, too; most noticeably, Wade was on the wrong end of a 93-yard touchdown catch-and-run by Penn State receiver K.J. Hamler in the Buckeyes' fifth game of the season in State College. He's also been picked on with slant routes at times, most noticeably in the Minnesota game, when Tyler Johnson had eight catches from 119 yards – mostly out of the slot against Wade.
As such, Meyer said inconsistency remained an issue for Wade when he was asked about Wade prior to the Big Ten Championship Game.
"Consistency's his only thing," Meyer said. "He can do anything he wants. Very talented player. There's certain areas of our team I expect more of that than what we're getting, and that's one of the areas. It's not because of talent. I think it's just focus, intensity and getting it done. But yeah, at times, he plays very well."
For the most part, though, Wade has done his job well in coverage, allowing completions on just under half of the passes thrown his way this season, according to Pro Football Focus.
Shaun Wade allowed fewer than 50% of passes thrown his way to be caught in 2018 pic.twitter.com/s2r5DOmxVS

— PFF College (@PFF_College) December 11, 2018
Asked what it has meant to him to have the opportunity to emerge as a playmaker for the Buckeyes this season, Wade said it has been "a blessing," and that he has simply tried to do what his coaches have asked of him and execute his job to the best of his ability.
"Just listening, knowing what the team needs me to do," Wade said. "That's really it. Knowing what the team needs me to do, bringing energy when I need to bring energy and doing my job."
Wade has come up with big plays in some of the Buckeyes' biggest games – he also had an interception in the Buckeyes' 26-6 November win over Michigan State – to make his mark on the 2018 season. Depending in part on whether Sheffield, Arnette and/or Fuller decide to leave for the NFL after this season, though, Wade could have the opportunity to play an even bigger role in 2019.
Given the versatility he has shown this season, Wade could feasibly end up at either cornerback or safety next season – a decision that could also depend in part on whether new head coach Ryan Day makes changes to the defensive coaching staff – while continuing to be an option at slot cornerback.
Regardless of where the Buckeyes ultimately ask him to line up, though, there's no question that the five-star recruit from the class of 2017 will be expected to continue making strides and be a key player for Ohio State's secondary once again next season.