By the time Dwayne Haskins dropped back and threw his first career pass in the second half of Ohio State's blowout victory against Army on Sept. 16, 2017, he had already won the Heisman Trophy many, many times.
Well, sort of.
A 6-foot-4, 220-pound quarterback wearing No. 7 threw thousands of passes for the Buckeyes throughout the 2000s and the early 2010s – in the "Road To Glory" mode in the now-defunct NCAA football video games.
"I would go win (the Heisman Trophy) every year I played," Haskins said last week. "But we'll see how realistic that is this week."
As it turns out, Haskins' video game experience didn't completely translate to winning the most coveted individual award in college football. Still, he made a trip to New York City as a finalist after putting up the best statistical season by a quarterback in Big Ten history. In most years, he would have won the award that went to Oklahoma's Kyler Murray.
In all likelihood, Haskins won't have a second chance to win the award.
The redshirt sophomore has started just one season in college, yet many people expect him to announce his intention to head to the NFL soon after Ohio State takes on Washington in the Rose Bowl on Jan. 1. Despite the NFL draft buzz, Haskins reiterated that he's only paying attention to the Rose Bowl, for now.
"Right now I'm focused on Washington, of course," Haskins said on Wednesday. "The NFL talk is there and everybody hears it. That's just a blessing to be a part of and it's been a dream come true. But as far as making a decision, I haven't made one yet. I've still got a lot of time left here at Ohio State and I'm just taking it day by day, make a decision after the bowl game. So I just want to be fully undivided and make sure I give to my guys everything I can give over the last couple days of practice and the last few weeks of the season and send coach Meyer off on the right note."
Haskins has said all the right things about remaining focused at the task at hand, but it's not hard to see why the Rose Bowl will be his final game in a Buckeyes uniform.
ESPN's Todd McShay has Haskins going No. 10 overall to the New York Giants and The Athletic's Dane Brugler predicted that the quarterback will get taken sixth overall by the Jacksonville Jaguars. Most outlets rank him as the second-best draftable quarterback, behind Oregon's Justin Herbert, and some have him as the top-ranked quarterback.
For now, that's out of sight, out of mind for Haskins – at least, publicly.
"The last game of the season, want to go off on the right note. Most importantly, have fun and enjoy the moment, especially for these older guys, the last time I'll get to play with them."– Dwayne Haskins
He has had a spectacular season, and not just for a first-time starter. His 2018 season should stick at the top of program and conference record books for many years.
"We're not done breaking records yet," said Haskins with a smirk while sitting beside Parris Campbell and Johnnie Dixon.
With one game remaining before taking on the Huskies, Haskins sits at 4,580 passing yards and 47 touchdowns. Both numbers lead the nation. A 5,000-yard, 50-touchdown season isn't impossible, though it will be a tough task against a talented Washington secondary. He would be the first player in Big Ten history with either 5,000 passing yards or 50 passing touchdowns.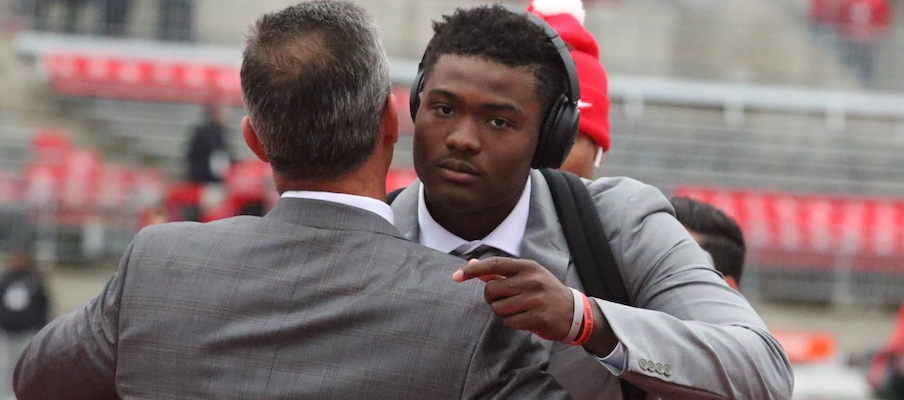 No one in the history of the Big Ten, let alone Ohio State, has even crossed the 4,000-passing yard threshold. Purdue's Curtis Painter tossed for 3,985 yards in 2006, a Big Ten record that Haskins surpassed during the Buckeyes' beatdown of Michigan. During that same game, Haskins broke the conference record of 39 passing touchdowns that Purdue's Drew Brees had held since 1998.
Haskins blew past both records, and many, many more. Take a deep breath as we go through each of them.
He holds the program single-season records for passing yards, passing touchdowns, pass attempts, pass completions, completion percentage, passing yards per game, 400-yard passing games, 300-yard passing games, 200-yard passing games, average yards of total offense, 200-yard total offense games and 300-yard total offense games. Haskins has Ohio State single-game records for passing yards, completions, attempts, touchdown passes and yards of total offense. Haskins holds four conference records for most single-season passing yards, single-season touchdown passes, total offensive yards and Big Ten offensive player of the week awards.
Did you get all that? None of the success this season surprises the ever-confident Haskins who wears a No. 7 chain around his neck.
"I've always wanted to be in this situation, worked really hard to get here," Haskins said last week. "It's been everything to be able to go out there and compete and do the things that I've done this year. But I didn't really shock myself and feel like I couldn't achieve it. I just had to go out there and do it."
Haskins only has one more change this year – and, in all likelihood, in his collegiate career – to "go out there and do it."
Only he and those he trusts in his inner circle truly know what comes next for Haskins. Right now, he's focused on ending the season with another impressive performance.
"The last game of the season, want to go off on the right note," Haskins said on Wednesday. "Most importantly, have fun and enjoy the moment, especially for these older guys, the last time I'll get to play with them. So, I'm just excited to be able play in the Rose Bowl."