When Urban Meyer wasn't around the team for fall camp and the first three games of the season, Ohio State's football program didn't fall apart. The team kept winning, opening the season with three straight victories, and everything went about as smoothly as possible without Meyer behind the scenes.
No one knew it at the time, but Ryan Day was undergoing a tryout to become the next head coach. Athletic director Gene Smith, who also served a nearly three-week suspension at the beginning of the football season, watched as Day managed his way around both on-field and off-field occurrences.
When it came time to make a decision of whether to hire Day or look elsewhere, Smith felt like he had seen enough.
"He had an opportunity to audition in a different way," Smith said. "Not relative to winning on the field, but how he mastered leading, not just the football staff, but everyone else around it. This is a complex place. And so having someone to be able to continue the stability and consistency that we have was important to me. So I did not feel I needed to conduct a public national search."
Day was a highly regarded position coach when he arrived, but naturally spent most of his time with the offense. In the press conference to announce Meyer's retirement and Day's promotion last Tuesday, both current and future head coaches acknowledged the need for Day to ingratiate himself with both the current defensive players and the defensive recruits.
Meyer said the defenders "don't know him as well," and Day said he needs to build especially strong relationships with the defensive prospects who aren't as familiar with him.
"We all have an incredible amount of confidence in what he can do and what he brings to the game. So there won't be no drop-off."– Johnnie Dixon on Ryan Day
The current defensive players might know Day more than Smith or Meyer realize, though. During the three-game stretch at the beginning of the season without Meyer, Ohio State's defenders finally got a chance to get to know the second-year offensive coordinator and quarterbacks coach.
"The three-week stretch, I think my relationship with him has grown," Chase Young said. "Obviously, he was the offensive coordinator, so I didn't really talk to him like that. But when coach Meyer wasn't here, he would just come to my locker and talked to me. That helped now that he'll be our head coach. I like coach Day. He's real cool. He's a player's coach and I'm ready to get it rocking with him."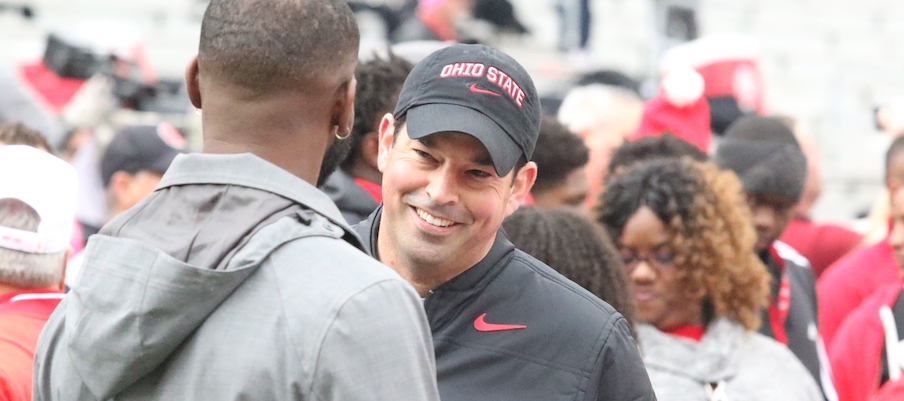 Jonathon Cooper, a fellow defensive end, also said his "relationship grew" with Day during the early season run.
"Overall, what impressed me is just the way he took over, the way he took over the team, and it's not like we even missed a beat," Jonathon Cooper said. "It was like the fact that all of this is going on, but yet he came in and he kind of, like, settled it down and got everything together and was able to handle it with such calm and ease and get us to 3-0 for coach to come back."
Even the offensive players, who have nearly two full years of experience working with Day, were impressed with how he commanded the team in August and early September.
Johnnie Dixon called Day's early season performance "fantastic."
"This team is going to be great. There's no question about it," Parris Campbell said. "Those first three games of the season, everybody saw we were playing with energy, we were playing with juice, we were playing with passion. He was the leader of that. He got us through camp. He's an offensive guru. He knows football, he loves football, has a passion for football and for this university. They have to see for themselves, but I'm all for Ryan Day."
Without Meyer, Day relied on the veteran players, Mike Weber said. He allowed them the freedom to have players lead themselves more than most coaches, which Weber appreciated.
"He's like one of the youngest coaches we've got, I believe, and he brought a lot of energy to the program and very vocal," Weber said. "I knew him, but I didn't know him as well as when he was the head coach for the first three weeks. He just brought a lot of enthusiasm to the program, and he's a guy that's really smart when it comes to football and how to strategize things and how to talk to players. He's going to be a great coach."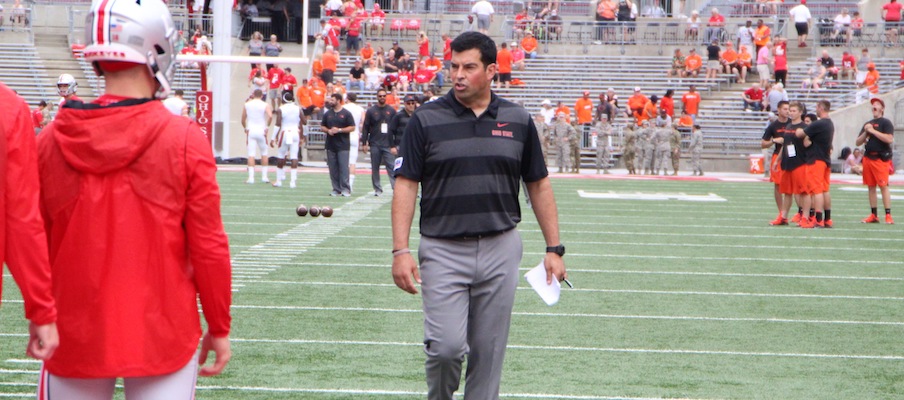 Multiple players called him a "player's coach," and others noted his "energy."
Prior to being hired by Meyer, Day spent two seasons working in the NFL as Chip Kelly's quarterbacks coach with the Philadelphia Eagles and San Francisco 49ers. Before that, he was an assistant coach at Boston College and Temple for nearly a decade. His rise comes staggeringly fast, especially to Chris Olave, whom Day recruited to Ohio State a little over a year ago.
"My relationship with him is great," Olave said. "I definitely believe in him and what he does. He doesn't really give you false info. He kind of tells you the truth through everything. So he's kind of like Coach Meyer, and I respect him a lot. So I can't wait to play under him."
A lack of relative experience compared to Meyer also means Day will be a notably younger head coach. He is 39 years old, 15 years younger than Meyer, which wasn't lost on Isaiah Prince.
"He's competitive. He wants to win. It's a family-like environment," Isaiah Prince said. "Coach Meyer's old. Coach Day's younger. He's going to bring energy. He's going to fly around. Not to say coach Meyer didn't bring energy, but he's older. Coach Day's younger, he's a younger coach, so he just brings a different type of energy to the team."
Day is no Meyer, which leads some people to wonder whether he'll be able to replicate his predecessor's results.
But the soon-to-be first-time head coach certainly earned his team's respect by leading the team through fall camp, then picking up home wins against Oregon State and Rutgers, before beating TCU in Arlington.
"I think we saw at the beginning of the season," Dixon said. "He's a passionate guy who loves what he do. So there's not going to be no fall-off nowhere. We all have an incredible amount of confidence in what he can do and what he brings to the game. So there won't be no drop-off."