About a month ago, Gene Smith started researching possible candidates to take over the Ohio State football program if Urban Meyer opted to retire at the end of the season.
He began looking into coaches at both collegiate and professional levels by using Google, the same tool anybody else could use.
"You are going through the same exercise," Smith said Thursday morning. "Everybody can do this publicly. All of you can do this at home."
His wife, Sheila, helped him brainstorm a list of names, many of whom Smith already knew fairly well. He began scribbling down profiles of each potential coach on a piece of paper.
"Obviously, if I didn't have a Ryan Day, I'm going for a public search. But the guy's a stud."– Gene Smith
Then, Smith began considering how each coach would fare in different aspects as a head coach at Ohio State. He evaluated the potential on-field results, of course, but also focused on the many off-field responsibilities of coaches. Those duties included dealing with a faculty committee to get student-athletes into the university, working with a compliance department that works outside of the athletic department, recruiting players who can "matriculate" into the university and many, many more.
Eventually, Smith whittled the list down to a more manageable list of candidates.
"I had a bigger list, but it came down to three that I was comparing (Day) against," Smith said.
Those three coaches included two college head coaches and one NFL coach, Smith said, which The Athletic first reported on Tuesday. Smith said he also considered a candidate who has since left coaching, but his decision came down to Day and those three unnamed coaches.
"So, what you're trying to do is evaluate your risk, right?" Smith said. "Nobody's certain. Urban was probably certain. But nobody's certain. So, what you're trying to do is mitigate the risk. The guys we were looking at: good human beings, excellent coaches."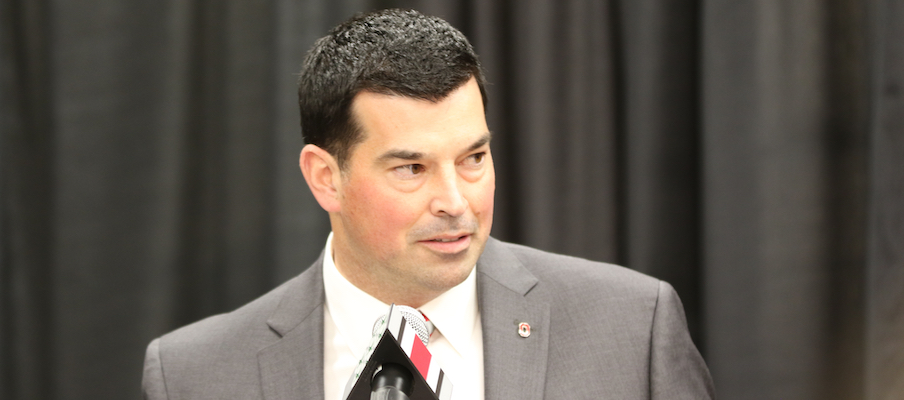 Smith understands the risk of hiring Day as the 25th head coach in program history. Day will replace a legendary figure who is one of the best coaches of the generation, someone who beat Michigan all seven times his team played the Wolverines, has lost nine games in seven years and won a national championship.
However, Smith felt comfortable enough with Day to hire him without interviewing candidates across the country. He said he made the decision to go with Day, if Meyer opted to retire, a "couple weeks ago."
"Obviously, if I didn't have a Ryan Day, I'm going for a public search," Smith said. "But the guy's a stud."
Plus, it became clear to Smith that there wasn't a Meyer-like candidate waiting for a call.  
"Some of the people on that list, they have done it," Smith said. "They haven't done it here. You're doing exactly what I do. I look at those guys and I say, you know he did it there. Record is not that great there. Now, I've got to come in, and there's a learning curve when you come here. And then I've got to tell him no a lot. No, you're not changing the strength coach. No, you're not bringing your own academic person. No, you're not bringing your own trainer."
Had Day not been the obvious choice in Smith's mind, he said he would have taken the search national, just as he did when he landed Chris Holtmann as the men's basketball coach.
But he has "high confidence" in Day, so he made the decision to promote the offensive coordinator and quarterbacks coach to head coach on Tuesday, and it will become official on Jan. 2 following the Rose Bowl.
"I had to come to that 'come to Jesus' moment," Smith said. "When I did that, I had no second thoughts, and I still don't have any second thoughts."