Urban Meyer is an all-time great college football coach. He has a career 186-32 record as a head coach at four programs, has won seven conference championships and has won three national championships. Meyer was named coach of the decade by Sports Illustrated and Sporting News in 2009.
Ryan Day has never been a head coach in his life. Prior to working as quarterbacks coach under Chip Kelly with the Philadelphia Eagles in 2015 and the San Francisco 49ers in 2016, he had never worked a higher-profile job than offensive coordinator at Boston College. Day, a graduate assistant under Meyer at Florida just 13 years ago, has taken the fast track to the upper echelon of college football.
They couldn't be more different – other than the fact that on Jan. 2, Day will be taking over Ohio State from Meyer, of course.
So, I asked Ohio State athletic director Gene Smith whether the expectations should change with someone much less experienced than Meyer leading the program.
"Oh, God, no. What's wrong with you?" said Smith, laughing at the notion.
He expounded.
"Yes, I expect it to stay at that level," Smith said. "When you have that level of talent, you should always beat people that you're better than. Coach's job is to put them in position to win. So, recruiting is – part of our strategy to do it in the time frame we did was recruiting. So, my expectations doesn't change. Buckeye Nation's doesn't change. We don't put the resources in places to change our expectations."
Smith is banking on the results not changing too much, and he knows the rabid fan base will hold Day to that standard, as well.
"First, very humble to be taking over for coach Meyer and what he's done here. But the footprint that he's left here and the infrastructure is strong."– Ryan Day
The Buckeyes have won 82-of-91 games, three Big Ten titles and a national championship during Meyer's tenure. Ohio State hasn't made the College Football Playoff every year, but has remained in contention the entire season in each of the five years of its existence.
In Smith's mind, Meyer's recent success plays a large role in the unchanged expectations of the program, especially in the near future.
"We lose some talent, but we've got a lot of talent coming back," Smith said. "You think about the core, in a lot of different positions, there's a lot of talent coming back. So, that, and then if we can hold on to a good percentage of the recruits for December 19. Or even if they don't, they may decide to wait and sign later. You can hold on to that. That's your lifeblood. It's players, it's players. And so, if we can continue to recruit at the upper level, it's really about his ability to keep the culture going, and it's X and Os."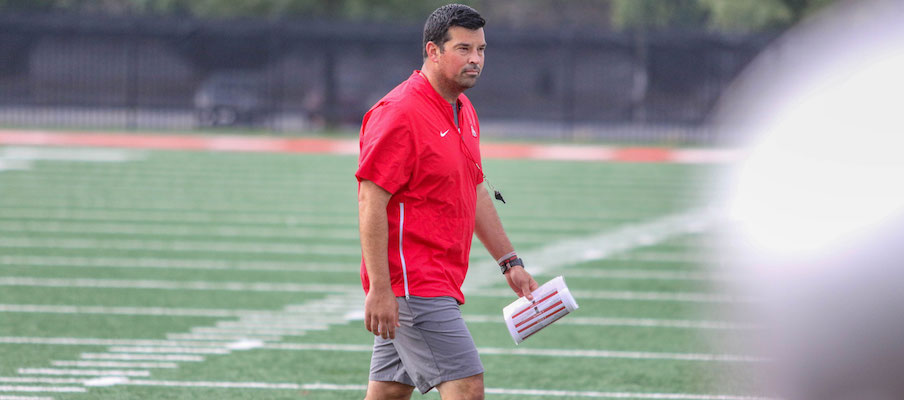 Ohio State will lose a solid group of seniors, including Parris Campbell, Terry McLaurin, Johnnie Dixon, Isaiah Prince and Malcolm Pridgeon. Plus, a cadre of underclassmen will enter the NFL draft early. Dwayne Haskins, K.J. Hill, Dre'Mont Jones, Kendall Sheffield, Jordan Fuller, Damon Arnette, Mike Weber and Michael Jordan could leave for the draft.
Despite the losses, Day will inherit a roster loaded with talent.
He will likely return a starting running back (J.K. Dobbins), every tight end (Luke Farrell, Rashod Berry, Jeremy Ruckert and more), a starting left tackle (Thayer Munford), both starting defensive ends (Chase Young and Jonathon Cooper), a starting defensive tackle (Robert Landers), each starting linebacker (Tuf Borland, Malik Harrison, Pete Werner and Baron Browning), at least one starting cornerback (Jeffrey Okudah) and at least one starting safety (Brendon White).
Though most freshmen and sophomores haven't ascended into primary roles on Ohio State, both classes are loaded with talent. They were each the second-ranked recruiting classes in the country, and included eight five-star prospects.
Meyer also left the Buckeyes with a top-10 2019 recruiting class, which Day must now complete.
Talent only matters if Day can coalesce it into the championship-level team that Meyer made a habit of doing. Day has all the parts to Meyer's puzzle, so Smith expects immediate results, even though he has never been a head coach before.
"First, very humble to be taking over for coach Meyer and what he's done here," Day said. "But the footprint that he's left here and the infrastructure is strong. And knowing that and being here for two years and seeing exactly how it's been done gives me great confidence. Also, walking in those shoes during the beginning of the year, during that time, took a step away from just working with the offense and the Xs and Os and then took a wider step back and looked at the leadership role of what it means to be the head coach at Ohio State and understand, like Gene spoke of, everybody that comes under your wings there. And so have walked in those shoes and had a chance to experience that. And so, I'm excited and confident about it."
Day might be able to afford a year of competitive rebuilding, but only if the team shows signs of promise. He was promoted to minimize problems that come with immense turnover.
If Day loses for Michigan for the first time since 2011 and for the second time since 2003, pressure will only intensify. Meyer never lost to Ohio State's rival. He's in an unenviable position, replacing a legend, which he understands and respects.
But both Day and Smith believe he's a worthwhile replacement for Meyer, who also has thrown his support behind the first-time head coach. It'll soon be time for Day to prove whether he can replicate his predecessor's results, and he's expected to do so.