Urban Meyer couldn't help himself.
Nearing the end of Tuesday's press conference to announce his retirement, he launched into a recruiting pitch, not to a prospect, but to a reporter. He has to get it out of his system before the retirement that he announced on Tuesday becomes official on Jan. 2 after the Rose Bowl.
"I think any time you try – and I'll give you a recruiting speech – how many times can you do this, have elite national championship football with elite academics?" Meyer said on Tuesday. "That narrows out – I'm talking to you as a recruit – that there's a lot of this: High-end football, low-end academics. And Ohio State is one of those schools where you have it all. So the challenge is there to try to find those kind of student-athletes and this is a very unique place."
Meyer has given that same speech – the "Ohio State is your best option no matter what other schools you're looking at" pitch – so many times that he accidentally fell back into it on Tuesday. Effective that day, soon-to-be-promoted Ryan Day became the program's head coach when recruiting. Meyer was finished going on recruiting trips while head coach of Ohio State.
Still, Meyer just can't stop recruiting. It's what he's passionate about and it's what he's nearly unmatched at.
In order for Day to maintain the success that Meyer had in his seven seasons in charge, he must recruit at a level matching his predecessor. That's a daunting task for a first-year head coach, but one he understands.
Day already has Meyer's recruiting pitch down, too.
"If you're a recruit who comes to look at Ohio State, there's no other place in America that takes care of students, student-athletes, better than Ohio State," Day said as part of a response to a question asking what he learned from Meyer."
He'll soon learn whether he can use those words to recruit at the level of Meyer, who landed top prospects at a degree surpassing every Ohio State coach before him.
"His focus is to go recruit. Go recruit. Make sure the staff's exactly how you want it. And other than that down the road you can adjust things. But this recruiting gig, that's all laser lights have to be on that, 100 percent. And I know he's, first of all, he's a great recruiter."– Urban Meyer on Ryan Day
He had the top-ranked recruiting class in the Big Ten every single season, and even though Meyer has battled questions about his health that have led to just two commitments in the past four months, the Buckeyes have the top classes in the conference in 2019 and 2020. Only once did Meyer's recruiting class rank outside of the top five, and even that one, which ranked No. 7, included Jerome Baker, Denzel Ward, Dre'Mont Jones, Mike Weber and other contributors.
He and his staff snagged Vonn Bell and Raekwon McMillan out of Georgia, pulled Chase Young and Dwayne Haskins out of Maryland and got J.K. Dobbins and Jeffrey Okudah to leave Texas. They reeled in the Bosa brothers and locked down Ohio, earning commitments from Marshon Lattimore, Parris Campbell and Sam Hubbard.
In seven classes, Meyer signed 15 five-star prospects.
He calls recruiting the "lifeblood" of a program. It sustains programs at the highest level of college football.
Meyer truly began to realize it might be time to move on from coaching when his headaches and overall health started negatively affecting him on the recruiting trail, thus harming Ohio State. High school players began asking whether he'd be around for their playing careers, and he could no longer make that promise.
"People will say, why would you let recruiting get in the way? That's a silly question," Meyer said. "That's the blood. You want to have a good team you recruit. And you recruit very hard. So that put a little push on it. And to be honest, I didn't want to mislead recruits. Gene and I both felt – not felt, we knew – and that's what made it now, the decision now."
Meyer retired, in large part, because he was having issues recruiting at the highest possible level. He expects his successor to do what he began to struggle with at the end of his tenure.
So, when asked what advice he had for Day, Meyer had an easy answer: recruit, recruit, recruit and recruit.
"His focus is to go recruit," Meyer said. "Go recruit. Make sure the staff's exactly how you want it. And other than that down the road you can adjust things. But this recruiting gig, that's all laser lights have to be on that, 100 percent. And I know he's, first of all, he's a great recruiter. And I think the way that things are set up here, that can be full-time energy on that and not some other stuff."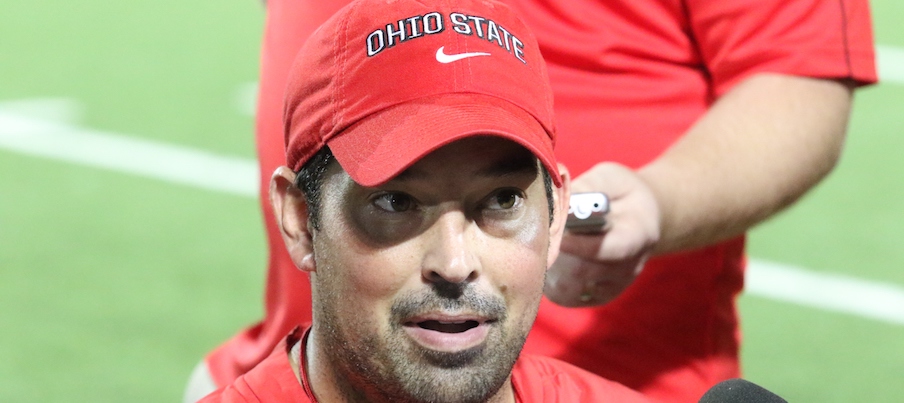 Meyer has seen first-hand how well Day has recruited. Day played a key role in landing commitments from Chris Olave and Matthew Baldwin, and sealed the commitment of 2019 five-star wideout Garrett Wilson.
The tireless nature of recruiting that allowed him to land those players must become the norm. He has the set the standard, and he needs his assists to match his relentlessness.
"Ryan's going to be in four states tomorrow, I imagine. He better be," said Meyer, eliciting laughs as he turned toward Day.
Meyer only slightly exaggerated.
Day was spotted at three-star offensive tackle Nick Broeker's basketball game in Illinois the night after the press conference. He visited four-star offensive tackle commit Ryan Jacoby's house in Mentor the next day, then flew to Texas to visit five-star wide receiver commit Garrett Wilson.
"After we get done here, it's going to be a sprint to get out and get in homes and get around some of the families," Day said on Tuesday before hitting the road. "Obviously a lot of relationships that are already built there. Some other ones, especially on defense, that maybe aren't as strong yet. But the response has been great. The response has been strong. And excited to get on the road."
Meyer gave Day the blueprint of what it takes to recruit at a level never before seen at Ohio State. Can the first-time head coach sustain the "lifeblood" of the program?
In order to keep the program at the level Meyer took it to, Day better be able to.