If Larry Johnson didn't have such a stellar reputation, first-year defensive linemen might take more of an issue with his strict guideline determining their lack of extensive playing time.
During his decades of experience coaching, Johnson has seen rough moments during key spots in important games have negative long-term impacts on the careers of freshmen, so he tries not to put them in "harm's way" and minimizes their playing time. Johnson's rule doesn't exist to help Ohio State, but to benefit young, inexperienced freshmen, such as defensive end Tyreke Smith. He wants to protect them from what they don't know yet.
"I'm really a big believer in that," Johnson said on Oct. 2. "You don't put a freshman in a game where he has a chance to make a mistake that may cost a big play, and that lives with them. That's kind of my philosophy. I don't do that."
Even when Nick Bosa went down with a core muscle injury in the third game of the season that cut his final year short, Johnson didn't alter his viewpoint. He leaned heavier on a three-man rotation that featured a pair of juniors, Jonathon Cooper and Jashon Cornell, and sophomore Chase Young, instead of playing Smith and Tyler Friday more snaps.
Smith, one of two freshman defensive ends at Ohio State, entered the program this summer as the 34th-best overall prospect and the sixth-ranked defensive end in his recruiting class. He pushed for early playing time, earning 33 snaps against Rutgers in Week 2 and 28 snaps versus Tulane in the fourth week of the season.
"Once he gets everything down, he's going to be a monster."– Chase Young on Tyreke Smith
But the rest of the season, Smith hasn't had a game with more than 15 defensive snaps.
"At first it was (a struggle), but going from a person that just plays all downs to not playing, I just have to contribute as much as I can," Smith said in the locker room after the Big Ten Championship Game. "Coach J, he's a tremendous coach. I know that my time's coming. I know that the older dudes are going to pave the way for me, so when they leave here, I've just got to pick up where they left off."
Smith truly believes his years in the spotlight will come soon. That, he's sure of.
Since Johnson arrived at Ohio State, following Mike Vrabel who left the program to coach in the NFL, the defensive line has been one of the most consistently dominant units in the country. Defensive ends, especially, have blossomed.
Both Nick and Joey Bosa thrived under Johnson's tutelage. Tyquan Lewis earned Big Ten defensive lineman of the year honors. Sam Hubbard and Jalyn Holmes were selected in the NFL draft last year. Even when Bosa suffered his injury this season, Ohio State had Young, a potential high first-round draft pick in 2020, to fall back on.
Every single defensive line since Johnson began coaching at Ohio State in 2014 has featured at least one first-round pick and multiple other NFL draft picks.
Given who has come before him, Smith's path is defined. He has a vision for the future. Smith wants – and has spent his freshman season beginning to put in the work – to become the next great defensive end at Ohio State, following in the footsteps of his predecessors.
"The freshmen we have now – me, Tommy (Togiai), Taron (Vincent), Tyler – I know next year and the year after that, my junior year, it's going to be our year," Smith said. "We're going to control the D-line. I know it's going to be scary for any quarterback next year and the year after that. That's our plan."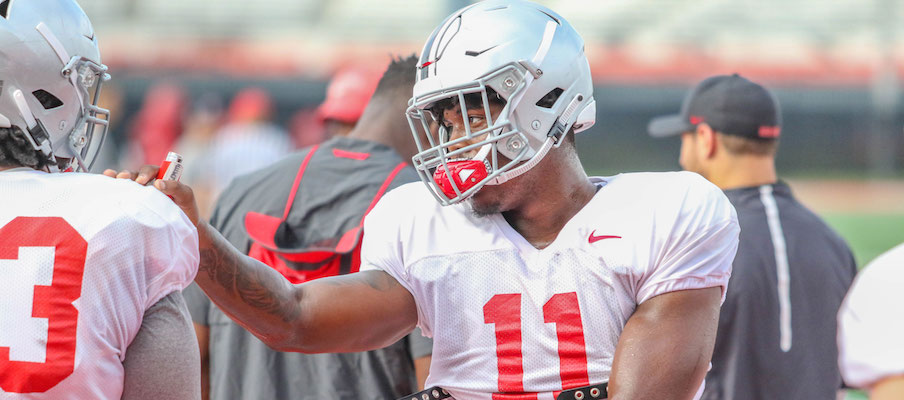 As long as Johnson is around, it's hard to doubt Smith and his plan. The 6-foot-4, 255-pound lineman has a chance to become another feared edge rusher at Ohio State. 
Over and over, Johnson has turned highly regarded prospects, just like Smith, into dominant defensive ends. Back in October, he called Smith and Friday "our future." 
Smith's teammates see his raw abilities, too.
"He's going to be real good," Young said on Wednesday. "He is very explosive. He's an athlete for sure. Every young player, even myself, we have to get better on play recognition. I think he's got to be more efficient with his movement skills. Once he gets everything down, he's going to be a monster."
Johnson treats each move by defensive linemen like tools in a toolbox, which he frequently references.
Without playing consistent snaps this season, Smith hasn't needed many tools. The short bursts of playing time have allowed him to get away with using techniques he's comfortable with. As his time in the program increases, his toolbox will expand, Johnson believes. Smith should get a significant uptick in snaps next season, when he and Friday join Young, Cooper and Cornell in the defensive end rotation.
While Smith has been on the sidelines this season, like he was for all but seven snaps during the Big Ten championship game, he has studied his fellow defensive ends in the game. He watches them use their "tools," trying to pick up whatever he can.
"We're watching the calls. We're just mental repping," Smith said. "Even though we don't get a rep, we do get a rep in our heads so when we go in there, it's just like human nature, it's natural to use."
In 172 snaps this season, Smith has eight tackles. He's still searching for the elusive first sack of his career.
Smith, the latest piece in Johnson's toolbox of defensive linemen, shouldn't have to wait long to achieve that milestone next season.