Indiana head coach Tom Allen thinks Ohio State has enough depth to separate itself from the rest of the Big Ten. So, too, does Penn State head coach James Franklin.
Both Big Ten coaches, speaking on Tuesday's Big Ten coaches teleconference, praised the Buckeyes' ability to wear opponents down by using their depth to keep their starters fresh.
"That's the challenge," Allen said. "I'm not bashful about saying that."
Urban Meyer disagrees.
"I don't see that right now. I really don't," Meyer said at a press conference on Wednesday. "We're hanging on at a couple positions right now, and we've got to get some guys back. Brady Taylor is key to get back; he should be back in a couple weeks. You never have enough depth. I wasn't part of that phone call. We have ways to go."
When asked specifically about depth at wide receiver, Meyer bluntly said "we don't have that much depth" at the position despite them playing well.
Injuries have tested the Buckeyes' depth, though only two key players have missed more than a game.
Without Taylor, who had knee surgery, Ohio State has been forced to use two redshirt freshmen and Gavin Cupp, a former three-star redshirt sophomore, in backup roles. Nick Bosa's injury will keep him out until at least November.
Jordan Fuller, Damon Arnette, Mike Weber, Robert Landers, Dre'Mont Jones and Chase Young have all been banged up at points this season. All of them are expected to play on Saturday, but with each player hurt, Ohio State's depth gets tested, likely sparking Meyer's concern.
What Dwayne Haskins learned from Penn State
For four weeks, Dwayne Haskins could seemingly do no wrong. The first-year starting quarterback pushed himself into Heisman Trophy contention by dispatching Oregon State, Rutgers, TCU and Tulane. He barely even played in the second half against the Beavers, Scarlet Knights and Greene Wave with his team pulling ahead for significant first-half leads.
In the first half of Saturday's win against Penn State, Haskins struggled mightily to find a rhythm and move the ball for the first time in his short career.
The Buckeyes managed just seven first-half points and Haskins had only 62 passing yards in the opening two quarters. He had a stretch early in the game during which he threw seven incompletions in eight passes. Haskins, though, persevered and finished the game 22 of 39 for 270 yards with three touchdowns and an interception.
"The crucible of training, the heart, the toughness, the difficult situations helps you get through it," Meyer said. "To come out the other end with the win, of course that helps him. He's been in some big-time environments now, twice on the road against top-15 teams, last year against a top team on the road against our rival.
"Those are all just growing, we say around here, growing whiskers and they're getting scars. That's what happens. It's something you can't teach in practice."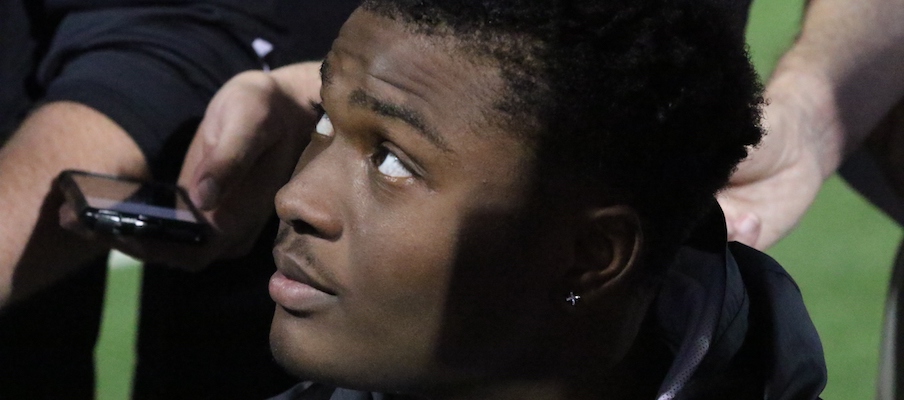 Nothing K.J. Hill saw from his quarterback surprised him. He said he knew Haskins was tough and he had seen the poise. What mattered to Hill, though, was how the Penn State comeback will help him in the future, noting Haskins "grew as a player."
"He's definitely going to need it for games on down the line and in his career, period," Hill said.
Haskins believes Ohio State will not play in front of a rowdier, more intimidating environment than Penn State for at least the rest of the season. With road trips to Michigan State, Maryland and Purdue remaining, he's almost certainly correct.
So, it was his last chance for a while to get experience in front of a hostile crowd.
"I feel like I got better, but it wasn't about me getting better," Haskins said. "It was about the offense figuring out what they were doing. figuring out how to attack them. They didn't give us much and we didn't realize that at first. We kept on trying to figure out what we could do, what we were able to do. We figured that out as the game went on."
Haskins said he didn't come away from the game with one single. At times, Haskins said, he could have been louder, had better footwork or had better pocket awareness.
The "Future" At Defensive End
Chase Young played 76 snaps against Penn State. No defensive end had played that many either this season or last season. Part of his high snap count was due to the Buckeyes missing Nick Bosa, who remains out until at least November with a core muscle injury. But that's not the only reason for his increased playing time.
Ohio State simply didn't have other players defensive line coach Larry Johnson felt comfortable trotting out behind Jonathon Cooper, Jashon Cornell and Young, a trio of veterans.
Johnson has a policy to avoid thrusting freshmen into games during their first years on the team. That kept Tyreke Smith and Tyler Friday from playing too much, though Smith played in the third-down Rushmen package. Smith had eight snaps and Friday saw two snaps.
"When they get in a game like that, it's tight, you don't want to put any freshmen in harm's way. I'm really a big believer in that," Johnson said. "You don't put a freshman in a game where he has a chance to make a mistake that may cost a big play, and that lives with them. That's kind of my philosophy. I don't do that. I wanted to make sure we had a chance to control the game. I made sure we rotated enough and stayed fresh and let the guys in the game that needed to play."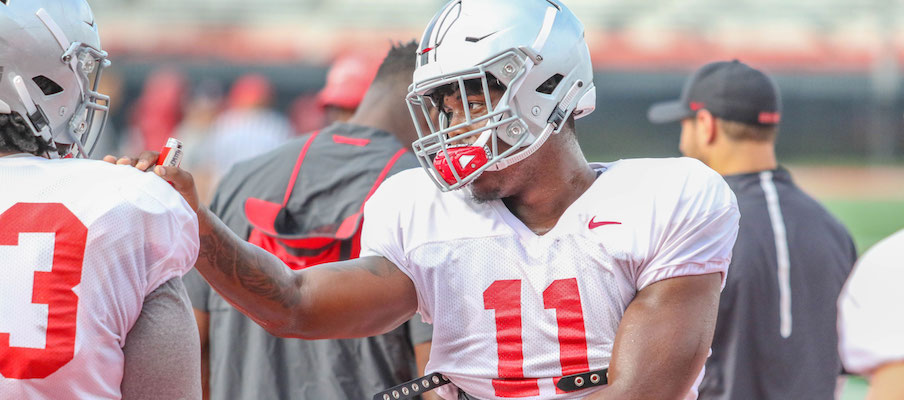 Though Smith and Friday won't see much time on the field outside of snaps in blowouts and against teams Ohio State should handle, Johnson views them as important cogs in the unit's future.
"They're growing," Johnson said. "Tyreke played probably about 15-20 plays in that game. He was in our third-down package, so he was on the field playing as a true freshman. Tyler Friday went in that game a little bit.
"I think those two guys are our future. I think they're doing a great job right now."
With Bosa assuredly leaving for the NFL at the end of the season, there will be ample opportunities for Smith and Friday to factor more into next season's game plans.
Smith, who multiple assistant coaches have noted his immediate readiness for college football, was the No. 34 overall prospect in his class, and Friday ranked No. 93 overall. Friday played offensive line in high school, but Johnson said he always viewed the freshman as a defensive lineman who has the potential to become a "really good defensive end."
Eleven Warriors is committed to smart, timely and exhaustive coverage of Ohio State athletics. Unlike other outlets, we choose not to put up a paywall. We want to keep our journalism as open as we can.
As an independent media organization, we count on the generosity of our readers to help us achieve this mission. If you enjoy our coverage, please consider becoming a 12th Warrior or supporting us in other ways.
Thank you for your continued support.