We already know that the 2019 NFL draft class will include at least two players who could have stayed at Ohio State for the 2019 season.
Nick Bosa made his move to the NFL official in October, when he withdrew from Ohio State to focus on recovering from core muscle surgery and training for the draft.
Dre'Mont Jones confirmed his intent to move on after this season on Wednesday, when he said he would play in the Rose Bowl, but then enter the 2019 draft.
Bosa is expected to be one of the first players selected in the entire draft – and quite possibly the No. 1 overall pick – while Jones is also widely projected to be a first-round pick.
The question now is, which other Ohio State players will choose to join them?
Ohio State should have at least a few seniors selected in the 2019 draft, with wide receivers Parris Campbell and Terry McLaurin and right tackle Isaiah Prince being the leading candidates. Wide receiver Johnnie Dixon and guards Demetrius Knox and Malcolm Pridgeon could also warrant draft consideration.
For this article, though, we'll take a look at the players who still have at least one remaining of eligibility at Ohio State but are also at least three years out of high school – giving them the option to declare for the 2019 NFL draft should they choose to do so.
None of these players have announced a decision on their future yet, and most of them probably haven't even decided what they will do yet. Based on what they have said, what they have accomplished and what reasons they might have to go pro or stay in Columbus, though, we can take a look at which Buckeyes are most likely to declare for draft entry and who else could have tough decisions to make.
Seems Likely
Dwayne Haskins, QB, Redshirt Sophomore
Haskins hasn't given any indication on whether he will declare for the draft – despite being asked about it repeatedly – but it will still come as a surprise if he doesn't. He's widely considered to be one of the top two draft-eligible NFL quarterback prospects, along with Oregon's Justin Herbert, and will be a sure-fire first-round pick if he declares.
Haskins' childhood dream of playing for Ohio State has been well-stated, and he still has two remaining seasons of eligibility, so he could feel a pull to come back. That said, he's already had the best season statistically of any Ohio State passer ever, and he'd have less competition to be one of the first quarterbacks drafted in 2019 than he might in 2020 (when Alabama's Tua Tagovailoa, among others, will be draft-eligible).
Playing in the NFL is a dream for Haskins, too, and he's already put himself in position to do so. An Academic All-Big Ten honoree, Haskins is also on track to graduate early, putting him in a good position to come back and get his degree even if he leaves as a redshirt sophomore.
Mike Weber, RB, Redshirt Junior
Weber acknowledged earlier this year that he seriously considered leaving after last season, and when he made his decision last January to return for this season, he tweeted "One more year," suggesting that this would be his final season as a Buckeye.
When Weber was asked about his future on Wednesday, he said he is "still thinking about it," while also saying that he doesn't believe he has reached his potential yet. If he believes a fifth year at Ohio State would give him the opportunity to take his game to a higher level and elevate his draft stock, he could consider staying in school. But it would still come as a surprise if the Rose Bowl isn't his final game in scarlet and gray.
K.J. Hill, WR, Redshirt Junior
Like Weber, Hill contemplated leaving for the NFL last season as a redshirt sophomore. He ultimately opted to return, but said in January that he was in line to graduate this December, giving him the potential to leave with his degree (which Jones will also be doing) after this season.
Hill has had his most productive season to date this year, likely solidifying himself as a middle-round draft pick, and it's uncertain whether another year would do much to elevate his stock. With Campbell, McLaurin and Dixon all on their way out, Hill could decide the time is right for him to take his game to the NFL, too – especially if Haskins also decides to leave.
Could Go Either Way
Damon Arnette, CB, Redshirt Junior
Kendall Sheffield, CB, Redshirt Junior
We'll write about these two together, because while they might not ultimately make the same decision, they both enter the decision process in similar positions.
While Arnette and Sheffield were both hyped as potential early-round NFL draft picks entering this season, neither of them quite played up to expectations this year. Both of them could certainly use another year at the collegiate level, because while they both possess the physical traits to be NFL cornerbacks, they still need to become more fundamentally sound and consistent in order to succeed at the next level.
That said, it wouldn't be a surprise to see either of them go. Neither of them talk to the media regularly (Sheffield almost never does), so it's hard to know what they're thinking, but both are fourth-year players who have been regulars in Ohio State's cornerback rotation for two seasons, with Arnette also seeing his fair share of playing time for the Buckeyes in 2016.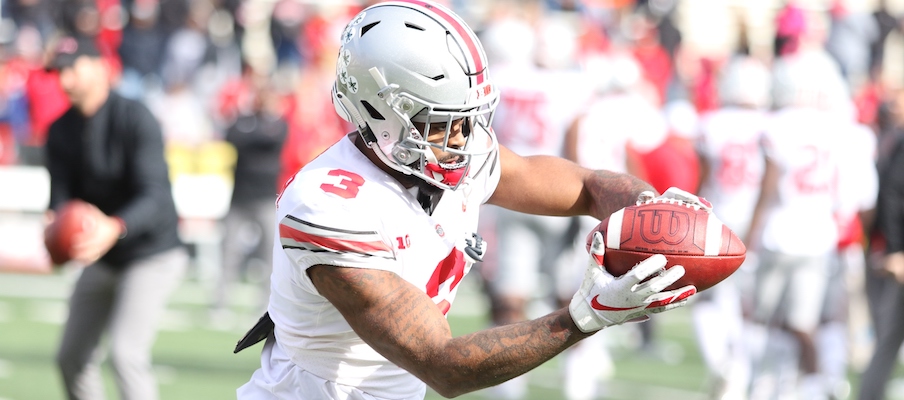 Michael Jordan, C/G, Junior
No Ohio State offensive lineman has entered the NFL draft early since Orlando Pace in 1997 (when Pace was selected with the No. 1 overall pick). That said, Jordan followed in Pace's footsteps once – becoming the first Ohio State offensive lineman to start a season opener as a true freshman since Pace, and starting every game for three seasons since – and that experience could give him reason to do so once again.
Jordan hasn't given any indication as to whether he is considering declaring for the 2019 draft, and could instead choose to follow in the footsteps of other recent Buckeye offensive linemen like Billy Price and Pat Elflein who have been four-year starters in Columbus.
Should he opt to declare this year, though, he should already have a good shot to be selected in the early to middle rounds of the draft. He's shown the versatility to potentially play any interior position on an NFL offensive line, earning first-team All-American honors from multiple media outlets as a center this season after two previous seasons at left guard.
Jordan Fuller, S, Junior
Fuller said Wednesday that he has submitted his name to the NFL's College Advisory Committee and that he would have discussions with his family about whether he should declare for the draft, but also said he was not specifically leaning either way and that his focus is on playing in the Rose Bowl.
A two-year starter at safety, Fuller would likely be selected in the middle rounds of the draft if he declared this year. Ohio State defensive coordinator Greg Schiano said in April, though, that he thought Fuller could be an All-American and a first-round draft pick.
If Fuller wants to have a chance to do that, he'll need to come back for his senior season – which could also make him, as a returning captain, one of the top leaders for the 2019 Buckeyes. He's good enough to play in the NFL next season, though, if he wants to.
Malik Harrison, LB, Junior
A big, athletic linebacker who leads Ohio State with 74 total tackles in his first season as a starter, Harrison has the physical tools to capture NFL scouts' attention and perhaps be drafted earlier than people would expect right now.
Harrison still needs to become more polished in all areas of his game, so his development would likely benefit from another year as a Buckeye. That said, Harrison said he has had discussions about his future with former teammate Jerome Baker – who, like Harrison, clearly needed to improve in several areas of his game when he declared for the draft as a junior last season, yet went on to be selected in the third round of the draft and has been successful as a starting linebacker in his rookie season for the Dolphins.
Eligible to Declare, But Unlikely
Austin Mack, WR, Junior
Mack has the tools to be an NFL wide receiver, but after undergoing foot surgery in October, it would be in his best interest to return for his senior season at Ohio State. That would give him the opportunity to fully recover this offseason, instead of having to rush back into training for NFL draft workouts, as well as the opportunity to be the veteran leader of Ohio State's receiving corps, which could also lead to the breakout season he needs to really establish himself as a pro prospect. Mack is also the president of a student organization, Redefining Athletic Standards, which could give him another reason to stay on campus for another year.
Binjimen Victor, WR, Junior
While Victor has flashed tremendous playmaking ability at times, he still hasn't emerged as a consistently productive receiver for the Buckeyes. He has physical attributes that should impress NFL scouts, but he's not ready to play at the next level right now. Like Mack, Victor would have the opportunity to be a veteran leader of the Buckeyes' receiving corps and have a breakout senior seasons if he stays for one more year, and that's exactly what he should do.
Rashod Berry, TE, Redshirt Junior
As a fourth-year junior, Berry could potentially be weighing his options, but he probably wouldn't be selected if he declared for the 2019 NFL draft. While Berry is one of the most physically gifted athletes on the team and has had his moments of greatness, he still hasn't emerged as a consistent impact player for Ohio State's offense, and needs a strong fifth-year senior season to improve his chances of being drafted in 2020.
Luke Farrell, TE, Redshirt Sophomore
Farrell has been solid as both a blocker and receiver this season as the Buckeyes' No. 1 tight end, demonstrating improvement and drawing increasing praise from his coaches as the season has progressed, but it would come as a big surprise if he left for the NFL now. He probably wouldn't be selected in the draft this year, but still has two more years of eligibility at Ohio State to potentially elevate his stock.
Jonathon Cooper, DE, Junior
Cooper has been solid but not spectacular in his first season as a starter, so he doesn't jump off the page as a likely candidate to go pro early. He would benefit from another year of working with Larry Johnson, with the potential to garner more NFL attention with a strong senior season.
Robert Landers, DT, Redshirt Junior
Davon Hamilton, DT, Redshirt Junior
Like Cooper, Landers and Hamilton have both been solid contributors in Ohio State's defensive line rotation this season – splitting repetitions at nose tackle – but aren't highly touted NFL prospects as of yet. Both should be back for next season as fifth-year seniors, giving them the opportunity to potentially make a bigger impression on NFL scouts while teaming up with Cooper and Chase Young as the veteran leaders of the Buckeyes' defensive front.
Drue Chrisman, P, Redshirt Sophomore
Chrisman would be one of the top punters in the 2019 draft if he chose to declare, but it's very rare for a punter to go to the NFL as a redshirt sophomore. And Chrisman has given no indication that he would consider making that move; to the contrary, Chrisman has taken to Twitter to lightheartedly attempt to convince Haskins to stay in school with him for another year.
So since Dwayne didnt win the Heisman this year he has to come back and win it next year right? @dh_simba7

— Drue Chrisman (@DChrisman91) December 9, 2018
Tuf Borland, LB, Redshirt Sophomore
Borland has been the Buckeyes' starting middle linebacker for the better part of the last two seasons and is a captain this year, but it would be a shock if he chose to leave for the NFL with two remaining seasons of eligibility. His future as an NFL prospect is questionable due to a lack of speed that hinders his ability to make plays in space, but he still has two years to potentially get faster and improve his chances of being drafted in 2020 or 2021.