Ohio State is expecting big things from Jordan Fuller this season.
In a candid moment during last month's Ohio State Coaches Clinic, defensive coordinator Greg Schiano expressed just how high his expectations are.
"Jordan will be an All-American this year," said Schiano, who was also the Buckeyes' safeties coach for the last two seasons. "Jordan will be a first-round draft pick."
Fuller already performed well in his first season as a starter for the Buckeyes last year, when he started 14 out of 15 games, recorded 70 total tackles and two interceptions and earned third-team All-Big Ten honors.
Going into his second season as a starter, though, Ohio State's coaches believe Fuller not only has the potential to be one of the best players on their team, but one of the best safeties in the entire country.
A true junior, the four-star recruit out of Norwood, New Jersey, went into last season as a co-starter at the boundary safety position, sharing snaps early in the year with Erick Smith. Ultimately, though, Fuller outperformed Smith – while Smith also served a two-game suspension for a failed drug test – and Fuller took over full-time duties at the position, becoming one of the Buckeyes' most reliable defensive backs.
Now, with Damon Webb in the NFL and no clear frontrunner in the competition to replace Webb at field safety, Fuller becomes the Buckeyes' clear leader at the safety position – and for that matter, the entire secondary.
"Jordan will be an All-American this year. Jordan will be a first-round draft pick."– Ohio State defensive coordinator Greg Schiano on Jordan Fuller
Ohio State head coach Urban Meyer likes what he's seen from Fuller this offseason, describing Fuller as one of the Buckeyes' "best players in the spring."
Ohio State co-defensive coordinator and safeties coach Alex Grinch, in his first year on the Buckeyes' coaching staff, liked what he saw from Fuller this spring as well. He said Fuller, listed at 6-foot-2 and 204 pounds, has both the size and athleticism that he looks for in a safety, but also has a mental understanding for the game that gives him the potential to be special.
"He's a master of the defense," Grinch said. "He can fix issues. He can get other guys right from an alignment and call standpoint, and he has the confidence to do so. And that comes from game reps. But when you add all those things up, the physical tools, the athletic tools and then the mental aptitude, you're talking about a guy who is an established starter and a guy we're looking forward to come fall."
While Fuller is an established starter, it isn't set in stone that he will start at the boundary safety spot. Ohio State's safeties cross-trained between the boundary and field positions this spring, and as the Buckeyes determine who the best option to start alongside Fuller is, they could move Fuller to the field spot if they believe the other safety is better suited to play the boundary.
"I feel comfortable with Jordan," Grinch said. "We see Jordan as an established starter in this program. Could he line up to the field? He certainly could."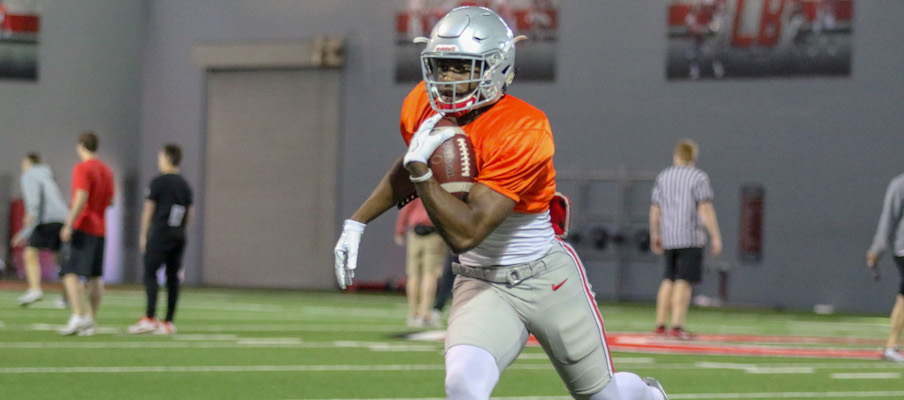 Regardless of which specific spot Fuller lines up at, he'll be a mainstay in the Buckeyes' secondary – likely playing every defensive snap, barring injuries, in games that remain close – and likely one of the team's top playmakers, as a safety who has shown he can make plays on the ball in the back end but also provide strong tackling in run support.
Fuller's potential to be an All-American could depend not only on how he elevates his game this season, but also on what other safeties around the country emerge as stars in their secondaries. The same is true for his potential to be a first-round draft pick, though he will have the option to either declare for the 2019 NFL draft or stay for his senior year and go into the 2020 draft.
Some of college football's other projected top safeties for the upcoming season include Washington's Taylor Rapp, Miami's Jaquan Johnson, Florida's Chauncey Gardner-Johnson, USC's Marvell Tell III, Boston College's Lukas Denis, Temple's Delvon Randall and Wyoming's Andrew Wingard. Gardner-Johnson, Johnson, Rapp, Tell and Randall are among those who have drawn first-round projections in early 2019 mock drafts, according to a roundup assembled by Inside The Pylon's Jeff Feyerer.
Wisconsin safety D'Cota Dixon, who earned first-team All-Big Ten honors from the coaches last season, and Michigan State safety David Dowell, who earned first-team All-Big Ten honors from the media last season, are also both back in the conference this season.
None of the safeties who earned All-American honors last year, however, are back in college football this year, leaving the door open for Fuller – if he has an outstanding season – to fulfill the first part of Schiano's prophecy.
If Fuller can fulfill the second part of Schiano's prophecy, he could be Ohio State's sixth defensive back in four years to be a first-round pick – and make Ohio State the first school to ever have a first-round defensive back in four straight drafts – though, as aforementioned, he could also choose to stay in Columbus for his senior season and make the NFL wait until 2020.
For now, Fuller's focus isn't on winning awards or getting drafted, but on doing his job in the Buckeyes' defense. And that's a job that his coaches, as well as his fellow safeties who look up to him, expect him to do well this season.
"Seeing his work ethic, how he always strains to go hard every play, that's what we're trying to do," said Isaiah Pryor, one of the safeties competing for the vacant starting spot alongside Fuller.
Fuller says that while he is confident in his abilities, though, he doesn't view himself as the lone star of his position group, because he expects the Buckeyes' other safeties to step up.
"It's not just me," Fuller said. "It's guys that have been here, it's Jahsen (Wint), Wayne (Davis), Isaiah (Pryor), Brendon (White), Amir (Riep). We all take on the challenge together. It's not just me."