While it didn't get as much attention as some of Ohio State's position battles this spring, the competition to start at safety alongside Jordan Fuller could be the position battle to watch when the Buckeyes return to the field for fall camp.
Ohio State's three-way quarterback competition has drawn most of the attention, but realistically, the Buckeyes need to make a decision on who their starting quarterback will be now that spring practices are over. In addition to letting Joe Burrow know where he stands before he makes a decision on whether he should leave the program as a graduate transfer, the Buckeyes need to know which quarterback they will be building their offense around, as Burrow, Dwayne Haskins and Tate Martell all have different skill sets.
There are several other crucial position battles that took place this spring that should continue into fall camp, including at center and at linebacker, but the Buckeyes have at least narrowed down their options at those positions.
Josh Myers will continue to compete for the starting center job this spring, but Ohio State coach Urban Meyer said after Saturday's spring game that Brady Taylor is in line to start as of now. Baron Browning and Justin Hilliard are competing to start at middle linebacker (at least until Tuf Borland is ready to return from an Achilles injury), and Keandre Jones and Pete Werner appear to be competing to start along with Malik Harrison at outside linebacker, but those appear likely to be head-to-head battles at this point.
At the field safety position, however, the competition appears to remain wide open, with several players on the roster – and a couple who haven't even arrived in Columbus yet – still potentially having a chance to seize a spot in the lineup.
"The field safety is probably our No. 1 concern on our team right now," Meyer said after the spring game. "We're just not quite sure who that is."
The presumed leader in the clubhouse since even before spring began has been true sophomore Isaiah Pryor, who started alongside Fuller and the rest of the Buckeyes' first-team defense for Team Scarlet in Saturday's spring game. Meyer's comments as well as those of defensive coordinator Greg Schiano, however, suggest that Pryor hasn't done enough yet to prove he deserves a starting job.
"We don't come out of spring with a clear-cut guy," said Schiano, who was also the Buckeyes' safeties coach for the past two seasons, after the spring game. "The competition will continue into training camp."
Schiano said he is confident that the Buckeyes will have a safety who will "be really game-ready" to start alongside Fuller by the time their season opener against Oregon State on Sept. 1 rolls around. As of now, however, none of the safeties competing for that spot in the lineup have separated themselves from the pack.
"I do feel we have guys that can play, but you would always like, it's cleaner, if you come out with a guy that's established themselves," Schiano said. "It's not that none of them didn't show things, they did. It's just none of them showed it that much more than the other that you can say, 'That's the guy.'"
Given that, it's possible that any one of five returning scholarship safeties – all of whom are either true sophomores or redshirt sophomores – could still make a run at the starting job alongside Fuller.
Pryor's top competition coming out of spring appears to be redshirt sophomore Jahsen Wint, who recorded 11 total tackles in Saturday's spring game – no other player recorded more than five – and led all safeties in snaps played (50). When asked earlier this spring who was pushing him for the starting spot, Wint was the first player Pryor named.
Amir Riep, who started alongside Wint for Team Gray and the Buckeyes' second-team defense and played just one fewer snap on Saturday, could also be a candidate to seize the starting job. Riep, a true sophomore, moved to safety this spring after playing cornerback as a true freshman.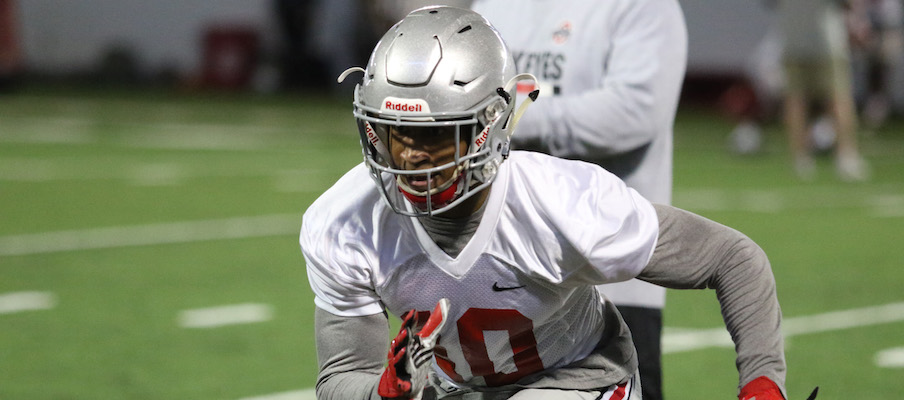 Brendon White, also a true sophomore who has switched positions – actually playing wide receiver for part of last season before moving back to safety – has also been mentioned as a candidate to potentially start at field safety.
Redshirt sophomore Wayne Davis likely faces the longest odds among the Buckeyes' scholarship safeties of emerging as a starter, but he split reps with the rest of the safeties in the competition this spring, too.
Because none of those safeties have emerged as the cream of the crop, the competition between all of them will continue in fall camp.
"It's not that none of them didn't show things, they did. It's just none of them showed it that much more than the other that you can say, 'That's the guy.'"– Ohio State defensive coordinator Greg Schiano on the Buckeyes' safeties this spring
That seemingly also leaves the door open for incoming freshman Josh Proctor, a four-star recruit from Owasso, Oklahoma, to immediately compete for playing time when he arrives this summer.
Fellow incoming freshman Marcus Hooker, a three-star recruit from New Castle, Pennsylvania, can't be ruled out either. As Schiano said Saturday, "somebody in his family played that position pretty well," referencing his older brother Malik Hooker, who was an All-American safety for Ohio State just two seasons ago.
"Around here, there's no freshman, sophomore, junior," Schiano said in reference to whether seniority is needed to earn a starting job. "If you're the best guy, you'll play."
Schiano, Meyer and new safeties coach Alex Grinch are still looking for another safety to step up and prove that they are the "best guy," however, because at least according to Meyer and Schiano, that didn't happen this spring.