While you might be used to the safety spots on a football team's defense being differentiated by the positions of free safety and strong safety, Ohio State doesn't do it that way.
In Ohio State's defense, the safety positions are defined as boundary safety and field safety – and the Buckeyes, including new co-defensive coordinator and safeties coach Alex Grinch, expect all of their safeties to be able to play both spots.
The boundary safety is titled as such because he is the safety who lines up closest to the near sideline. While the boundary safety is charged with covering the space between where he lines up and the sideline, the field safety is charged covering the rest of the field.
But while that differentiation is significant in terms of each safety knowing his responsibility for each defensive play, and the field safety position does require more man-to-man coverage responsibility, both positions require a similar set of skills to be successful – which is why Grinch has his safeties rotating between both spots in spring practice.
"In terms of their overall responsibilities, they're really mirror positions, and so we teach it as such," Grinch said while meeting with the media on Thursday. "And we want to make sure guys aren't locking into 'Well, I'm a falcon to the field, or a strong safety to the boundary, and that's the only spot I know.' No, we want to make sure we're dual-training and cross-training those guys, so we can get the best two on the field."
A traditional football defense has often included a free safety who plays farther away from the line of scrimmage and has more responsibility in pass coverage, and a strong safety who plays closer to the line of scrimmage and has more responsibility in run support. But those distinctions have started to fade away from the college game, Grinch says, due to the proliferation of spread offenses. As offenses, including Ohio State's, have increasingly turned to having four receivers split out wide from sideline to sideline, the ability to cover has become the top priority for anyone who plays the safety position.
"That has to be No. 1 on the job description for a safety vs. a spread offense," Grinch said. "It's becoming more and more of a unique position. The big safety, the in-the-box safety, what used to be described as a strong safety is kind of finding its way out of college football because of the lack of ability to cover in space."
With that being said, Grinch said it still remains for a safety to be able to come up in run support when needed – which means the Buckeyes are looking for well-rounded safeties who can handle varying coverage assignments while also being able to take on blockers and make tackles against the run.
"At both spots, you got to be able to physically hold up in coverage vs. a tight end – that might be a matchup from a physical standpoint that you might be minus to – and you got to make sure that you got the speed and the agility and coverage skills to cover a slot receiver, that might have the quick skill set as opposed to the size skill set. And oh, by the way, they got two backs in the backfield and a tight end, you better come up and support the run," Grinch said. "So it's a heck of a job description. It's just becoming that way as football becomes more of a spread-out game."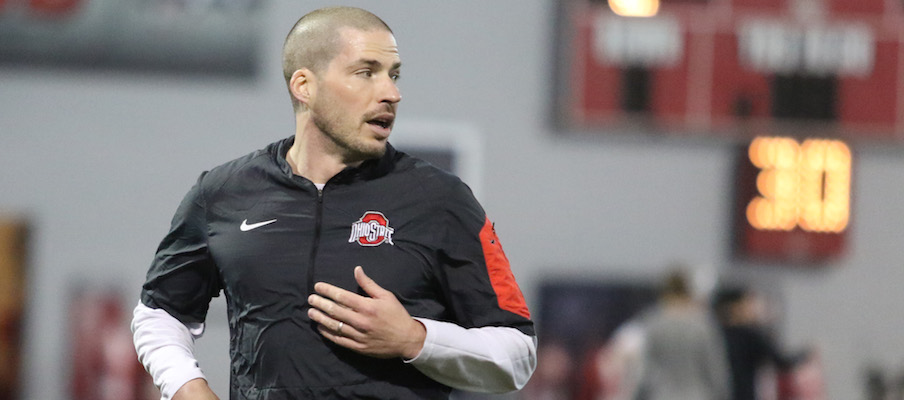 As for the Buckeyes who are competing to start at those spots this year, Ohio State currently has six safeties who splitting reps between the two positions: junior Jordan Fuller, redshirt sophomores Jahsen Wint and Wayne Davis and true sophomores Isaiah Pryor, Amir Riep and Brendon White.
It hasn't yet been decided which position Fuller, who played primarily at the boundary safety position last season, will end up starting at this year. But Grinch said he and lead defensive coordinator Greg Schiano, who was also the safeties' position coach last year, both view Fuller as being an established starter.
Pryor, the only other safety on the roster to play more than 22 defensive snaps last year, appears to be the frontrunner to start alongside Fuller. Pryor said he has been practicing primarily at the boundary position, with Fuller at the field position (which the Buckeyes also refer to as the 'falcon' position), but also said the safeties "switch every day" and believes the cross-training is making all of them better players.
"It helps a lot because you got to know what the other position is doing to make sure you do your job, and it's just better to know the whole defense," Pryor said.
At this point in the spring, however, Grinch says he isn't focusing much on setting a depth chart for the safeties because he wants them all to get their fair share of reps while competing to prove that they belong on the field.
"Our ultimate goal is to put the best two guys out there, whether it's to the field or the boundary spot, and then beyond that, it's a wide open race," Grinch said. "So all those guys, the message to them is compete to get in the depth and then ultimately, compete to be a one."