Even though the NCAA adopted a new rule this year allowing players to participate in up to four games and still redshirt, Ohio State coach Urban Meyer contended – as he did throughout his seven-year tenure coaching the Buckeyes – that the team would not redshirt players who it felt should be on the field this year.
"If they're ready to play, they're going to play," Meyer said in October.
With just one game left to play this season, Ohio State has held mostly true to that claim.
Even though there aren't many freshmen who have seen a large amount of playing time for the Buckeyes on offense or defense this year – and therefore, they could have gotten away with redshirting nearly all of them – nearly half of Ohio State's scholarship true freshmen have burned their redshirt eligibility for this season.
A total of 14 scholarship players are in line to redshirt for the Buckeyes this season, including one non-freshman, but 12 true freshmen have played in five games or more this year.
That means Ohio State is redshirting exactly half of its 2018 recruiting class (transfer defensive tackle Antwuan Jackson had already taken his redshirt). There are likely at least a few players among the Buckeyes' impending redshirts who still would have played in a game or few without the rule change, and therefore would not have been able to redshirt this season under the previous rule, in which a player would be ineligible for a redshirt (excepting a medical redshirt) in a season in which he saw any playing time at all.
It's still not a drastic uptick in redshirts for the Buckeyes, though. While Ohio State redshirted only six of 20 freshmen in 2017, the Buckeyes redshirted 12 of 23 freshmen in 2016 – so essentially, the same ratio as this year – and in 2015, redshirted a whopping 21 players, playing only four of their 25 freshmen.
Therefore, it doesn't appear that the Buckeyes made a much greater effort to redshirt players this year under the new rules than they did under the previous rules. Still, a look at how many games certain players appeared in over the course of the season shows that the Buckeyes might have made a conscious effort to redshirt some players who wouldn't have played in many more than four games anyways, while other freshmen earned regular roles – even if minor roles – that kept them from redshirting.
Ahead of the Rose Bowl – which is unlikely to change the redshirt equation much if at all, though there a couple players the Buckeyes will need to hold out if they are in fact planning to redshirt them – we take a look at which players are in line to redshirt, but first, at which freshmen we already know won't.
A player who has already redshirted is not eligible to redshirt again, so players who have played in four games or less this season but have already redshirted are not included. Walk-ons, who are not officially granted redshirt seasons until after they exhaust their regular eligibility, are also not included in this article.
Freshmen Who Cannot Redshirt
Chris Olave, WR
The biggest star of Ohio State's freshman class this season – particularly in the last two games against Michigan and Northwestern, in which he caught three touchdown passes and blocked a punt – Olave has played in every one of the Buckeyes' 13 games, first establishing himself as a contributor on special teams before cracking the wide receiver rotation after Austin Mack underwent foot surgery.
Jeremy Ruckert, TE
Ruckert has played in every game but one for the Buckeyes this season. He's only seen occasional playing time for Ohio State's offense – never playing more than 10 offensive snaps in any of Ohio State's last nine games – but nonetheless, the Buckeyes decided to keep him in their tight end rotation (while he has also been a blocker on the kickoff team) rather than preserve his redshirt eligibility.
Tyreke Smith, DE
Tyler Friday, DE
Smith has played the most snaps from scrimmage of any Ohio State freshman this year, as he's been a part of the Buckeyes' defensive line rotation in all 13 of their games, seeing playing time at both defensive end and as a defensive tackle in the "Rushmen" package. Friday hasn't seen as much playing time as Smith, but has had a semi-regular role in the defensive end rotation too, appearing in nine games.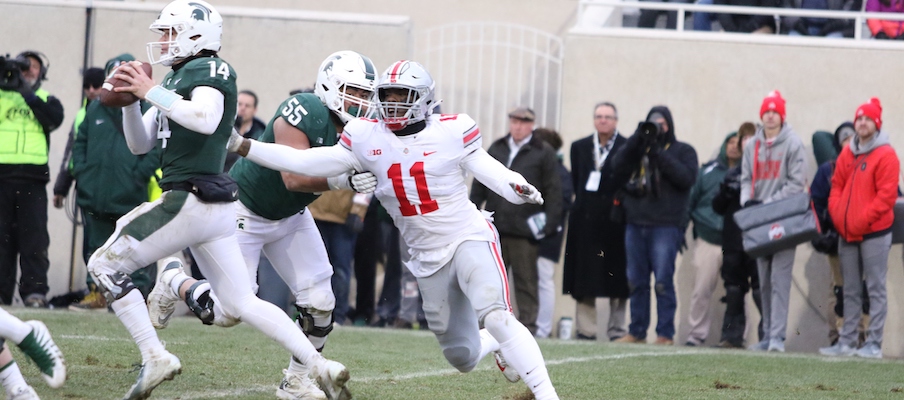 Tommy Togiai, DT
Taron Vincent, DT
Like Smith and Friday on the outside, Togiai and Vincent earned playing time in Ohio State's defensive line rotation early, taking them out of redshirt consideration. Togiai has played in 12 of the Buckeyes' 13 games this season, while Vincent has played in 10.
Dallas Gant, LB
Teradja Mitchell, LB
K'Vaughan Pope, LB
Gant, Mitchell and Pope saw their only playing time at linebacker this season at the tail end of the Buckeyes' blowout win over Tulane, but they've all been regulars on special teams; Gant has played in all 13 games, while Mitchell and Pope have each played in 11.
Josh Proctor, S
Proctor looked like a potential redshirt candidate for the first half of the season, playing in only three of the Buckeyes' first six games, but he's played in each of Ohio State's seven games since, becoming a regular on the kickoff and kickoff return units.
Sevyn Banks, CB
Banks looked like a probable candidate to redshirt after missing the Buckeyes' first eight games with a torn tendon in his hand, but he's become a regular on special teams since. Banks has played on the punt block/return team in each of the last five games, returning a punt blocked by Olave for a touchdown against Michigan and burning his redshirt eligibility in the Big Ten Championship Game against Northwestern.
Cameron Brown, CB
If there's one redshirt the Buckeyes would probably like to have back, it's Brown's. The freshman cornerback played in each of Ohio State's first five games, earning playing time on special teams out of the gates, but he's been sidelined by an undisclosed injury ever since – meaning he played in just one game too many to redshirt.
In Line to Redshirt, But Can't Play in Rose Bowl
Master Teague III, RB
After playing in four of the Buckeyes' first seven games, Teague hasn't seen the field since, preserving his redshirt eligibility as long as he does not play in Pasadena. While there were opportunities for Teague to potentially see playing time in the running back rotation (particularly at Maryland, when Mike Weber did not play due to a quadriceps bruise) and he also saw playing time on the kickoff return unit in his last game appearance against Minnesota, Ohio State appears to have decided that more occasional playing time was not worth burning a year of his eligibility.
(Note: Our Snap Counts series previously stated that Teague played against Purdue, but a recheck of the film showed that Josh Proctor – also wearing No. 33 – had been misidentified as Teague.)
Jaylen Harris, WR
The only non-freshman scholarship player in line for a redshirt, Harris would have been able to redshirt in 2017 – when he played in only three games – if the new redshirt rule had been in effect. Since he burned a year of eligibility last season under the old rule, however, Ohio State appears to have decided to make up for it this season – a smart move, considering that Harris has yet to crack the Buckeyes' regular receiver rotation, but should have a better chance at earning playing time next season – as he has seen the field in only four games.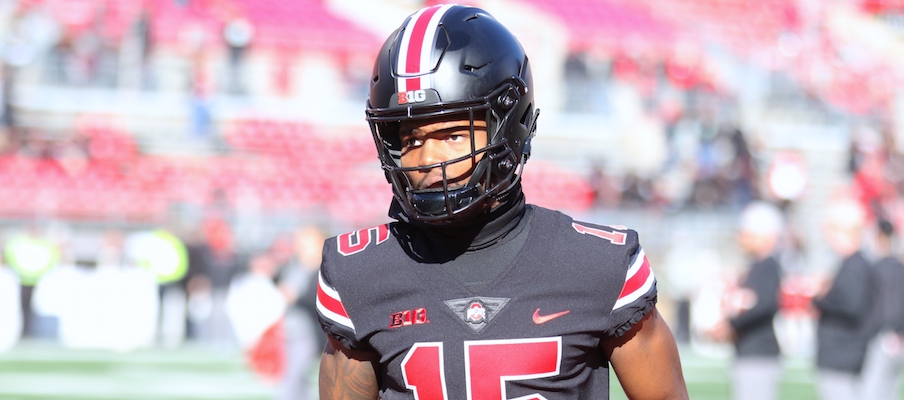 Will Redshirt
L'Christian "Blue" Smith, WR
The Buckeyes have occasionally called on Smith to see meaningful playing time – putting him on the kickoff return unit against Nebraska and Michigan, and even putting him on the field for an offensive snap against the Wolverines – but they've managed him smartly, playing him in only three total games, preserving his redshirt eligibility while leaving the door open for him to earn playing time in the Rose Bowl.
Nicholas Petit-Frere, OT
Ohio State's original plan for Petit-Frere wasn't to redshirt him; he appeared in three of the Buckeyes' first four games as the second-team right tackle, and Meyer actually said during a September appearance on his radio show that he expected Petit-Frere to continue playing all year. Since the first four games of the year, however, Ohio State hasn't had a single game in which it has taken its starters out early, keeping Petit-Frere off the field and ultimately allowing the Buckeyes to preserve his fifth season of eligibility.
Games Played by Ohio State True Freshmen in 2018

| Player | Games (Offense/Defense Snaps) |
| --- | --- |
| TYREKE SMITH | 13 (172) |
| CHRIS OLAVE | 13 (143) |
| DALLAS GANT | 13 (8) |
| JEREMY RUCKERT | 12 (121) |
| TOMMY TOGIAI | 12 (102) |
| TERADJA MITCHELL | 11 (2) |
| K'VAUGHAN POPE | 11 (2) |
| TARON VINCENT | 10 (79) |
| JOSH PROCTOR | 10 (3) |
| TYLER FRIDAY | 9 (83) |
| CAMERON BROWN | 5 (24) |
| SEVYN BANKS | 5 (SPECIAL TEAMS ONLY) |
| MASTER TEAGUE | 4 (30) |
| NICHOLAS PETIT-FRERE | 3 (72) |
| L'CHRISTIAN "BLUE" SMITH | 3 (5) |
| TYREKE JOHNSON | 3 (2) |
| BRIAN SNEAD | 2 (27) |
| JAELEN GILL | 2 (15) |
| MARCUS HOOKER | 2 (ST) |
| MATTHEW BALDWIN | 0 |
| KAMRYN BABB | 0 |
| JAVONTAE JEAN-BAPTISTE | 0 |
| MATTHEW JONES | 0 |
| ALEX WILLIAMS | 0 |
| MAX WRAY | 0 |
Tyreke Johnson, CB
After seeing playing time on Ohio State's kickoff and punt return/block teams for a three-game stretch against TCU, Tulane and Penn State in September, Johnson hasn't seen the field since, as the Buckeyes decided to preserve his redshirt eligibility instead of continuing to play him.
Brian Snead, RB
Since playing in the Buckeyes' first two games of the year, Snead hasn't even been on the sideline for any of Ohio State's last 11 games due to an unspecified violation of team rules, leaving his future with the program uncertain. Assuming he does return to the Buckeyes next season, though, he will be able to take a redshirt for this season.
Marcus Hooker, S
After missing the beginning of the season with an injury, Hooker earned playing time on the kickoff team for two games against Minnesota and Purdue. Since then, he's been sidelined by an injury again and hasn't returned to the field.
Jaelen Gill, H-B
Gill's only playing time this season came at the tail end of the Buckeyes' games against Rutgers and Tulane. He has yet to earn playing time on special teams – which Meyer considers to be a precursor to earning a significant role on offense or defense – and with Parris Campbell and K.J. Hill in front of him at H-back, he became a clear candidate for a redshirt this year.
Matthew Baldwin, QB
Kamryn Babb, WR
Max Wray, OT
Matthew Jones, C
Alex Williams, DE
Javontae Jean-Baptiste, DE
Baldwin, Babb, Wray, Jones, Williams and Jean-Baptiste would still be eligible to redshirt this season even under the old rules, as none of them have played a single snap as true freshmen.
Babb tore his ACL during a summer workout, ending his season before it even began. Baldwin and Williams also entered the season battling injuries, and like Wray, Jones and Jean-Baptiste, they've simply been too far down the depth charts at their respective positions to earn playing time.
The Buckeyes haven't had an opportunity to play a third-string quarterback since Baldwin has been healthy enough to play, they typically don't play their third-string offensive linemen (which Wray and Jones both are) on offense under any circumstances, and Williams and Jean-Baptiste both arrived at Ohio State as projects who haven't yet proven themselves ready for playing time on the defensive line.