If you didn't ask them otherwise, you'd be inclined to believe that Ohio State's four wide receivers who could have declared for the 2018 NFL draft – but all decided to remain Buckeyes for another year instead – made their decisions collectively.
The members of "Zone 6" rarely shy away from putting their close-knit bonds on display, even during interview sessions, when they often join each other's meetings with the media – sometimes even on days that they weren't scheduled to speak – instead of speaking individually.
In regards to their decisions on whether to go pro or stay in Columbus, however, Parris Campbell, Johnnie Dixon, K.J. Hill and Terry McLaurin said they made their own decisions individually, and that they were not necessarily influenced by each other's decisions to return.
Ultimately, though, they all ended up arriving at the same choice.
"It was kind of an individual thing, but I mean we all talked about it together," Dixon said Friday, standing alongside Campbell and McLaurin. "The biggest thing, we wanted to win a national title, and we want to be a big part of that."
Campbell was the first to publicly announce that he would be staying in school for his fifth and final year of eligibility, so the other receivers at least had the knowledge that he would be back before making their own decisions. Campbell, however, said he had no idea whether the other receivers would be back when he made his choice.
"It kind of was just up in the air," Campbell said. "We worry about each other, but it's hard to make a decision like that thinking about others at the same time, so it was kind of an individual thing. And then once I kind of found out what I was doing, that's when I contacted these guys."
Each of the receivers had their own set of factors to consider in making their personal decisions. While Campbell likely would have been the first receiver drafted among the four, followed by Hill, McLaurin had reason to consider declaring for the draft because he had already graduated, while Dixon had reason to consider going pro because of his history of knee injuries.
All four ended up having reasons to stay at Ohio State for another year that outweighed their potential reasons to leave. While Campbell likely would have been selected in the middle rounds of the draft, he also recognized he has room to improve and felt remaining a Buckeye would give him the best opportunity to do that.
"It took a lot of thought, obviously a lot of prayer, but personally, I had some personal goals that I haven't met yet," Campbell said. "I have a lot of potential that I haven't even touched yet. I feel like Ohio State is the best place for me to develop. I feel like once this season is over, all those goals will be met."
Hill, who still has two remaining seasons of eligibility but is in line to graduate in December 2018, said the opportunity to get his degree played a big factor in his decision to stay in school. McLaurin felt like there is more he can accomplish as a Buckeye even though he already has his degree. Dixon, meanwhile, said he simply didn't want to pass up the opportunity to play one more season with his close friends.
"Sometimes, it's bigger than the money," Dixon said. "Passing up a brothership like this would be crazy. There's going to be opportunities there, and if it's in God's plan, then I'll be there next year. So just being able to come back and spend this time with these guys for another year, I wouldn't trade it."
Now that all of them have made their decisions to stay in school and are back together with the rest of their team for winter workouts, they are discussing everything with each other and working toward collective goals once again. And they all agree that while their position group took a step forward for the Buckeyes this past season, they are looking to take their collective play to another level in 2018.
"There's still a lot of things we left on the field last year," Dixon said. "So there's some goals we still want to reach this year."
"Sometimes, it's bigger than the money. Passing up a brothership like this would be crazy."– Johnnie Dixon
While Campbell, Hill, Dixon and McLaurin all had at least 400 receiving yards in 2017, and Binjimen Victor and Austin Mack also each topped 300, the Buckeyes' passing game was still inconsistent, in part of because of untimely drops and route-running mistakes by the wideouts. So cutting down on those mistakes is a paramount goal for Ohio State's receivers as their preparation for the 2018 season begins.
"We can be better than last year," Hill said. "We had some young mistakes we made as a unit and as individuals, so I feel like next year we can be a more mature group."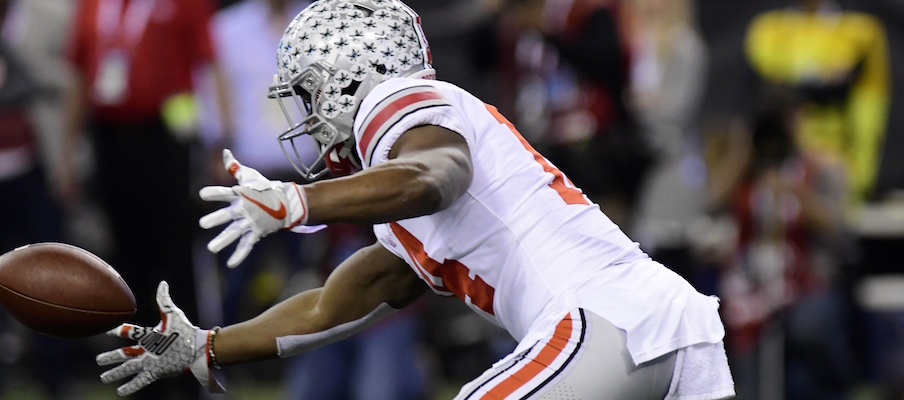 Campbell and McLaurin both said they feel like they left too many playmaking opportunities on the field this past season, and they want to change that in their final season as Buckeyes.
"We all felt like we left something on the field last year, which is obvious, you see it," Campbell said. "I think we just have to capitalize on every opportunity we get this upcoming season, and I think we'll be fine."
McLaurin recognizes that they have to make those plays if they want to be considered one of the best wide receiver groups in the country, which they strive to be.
"When you expect to be an elite group at Ohio State, you want to make every single play," McLaurin said. "We know we're not going to be 100 percent every single game, but we got everybody coming back, so it's just going to get the timing down with the new quarterback and we're going to take it upon ourselves just to not leave as many plays on the field. We made a lot more plays than some people gave us credit for, but we hold ourselves to a really high standard. We expect to make every one of those."