Among all the Ohio State players who could have declared for the 2018 NFL draft but decided to stay in Columbus for one more year instead, no one was projected to be drafted earlier than Dre'Mont Jones.
Considering that the Ohio State defensive tackle was ranked as the 35th-best overall prospect if he declared for the draft by Bleacher Report's Matt Miller, and was widely expected to be an early-round pick, it would have come as little surprise if Jones decided to go pro despite his two remaining years of collegiate eligibility.
Jones is leaving money on the table for 2018 by staying in school, and he acknowledges that wasn't an easy decision. Ultimately, however, Jones came to the determination that being a Buckeye for one more year was the best move for his long-term future.
"I feel like I can maximize myself," Jones said Friday in his first meeting with the media since his decision.
Jones' decision to stay in school wasn't one that was made hastily. While most of his teammates who had NFL draft decisions to make claimed that they were focused solely on playing for the Buckeyes during the season, Jones was candid about how much his decision weighed on him.
"I think about it every day," Jones said. "Ever since it was first brought up to me, whether I say I don't talk about it right now, it's still on my mind. It's hard not to."
Jones recognizes, though, that while he would have been selected in this year's draft, he could be an even higher selection in the 2019 NFL draft – assuming he declares after his redshirt junior season, which he expects to but has not committed to – if he can continue to improve his game next season.
A sociology major, Jones says he could graduate by the end of 2018, depending on how he schedules his classes, and that was a factor in his decision to return, too.
Some players in Jones' position would have decided to leave for the NFL now because of the possibility that he could suffer an injury next season that could hurt his draft stock as a result. Jones, however, said he did not consider leaving for that reason.
"I think the whole risk thing is very overplayed," Jones said. "You can get hurt doing anything. I can get hurt walking outside and get hit by a car."
All of that said, Jones said he has begun the process of taking out an insurance policy to protect himself in case he does suffer an injury in 2018.
Jones admits that selfishly, he made his decision based on what would he felt would benefit him most personally, and that he didn't keep his coaches in the loop on what his decision would be until he had finalized it. Now that he has made that decision, however, Jones is focused on continuing to improve himself – in the weight room now during winter workouts, and on the field once practices start up again – not only to improve his draft stock but also to help the Buckeyes win more games.
"I think the whole risk thing is very overplayed. You can get hurt doing anything. I can get hurt walking outside and get hit by a car."– Dre'Mont Jones
And while his coaches and teammates didn't know whether Jones would stay in school – Nick Bosa claimed he knew, but Jones says that was "Nick just talking" – they are certainly excited to have him back.
"I think it could be the best pass-rushing unit ever," Bosa said of Ohio State's defensive line, expecting Jones' return to enable that unit to be even better in 2018. "Dre'Mont, just his inside rushing ability, is the best in the country."
While Jones played mostly on first and second downs in 2017, as Ohio State used a four-defensive end "Rushmen" package of Bosa, Jalyn Holmes, Sam Hubbard and Tyquan Lewis in most pass-rushing situations this past season, Jones is expected to be a three-down player for the Buckeyes in 2018, a possibility he says he is "very excited" about.
"I would love to be out there on third down," Jones said. "I was a little anxious to be out there (in 2017). I don't really want to speak on that. Just know I wanted to be out there."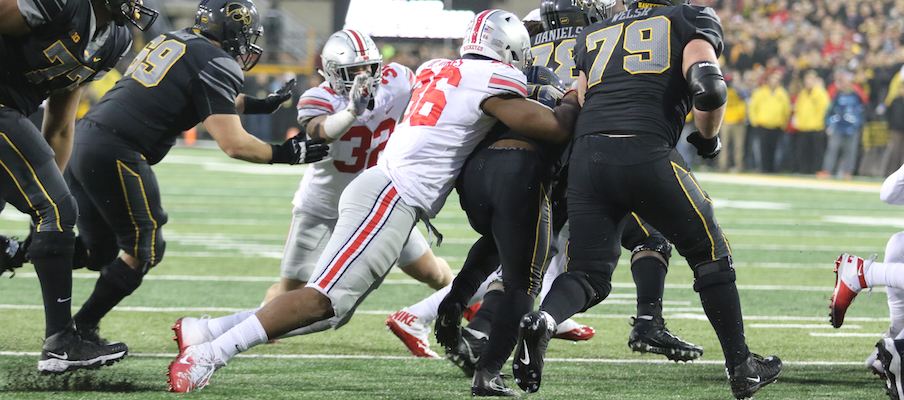 There has also been speculation that Jones could see some playing time at defensive end in 2018, having been recruited to Ohio State as a defensive end out of high school, given the Buckeyes' lack of depth at that position following the departures of Holmes, Hubbard and Lewis. Jones said, however, that he believes the Buckeyes' returning talent at that position – which includes Chase Young and Jonathon Cooper in addition to Bosa – is "really, really, really good," and that he does not know yet what his specific role will be in 2018.
Either way, Bosa expects Jones to play a bigger role in 2018 and show the nation that he is an elite defensive lineman.
"So the whole country's going to get to see what he can do, pass-rushing, which should be fun. Because nobody really knows that yet," Bosa said. "People just don't rush at the 3-technique (defensive tackle position) like he does, and nobody's really seen it yet, but I see it every day in practice."
Holmes, who is in line to be a selection in the 2018 NFL draft after exhausting his eligibility, also expects the world to see Jones play to his full potential in 2018.
"I feel like next year, we'll get the real taste of him," Holmes told Eleven Warriors in an interview this week. "Even though I know he started (in 2017) … you'll get to see the whole Dre'Mont (in 2018)."
Jones, who led all Ohio State defensive tackles this season with 441 snaps played and was regularly disruptive but recorded only 20 total tackles in 2017, acknowledged that he had unfulfilled goals this past season that drove in part his decision to come back.
"I'm not going to say I accomplished everything, because I wouldn't have came back if I felt like I would have accomplished everything," Jones said.
Jones missed two games this past season after suffering a cut on his leg in Ohio State's locker room – an injury that he attributed to "normal after-practice shenanigans" – and said the death of his grandmother also weighed on him.
While Bosa and Holmes aren't hesitating to say that Jones will take his game to another level in 2018, Jones didn't want to make any bold predictions this early in the year about what he will do this fall. Jones did say, however, than he plans to give this upcoming season everything he has.
"This may be my last ride (at Ohio State), so I want to just let everything go," Jones said. "Just push myself to be the highest level I can be."