PICKERINGTON – Jack Sawyer already planned to call Ryan Day Saturday evening.
He had to leave his unofficial visit to Ohio State earlier that day in order to head back home to prepare for Pickerington North's basketball game against Scott later that night. The five-star defensive end whom Ohio State's football program badly wanted as a foundation of its 2021 recruiting class is one of the area's top basketball players, as well, and Day wanted to hear how the latest game went, so Sawyer told him he'd let him know.
Day got a completely different call, though. A much, much better call.
On the drive back from campus, Sawyer and his father, Lyle, began discussing the possibility of ending his recruitment early and becoming a Buckeye.
"Me and my dad just had a talk," Sawyer told Eleven Warriors on Monday. "He's like, 'Honestly, I feel like this is the best place for you,' which I've felt that too. I just felt that, been getting that feeling. He kind of gave me his blessing to commit since my mom backed me 100 percent, too."
Sawyer didn't wake up on Saturday intending to end the day committed. He had no pressure to announce a verbal commitment. The Buckeyes have just seven players committed in their 2020 class and didn't have a single commit in their 2021 class. No player from the state of Ohio in his class had committed to any school.
But Sawyer didn't want to continue his recruitment. He saw no reason to do so. His mind had been made up since taking a visit to campus a few weeks ago, and nothing had happened to change it. Even though he had two more years to make a decision, he believed it made sense to become the first member of Ohio State's 2021 class.
"Why wait? That's what I thought," Sawyer said. "Being so close to there, being able to be plugged in right away as a sophomore, being able to develop these next two years, being able to be on their weight program and all that stuff, I was like, you know, this is the best thing for me. If I can walk in the doors ready to play, get on the field early as a freshman, there's no need to wait for me. I'm ready to roll."
Sawyer played Pickerington North's basketball game without telling anyone but his parents of his intention.
That night, he fulfilled his promise of calling Day, fully prepared to surprise the first-year head coach. First, Sawyer filled him in on the game, which his team won, 82-22. Then, Day gave him a typical coach's sales pitch.
"We really want you to keep coming down and keep seeing us, keep building a relationship," Sawyer recalled Day telling him.
Sawyer stopped him. He had some news to deliver.
"I was like, 'Coach Day, I think I need to tell you something,'" Sawyer said. "I was like, 'I think I'm ready to be a Buckeye.' He didn't answer for a couple seconds. He was like, 'Wow, are you serious?' So, yeah, it was all great."
Day wanted Sawyer to sleep on the decision before finalizing it.
Before making it official on Sunday, Sawyer called Larry Johnson that morning to deliver the news.
"I was like, 'Coach Johnson, what's up?'" Sawyer said. "He's like, 'What's up, man? How'd the game go last night?' Talked about the game for a minute, and I was like, 'Coach Johnson, I think I need to tell you something very important. I'm committing.' He just got so excited.
COMMITTED! So excited to be a Buckeye! #GoBucks #BuckeyeNation pic.twitter.com/s48Y0zSrVj

— Jack Sawyer (@jacksawyer40) February 3, 2019
Johnson has coached countless star defensive ends who both produced at a high level in college and went on to have impressive careers in the NFL. He molded both Nick and Joey Bosa and developed Tamba Hali and Tyquan Lewis into professionals.
With his commitment this weekend, Sawyer ensured he's next in the assembly line of defensive ends to learn from Johnson, whom he called "the best D-line coach in the country."
---
It didn't take long for Sawyer to fall in love with football – and Ohio State.
His family grew up Buckeye fans, and Sawyer had the walls in his childhood bedroom painted with the team's colors. The top of his walls were grey, the bottom of the walls were scarlet and "Ohio State wrapping" was pulled across the middle of them. As Sawyer grew to be a commodity in the recruiting sphere, the Sawyers backed off the fandom in order to remain objective in selecting a school, but the memories remained.
Sawyer played football, basketball and baseball growing up, and his athletic pedigree has never been a concern.
"I want to be the No. 1 sack leader. Obviously I want to help win a national championship, Big Ten championship. Just do that and hopefully be a first-round draft pick one day."– Jack Sawyer on his goals at Ohio State
Both of his parents played sports in college. His mother, Michelle, was a McDonald's All-American basketball player who chose to attend Bowling Green, then played professionally overseas. Lyle was held back by his size, but played Division II football at Findlay.
Neither pushed him to play their respective sport, Sawyer said, instead hoping he would pick up both, which he did. His skills on the court earned him an offer from Stony Brook to play basketball and interest from MAC schools, but his true passion has always been football.
Even as a kid, Sawyer, who now stands 6-foot-5, had both a height and athleticism advantage on most people his age. He remembers playing games of two-hand touch, nicknamed "razzle dazzle," as a fourth grader at Pickerington Central football kids summer camps with former Ohio State offensive lineman Pat Elflein who was a high school player and camp coach at the time.
Sawyer and Elflein didn't need much strategy to dominate the field.
"Pretty much we'd have like five other kids who weren't as athletic, and he'd tell me to go deep and just throw it as far as he could and let me go get it," Sawyer said.
In order to maximize his size and speed, Sawyer played middle linebacker from when he began playing football until the end of eighth grade. He and his dad, who coached him, realized teams would just run away from him if he played on the edge.
"I'm not trying to brag about myself, but definitely seventh and eighth grade I made every play because whether they went right, left, inside, outside, I just chased it down and made the tackle," Sawyer said.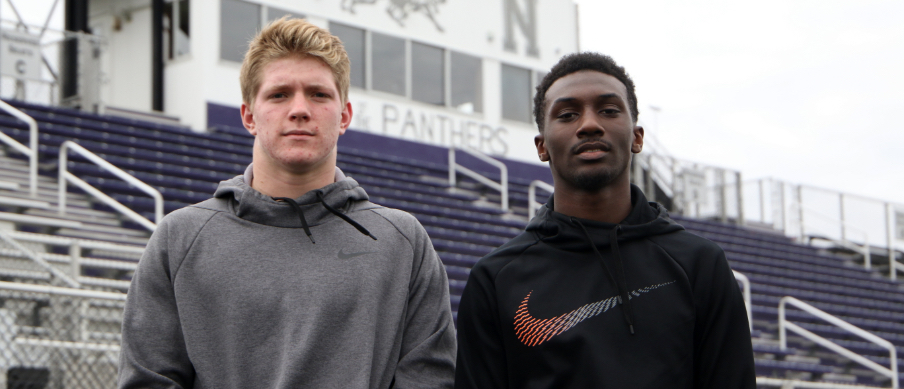 By the time he neared high school, he realized a growth spurt during junior high that he says turned him from a 6-foot-1 seventh grader into a near 6-foot-5 eighth grader would likely force a position change. As Sawyer entered high school, he turned his focus to tight end and defensive end.
With Tyler Foster, an Ohio University signee, entrenched as starting tight end, Sawyer didn't see the field as consistently as he had hoped on offense. So he focused on earning a starting position on defense as a freshman.
"I just want to get on the field as soon as I could because we were splitting time still," Sawyer said. "But I wanted a starting spot, so there was a defensive end spot open. I was like, 'I'll play this, coach.' And then after playing the first couple games, the first game I played and started I had like six tackles and two sacks. I was like, 'This might be my position.' So, I just kept working on it each week and I just kept progressing, getting after it."
---
Most high school prospects received loads of recruiting letters in the mail. They pile them up, open some, yet leave many of them sealed.
College programs knew they didn't stand a chance at landing Sawyer through the mail, though. He became a known commodity in junior high. Long before he even took a snap for Pickerington North, coaches wanted to meet him in person.
"I'd be in seventh and eighth grade and our old high school coach who was coach (Tom) Phillips, we were pretty close with him, too," Sawyer said. "He'd have all these colleges asking to see me, and he's like, 'We can't. He's over at junior high.' Growing up, I've been seeing all these coaches coming through."
Sought-after prospects aren't exactly a new phenomenon at Pickerington North.
"I don't feel any pressure. I feel like it's all great pressure, if you know what I mean, because everyone loves me, loves me now that I announced I'm going to Ohio State."– Jack Sawyer on playing for hometown team
Former Michigan tight end Jake Butt, who texted Sawyer in the winter offering his advice during the recruitment process, attended the high school Sawyer knew he would end up at. Both Jacoby Boren and Elflein also suited up for Pickerington North years ago, providing Sawyer a visceral path to success. 
"As a young kid, it was motivation because I always wanted to be the best that I can be," Sawyer said. "And being able to see a kid from the school I was going to go to be able to be that successful and move on to Ohio State, one of the best schools in the country, it was just a motivational factor."
Phillips pulled Sawyer aside after a particularly impressive performance in a game in eighth grade to make a bold proclamation.
"You've got a special talent and I think you're going to be one of the biggest recruits in your class," Sawyer recalled Phillips telling him.
Sawyer remembers being shocked. But so far, he's been proven correct. Sawyer is the No. 3 overall prospect and the top-rated recruit in the state of Ohio in the class of 2021.
Al Washington, who now coaches Ohio State's linebackers, gave Sawyer his first offer when the then-Cincinnati assistant coach called him on the way to school in October 2017, midway through his freshman football season.
"I remember sitting there and he said, 'We want to offer you a scholarship,'" Sawyer said. "I looked to my sister who's driving me to school and I'm like, 'Did you just offer me a scholarship?' He's like, 'Yes sir, we did.'"
A tumult of offers followed in the spring.
Michigan. Kentucky. Michigan State, Maryland. Pittsburgh.
Then, finally, Ohio State.
---
Sawyer had met big-name coaches before getting introduced to Urban Meyer, but no one quite wowed him like the former Buckeyes head coach.
"It's like the Beatles coming in," Pickerington North head coach Nathan Hillerich said.
Meyer showed up to much fanfare in 2017 to recruit eventual Ohio State signee Alex Williams, now a rising redshirt freshman defensive end.
Hillerich had given Sawyer a heads up. He didn't want the 15-year-old freshman to unexpectedly run into the coaching legend. Hillerich knew he had something special in Sawyer and wanted Meyer to know about him.
"I've never met Urban Meyer before, but he's one of the best coaches in Ohio State history, so you can imagine the nerves I had," Sawyer said.
Sawyer got through the meeting, and he soon completed the rest of his first season of high school football.
As Sawyer describes it, Ohio State's interest in him was "gradual." Though he had a solid year as a freshman at Pickerington North, picking up 3.5 sacks and more than 50 tackles, he needed to gain weight, which he did – quickly.
"They saw how much I progressed that offseason," Sawyer said. "I gained about 20 pounds, got a lot faster and more quick."
That spring, the offers rolled in with him picking up five offers in the first three months of the year. Ohio State, too, felt it was time to make a move on Sawyer.
The coaching staff invited him to campus for an unofficial visit in the first week of April. He had an inkling of what might be coming, considering how many teams had offered him recently. Sawyer told his dad he thought the Buckeyes might offer him a scholarship, and he was correct.
As Sawyer sat with his dad on the side watching Ohio State go through practice, Meyer walked up behind him and slapped him on the back before delivering a comment Sawyer hasn't forgotten.
"He's like, 'Damn, you're a big son of a bitch.' That's his exact words," Sawyer said. "And I'm like, 'What's up, coach Meyer? What how are you doing?' He's like, 'It's nice of you to be here.' He's like, 'We're going to have a nice talk later.'"
After practice, Meyer invited Sawyer and his dad into his office.
"We're talking, and he's like, 'We think you're a great player and we've been hearing a bunch of things about you, and coach Johnson just raves about you, so we're going to offer you a full-ride scholarship to Ohio State,'" Sawyer said. "Just me and my dad, you can imagine how high the emotions were."
Sawyer became the first in-state player in his class to earn a scholarship offer from Meyer and his staff.
During the summer, he spent time working with Larry Johnson at a camp, which intensified Ohio State's interest.
"That's when they started putting the heat on me really hard, because they saw me be able to work in front of their eyes," Sawyer said.
Ohio State made him a top priority, and he kept taking visits, becoming more comfortable with the coaching staff and potential future teammates. Soon after the program announced the transition at head coach on Dec. 4, Day showed up to Pickerington North.
"It was really more that Jack understood that he was a high priority for them, that they were coming here, wanted to get to see coach Day, understand that they wanted him to be a major point for their 2021 class," Hillerich said.
Less than two months after Day took over as head coach, Sawyer became the first commitment in his 2021 class on Sunday.
He's the first player from his high school, filled with rabid Buckeye fans, to commit to Ohio State since Williams. But he isn't worried about external expectations getting to him.
"I don't feel any pressure," Sawyer said. "I feel like it's all great pressure, if you know what I mean, because everyone loves me, loves me now that I announced I'm going to Ohio State."
---
Ohio State couldn't have a better cornerstone for its 2021 class.
Sawyer is a local star with a national reputation. As a top-three prospect in the entire country, he'll take part in camps as an future Buckeye and can help build the program's reputation in the eyes of his peers. He's also close enough to make dozens of visits in the next couple years, never much more than a half-hour drive from campus.
Sawyer said he loves the idea of serving as a recruiter to the rest of the class and already has his eyes on a local wide receiver who holds an offer.
"I've already been texting with one of my best friends who goes to (Pickerington) Central, Lorenzo Styles," Sawyer said. "We've been playing basketball since third grade. I'm like, 'Come on, Zo. What are you waiting for? Let's get this thing rolling.'"
The next two years, Sawyer will be focused on getting bigger as much as he'll work to improve his technique.
As a freshman, he weighed less than 200 pounds, and right now, he stands 6-foot-5 and weighs between 215 and 220 pounds. By the time Sawyer enrolls at Ohio State, he hopes to be 255 or 260 pounds in order to have a chance to play immediately, which is one of the reasons he chose to commit early. By the time he leaves the program, he thinks he'll be 265 or 270 pounds due to his lanky frame.
Sawyer hasn't yet sat down with Johnson to create a two-year preparation, but that's coming. Already, he has a list of goals.
"I want to be the No. 1 sack leader. Obviously I want to help win a national championship, Big Ten championship," Sawyer said. "Just do that and hopefully be a first-round draft pick one day. It's always been a goal of mine. Just do whatever I can."