While it's not uncommon for Ohio State to produce stars at every position on the field, the Buckeyes have had an especially good run at defensive end in recent years.
John Simon was a first-team All-Big Ten defensive end in both 2011 and 2012, earning Big Ten Defensive Lineman of the Year honors in his senior season. Joey Bosa had one of the most dominant three-year runs of individual play in Ohio State history from 2013 to 2015, earning first-team All-American honors and Big Ten Defensive Lineman of the Year honors in both 2014 and 2015, adding Big Ten Defensive Player of the Year honors in 2014. Tyquan Lewis and Nick Bosa followed that up by earning Big Ten Defensive Lineman of the Year honors in 2016 and 2017, with Bosa also earning first-team All-American honors and Lewis earning his second straight first-team All-Big Ten recognition in 2017.
In the past six years, Ohio State has had five defensive ends selected in the first four rounds of the NFL draft – Simon, Joey Bosa, Lewis, Sam Hubbard and Jalyn Holmes – and Nick Bosa will soon join them, potentially as the No. 1 overall pick and almost certainly a top-five overall pick in this year's draft.
Clearly, Ohio State has had no shortage of star defensive ends in recent years, and the pieces are already on the assembly line for the Buckeyes to keep churning out even more.
Next in line for the Buckeyes is Chase Young, who already started to emerge as a star this past season, becoming Ohio State's top defensive end after Nick Bosa's season ended early. Young led the Buckeyes with 14.5 tackles for loss, including 10.5 sacks, and earned second-team All-Big Ten honors. He did all that while nursing ankle injuries for most of the season, and the five-star recruit from the class of 2017 still might only be scratching the surface of his potential. He has all the tools to be one of college football's best defensive ends in 2019, then follow in the footsteps of the Bosas and be a top pick in the 2020 NFL draft.
There are plenty of other defensive ends on the Buckeyes' 2019 roster, too, with star potential.
Jonathon Cooper, who was also ranked as a five-star prospect by some recruiting services, hasn't quite lived up to his billing out of Gahanna Lincoln High School yet, but returns for his second season as a starter in 2019. With a strong senior season, he could set himself up to be selected in the 2020 NFL draft, too.
The defensive end who could be primed for a breakout season for the Buckeyes in 2019 is Tyreke Smith, a high four-star recruit from the class of 2018. He only saw occasional playing time and didn't make any tackles for loss as a true freshman, but he's another big, explosive defensive end who has the tools to become an impact player on Ohio State's defensive line now that he has a year of experience under his belt.
Another defensive end who could certainly emerge as a star for the Buckeyes sooner than later is Zach Harrison, the prized prospect in this year's recruiting class, who brings an elite combination of size and speed to Ohio State from Olentangy Orange High School just up the road. With Young, Cooper, Jashon Cornell, Smith and Tyler Friday all potentially ahead of him on the depth chart, Harrison might need a year to develop and wait his turn before playing a significant role for the Buckeyes, but he has through-the-roof upside.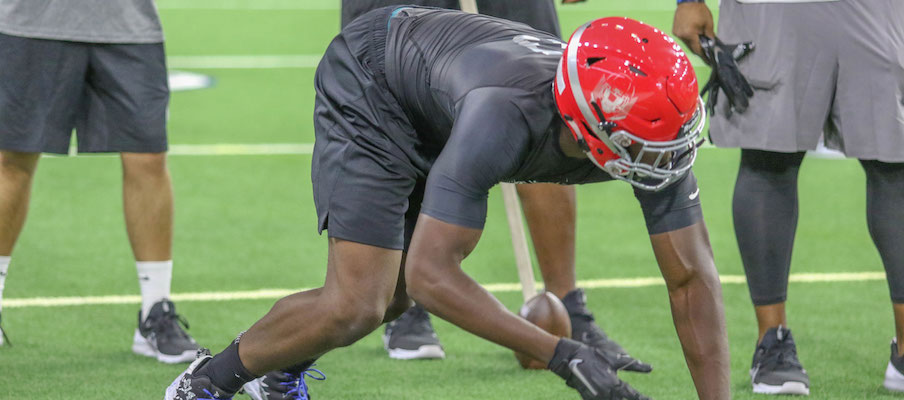 In total, Ohio State's 2019 roster will include six first- or second-year scholarship defensive ends – Smith and Friday as sophomores, Javontae Jean-Baptiste and Alex Williams as redshirt freshmen and Harrison and Noah Potter as true freshmen – and all of them have the upside to potentially develop into star players over time with defensive line coach Larry Johnson's tutelage.
The Buckeyes' future at the defensive end position became even more promising on Sunday, when Pickerington North's Jack Sawyer became the first player to commit to Ohio State for the recruiting class of 2021, for which he is ranked by 247Sports as the nation's No. 3 overall prospect.
Ohio State's run of excellence at the defensive end position has started on the recruiting trail, as the Buckeyes have landed five defensive ends who were ranked among the nation's top 35 recruits in their respective classes (Nick Bosa, Cooper, Young, Smith, Harrison) in the past four years alone. Assuming Sawyer stands by his commitment, it certainly looks likely that he'll join them.
It helps that several top-ranked defensive ends have blossomed in the Buckeyes' backyard in recent years – Cooper, Harrison and Sawyer are all from high schools less than 30 minutes away from Ohio State, while Smith is also from Ohio (Cleveland Heights) – but they've attracted top defensive end talent from elsewhere, too, bringing in the Bosas from Florida and Young from Maryland.
Johnson, of course, has been a big factor in the Buckeyes' success both recruiting top defensive ends and then maximizing their potential once they arrive in Columbus, as he is regarded as one of the best defensive line coaches in the country.
The biggest question for Ohio State's defensive line going forward might be how long Johnson, who is 67 years old, plans to continue coaching. The aforementioned recruits have consistently named Johnson as one of the biggest reasons why they have chosen to become Buckeyes, and he'll leave huge shoes to fill whenever he does decide to call it a career.
As of yet, though, Johnson has expressed no desire to retire anytime soon; he was recently promoted to associate head coach on Ohio State's coaching staff, and said during Rose Bowl media day in December that he has "no plans to go anywhere."
The good news for the Buckeyes is that regardless of how long Johnson continues coaching, they're already set to have top-flight talent at the defensive end position for many years to come.
Ohio State doesn't have any defensive recruits committed for the class of 2020 yet, so that's still a hole that needs to be filled, but it would be a surprise if the Buckeyes don't bring another top defensive end talent – at least one – next year too. They're still among the top contenders to land Damascus, Maryland defensive end Bryan Bresee, the No. 1 overall prospect in the entire class of 2020, though they still face still competition there from Penn State, Clemson, Georgia and Alabama. They're also the frontrunner to land Ohio's top defensive end, Darrion Henry from Princeton High School in Cincinnati, who is ranked as the No. 46 overall prospect in the 2020 class.