Not much went according to Chase Young's plans this season.
After spending most of his freshman season at Ohio State watching four future NFL defensive ends – Sam Hubbard, Nick Bosa, Tyquan Lewis and Jalyn Holmes – take the majority of the snaps, he stepped into a primary role alongside Bosa and Jonathon Cooper. Time on the sidelines learning from his predecessors was well spent, but the former five-star prospect felt ready for a larger responsibility on defense. He fell into a larger role than he anticipated, though.
Young's nearly end-of-season stat line of 32 tackles, 14 1/2 tackles for loss and 9 1/2 sacks might not prove it, but his first season as a starter didn't pass particularly smoothly.
Adversity came early.
In the first game of the season, the sophomore rolled his left ankle. He remembers the injury came on Bosa's first sack of the season when he tried to lean back to catch the scrambling Oregon State quarterback. Young didn't miss any games. Two weeks later, he rolled his right ankle during his team's victory in Dallas versus TCU.
Even though he could "barely walk" the day after beating the Horned Frogs, Young's rolled ankles did not force him to miss action. He played a season-high 76 snaps the following week in Ohio State's 27-26 win against Penn State and showed no signs of injury, picking up six tackles, two pass defenses and two sacks.
"Even in the Penn State game, both my ankles were rolled," Young said on Wednesday. "Minnesota, Purdue, I was playing with two rolled ankles. It affected me with bending the edge. I didn't have a lot of flexibility in my ankles at that time. Later in the season, I was staying in the treatment room."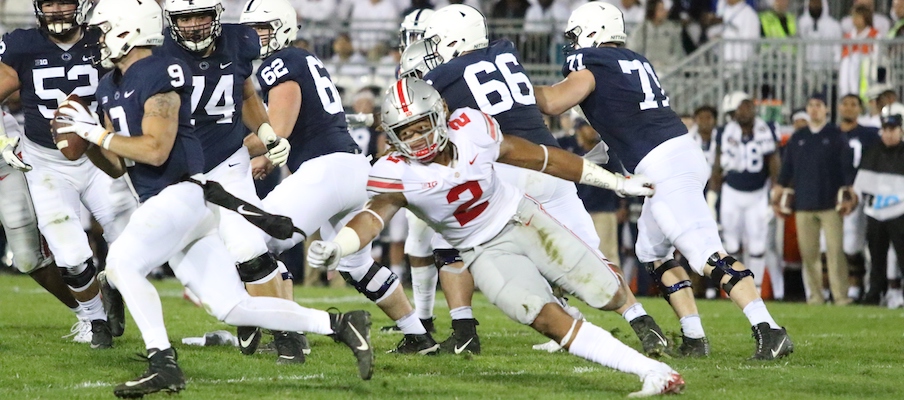 Young steadfastly claims he would have played regardless of whether Ohio State had its entire cast of defensive ends or not, but he surely felt pressure to play once the Buckeyes lost Bosa for the year to a core muscle injury suffered late in the matchup with TCU.
No date would have been perfect for Bosa to suffer a devastating injury, but the timing could hardly have been worse. Young, already dealing with a pair of rolled ankles that forced him to played at "about 80" percent of his full strength for most of the season, all of a sudden drew a significantly greater focus from offenses, which used to focus primarily on keeping Bosa in check.
"When Nick was here, they just couldn't double us," Young said. "They could double Nick. That would leave me free with all the one on one's. When he went down, I got more chip blocks and double teams and stuff like that that I had to adjust to that I'd never gotten in college football before, being a young player. I even talked to coach (Johnson) about it because I was getting frustrated. Coach J talked me through it and I had to take it game by game."
For a five-week stretch after the Penn State game, Young didn't have nearly as much impact as he did in his two-sack game versus the Nittany Lions.
Indiana, Minnesota, Purdue, Nebraska and Michigan State held him to a combined 11 tackles, one pass defense and 1/2 sack, and Young certainly felt the pressure to perform better.
"After the Penn State game, I think everybody expected something crazy every game," Young said. "That's what I tried to do. I tried to put it on the line every game. But offenses prepare for defense and it's not going to go like that every game. (Johnson) said to me, early success, everybody wants greatness game after game. When I didn't play the games I wanted to play, I would get down on myself. Like every player who wants to be great does. He told me that happens to everybody and I just tried to finish strong."
Not until Ohio State's game against Maryland on Nov. 17 did he finally feel healthy again.
Playing against his hometown team, Young had four tackles, including a pair of sacks. Two weeks later in the Big Ten championship game, he sacked Northwestern quarterback Clayton Thorson three times and forced a fumble.
"It gives me more motivation going into the offseason and what I could potentially be if I keep working hard," Young said.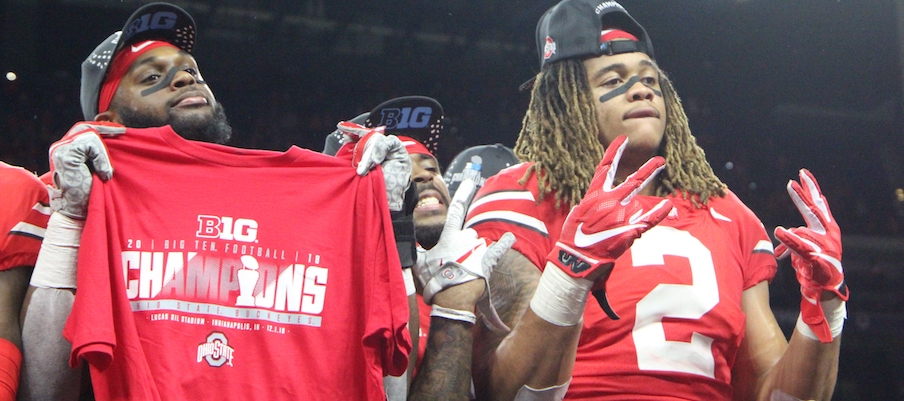 Young needed more than a month to return to full strength and figure out how to consistently make plays in backfields without Bosa, but he eventually got there.
During the season, Bosa offered some help. While living and rehabilitating in Los Angeles, he watched every Ohio State game using his log-in to watch film and gave feedback to Young – until Young told him he had more important things to worry about.
"I told him chill, get your body right and make some mills," Young said.
At some point in the not-too-distant future, Young will be chilling and getting his millions, too, though he tries to keep that out of his mind.
"Obviously, it's in your mind, but when you're here you can't think too much about it," Young said. "You can't forget that you're still a college football player. You can't forget you're still performing for your scholarship. They say if you worry about that too much, you're going to lose your focus on where you are right now."
Young's "right now" places him in the Rose Bowl with, in all likelihood, one more season remaining as a defensive end at Ohio State.
After a tumultuous, yet successful first season as a starter, he'll be back next year, and his role won't come as a surprise to himself or anyone else. With Bosa and Dre'Mont Jones off to the NFL, he'll be the defensive linemen opposing offenses key on.
This time, he knows what's coming.