Buckle up, J.K. Dobbins. It's about to be your show.
Mike Weber announced his decision Sunday night to forgo his redshirt senior season at Ohio State and enter the 2019 NFL draft following the Rose Bowl, surprising virtually no one. Many people expected him to enter the draft after last season, but the running back decided to come back for one more season at the collegiate level.
Weber and Dobbins split carries during the 2017 season, then rotated again this season, though Dobbins had 93 more carries than Weber last season and has 66 more rushes than his counterpart this season.
Without Weber next year, there will be no splitting carries for Dobbins. It'll be his backfield and, more than likely, his offense.
"When you can play more than one drive at a time, you can get in a groove. I'm an energetic guy, so whenever I get in a groove, I get pretty energetic."– J.K. Dobbins on Nov. 17
The Buckeyes will likely lose Dwayne Haskins to the NFL, along with Weber. They'll replace him with either a run-first quarterback – Tate Martell – or Matthew Baldwin, a redshirting freshman who missed practice time after suffering a torn ACL in the state championship game as a senior in high school.
Whichever quarterback lines up behind center will be throwing to an almost entirely new cast of wideouts. Parris Campbell, Johnnie Dixon and Terry McLaurin are in their final collegiate seasons, and K.J. Hill is expected to take a long look at the NFL. Even on the offensive line, there will be significant turnover. Right tackle Isaiah Prince and left guard Malcolm Pridgeon are seniors. Right guard Demetrius Knox, who started every game until he got hurt in the final regular-season game of the season, is a senior, as well. Left guard Michael Jordan, who is in his third season as a starter, could head to the NFL a year early.
Dobbins is the sure thing. Ohio State knows what it will get from him, and he has consistently produced, all while saying the right things.
"I am not a selfish person," Dobbins said on Wednesday. "I am a team player first. Whatever the team needs to do to win a game, that's what we're going to do. If it's him getting 30 carries and I get five, and if we win, I'm fine with it."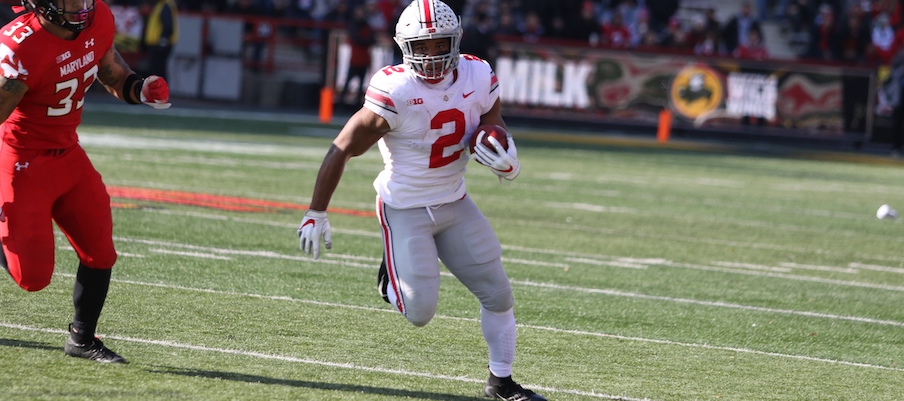 He never once complained about splitting carries. But, like any other running back, Dobbins will be excited to serve as Ohio State's feature running back. In fact, he began his collegiate career in the same situation he'll end it next year.
Weber wasn't healthy enough to play in last year's season opener against Indiana, so Dobbins, a true freshman playing his first-ever game at Ohio State, stepped in and took 29 carries for 181 yards, an average of 6.2 yards per rush. Since Weber has dealt with off-and-on injuries the past two seasons, Dobbins has had a few games as the go-to running back.
About a month ago, while Weber was out with a quad bruise, Dobbins had the backfield to himself against Maryland. He had a staggering 37 rushes for a career-best 203 yards, which included a one-yard touchdown plunge.
Though he didn't know it at the time, it was a preview of what next year could be like – and he thoroughly enjoyed the chance to tote the ball so frequently.
"When you can play more than one drive at a time, you can get in a groove," Dobbins said after the 37-rush game. "I'm an energetic guy, so whenever I get in a groove, I get pretty energetic."
He didn't even feel out of sorts following the career-high performance.
"I like it," Dobbins said after the game. "I feel like I'm a tough guy. I don't feel that sore right now. I just feel tired."
After that game, he still played the role of a good teammate, saying "it's easy to split carries" and that he doesn't care about trading series with Weber. But it wasn't hard to tell how much he enjoyed being Ohio State's sole running back, even for just one day.
Next season, Dobbins won't have to split carries.
Demario McCall, who moved to H-back going into this season but went back to running back late in the season, could factor in the team's plans as a smaller, faster back. Other than him, though, Ohio State lacks experienced running backs. Master Teague, a true freshman, has just 17 carries this season and hasn't touched the ball since the fourth week of the season. Brian Snead, a fellow freshman, hasn't been on the sidelines for most of the season due to disciplinary action for undisclosed reasons. Marcus Crowley, a 2019 commit, will also enter the scene as a true freshman next season.
Dobbins has accumulated back-to-back seasons of 1,000 rushing yards. He shouldn't have any trouble achieving that milestone a third time.
How about a 2,000-rushing yard season?
"We'll see about that," Dobbins said on Wednesday with a smile.