Nick Bosa on one end of the line. Chase Young on the other. Dre'Mont Jones and Robert Landers up the middle. Ohio State expected to have one of the best pass-rushes in the nation with so much talent on its defensive line to begin last season.
The Buckeyes only realized the pass-rushing potential for three games, though, before Bosa's season ended due to a core muscle injury that required surgery. Larry Johnson had to turn to Jonathon Cooper, Jashon Cornell and a pair of freshmen – Tyreke Smith and Tyler Friday – to replace the future top-five NFL draft pick. That foursome combined for just 4.5 sacks in 14 games while Young totaled 10.5 sacks despite playing on a pair of bum ankles.
In 2019, Young will ascend to the role Bosa was supposed to have as the primary edge rusher. But in order to maximize production up front, Ohio State needs someone else to step up on the opposite side of the line. Cooper, who expects to have an improved senior year after a disappointing 2018 season, is a possibility. Cornell, who moved back to defensive tackle, is not.
Smith, entering his second year in Columbus, now stands 6-foot-5, weighs 267 pounds and could be exactly what the Buckeyes need across from Young.
"When (Bosa) left, we just had to take that on ourselves, just like, you know, we've got to get better, we've got to fill in for that gap," Smith said. "I think now, this season, since they all left, Dre'Mont, Nick, everybody left, I've got to fill in that gap, and I've got to do my part."
Young, too, sees Smith rising.
"Tyreke Smith, he's definitely going to help us pass-rush," Young said. "He's definitely getting a lot better. He's definitely shown flashes of being a real great player. My job is just to stay on Tyreke and push him to his potential so I can see what he can do this year."
Smith didn't have a sack as a true freshman, but he played more snaps than any other first-year player on the team, earning an immediate spot on the Rushman package of pass-rush specialists last season. As Smith said, he knew he could pass rush, so he found a contributing role as early as possible. He played about as much as any freshman ever does for Johnson, who avoids playing freshmen during games when they might make a mistake that could live when them and affect their long-term prospects.
The first year on campus, to Johnson, is a learning experience. The upcoming season, though, is his opportunity to make a splash.
"Guys who can handle the second year really take off," Johnson said.
Smith wants to do more than just handle his sophomore season.
"My expectation is just to be the best I can for my team, to help the unit out as much," Smith said. "I'm trying to just be noticed as one of the best D-linemen in the country. That's my goal."
A lofty goal, but one Johnson has helped linemen achieve in the past, including a pair of defensive ends last season – Bosa and Young.
Johnson, always quick to protect his players, said Smith can be "pretty good," noting he has to be careful not to praise him too much since he's young and inexperienced. It's clear, though, he has high expectations for the rising sophomore.
"Tyreke has always been quick," Johnson said. "He's always been in great shape. Now just learning how to play football. Last year was a big learning experience, I can tell you that. Now we see the player he is possible of being. So he's got a great future ahead of him."
In order to reach his ceiling, Smith took the lead from Johnson, who pushed him to spend time after practices watching film over and over.
After every practice, Smith said, he meets up with Johnson and they watch film together.
"I think film is a big part because last year I don't think I watched as much film," Smith said. "I watched film, but this year I'm really taking initiative and really going in every day after practice and watching film, making sure my technique is right, making sure I can see plays before they happen and eliminate plays and play faster."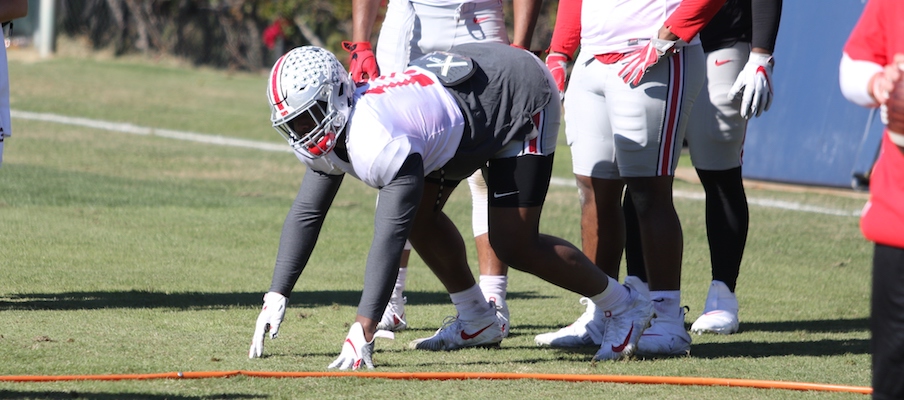 Johnson has stayed on Smith's case in the film room, beginning his critiques before even clicking the button to play clips.
Recounting what they recently worked on, Smith said his hips in his stance used to sink too much before the snap. So without even watching the play, Johnson gave him about "10 pointers" detailing what he needed to do to improve his reaction when the ball was snapped. That translated into on-field drills to practice elongating his initial step when the center snapped the ball.
"My first step was a big thing I had to fix," Smith said. "I was fast, but I was getting off short. I wasn't elongating my steps. So we worked countless drills. Little hurdles. Just trying to step to the cone. Get my step past my hand. He's just been stressing that. I feel like that's been the biggest improvement for me. I feel like it's been great in my pass-rushing because it gets me off the ball faster, and I've got a faster and better edge on the tackle."
With a full year of experience, Smith will be after that elusive sack and much more.
There's an opening to make a significant impact off the edge. After getting a taste of what he called "definitely just the beginning" last season, he has lofty hopes.
"This year it's something different coming," Smith said.