A return to defensive end from defensive tackle last spring appeared to make complete sense for Jashon Cornell.
Larry Johnson moved him inside to play 3-technique early in his Ohio State career. But before then, he had gained notoriety off the edge. At Cretin-Derham Hall High School, he developed into the top-rated recruit in the state of Minnesota while playing defensive end. Cornell was rated as a top-100 overall prospect and the seventh-best strong-side defensive end on the class of 2015.
The combination of a lack of depth at defensive end, the need to get Dre'Mont Jones on the field as much as possible at defensive tackle and Cornell having years of experience playing outside contributed to his move back to end.
"Rushing off the edge, it feels like what I've done my whole life," he said last spring.
The shift outside only lasted one season.
As he prepares for his fifth and final collegiate season, Cornell has once again made a position change, sliding back inside to defensive tackle. Last year, he became a defensive end to help the team at a position lacking depth, answering the call from Johnson who needed his size and experience off the edge.
This time, though, Cornell brought the idea of playing 3-technique to Johnson's attention.
"I had a feeling that toward the end of the season when Dre'Mont was leaving that I wanted to move back to 3-tech because I feel more natural at the position," Cornell said. "I knew for awhile that I was going to have a conversation with him about it, but I knew that I wanted to go back to 3-technique."
Johnson agreed with the idea, telling Cornell he had considered it, too.
"We both were thinking the same thing," Cornell said.
The opportunity at 3-technique certainly intrigued Cornell. At defensive end, Chase Young and Jonathon Cooper are essentially locked in as starters, but no one has a clear edge at Jones' former position.
"They won't see most 3-techs like me because I'm so twitched up and so fast off the line. It gives me a lot of different things. I can fit the run faster. I can go inside. I can do different types of pass rush. It just helps me a lot more."– Jashon Cornell
With Jones heading to the NFL, Haskell Garrett and Taron Vincent are also in the mix to start at 3-technique. Neither of them have started a game before, though, and Cornell played more snaps at defensive end than Garrett and Vincent had combined at defensive tackle last season.
"Now, since Dre'Mont's gone, it's pretty much open to me, Taron or Haskell, whoever wants to step up and take the position," Cornell said. "That's what we've all been doing all spring is pretty much competing ever day at practice. One day, Taron would do great, one day Haskell will do great, I'll do great, and it's like we're always competing, which makes it more fun because you can't take a day off."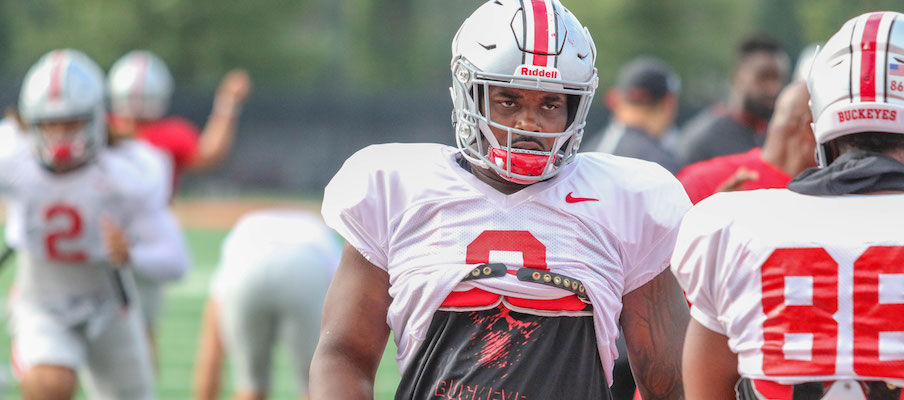 Johnson said Cornell, Vincent and Garrett are "all going to play," though at some point there will undoubtedly be a hierarchy of players taking snaps at 3-technique.
While a potential starting job interests Cornell, his excitement about playing defensive tackle mostly stems from him viewing it as a better fit for his skillset as a 6-foot-3, 280-pound lineman.
"I feel so much more comfortable inside," Cornell said.
Why?
"I don't know, because I played defensive end my whole life and then I moved to 3-technique," Cornell said. "I think I fell in love with 3-technique just because the things that I can do at 3-technique."
Jones showcased the production that can come from high-level defensive tackles last season. He racked up 43 tackles, including 13 tackles for loss, and had nine sacks from the interior of the line, taking advantage of his quickness and hand-fighting skills.
Last year, Cornell had just one sack and two tackles for loss in 262 snaps, most of which came at defensive end.
"My pass-rush ability inside is so much better than my pass-rush ability outside," Cornell said. "I can still rush outside, but I feel like inside I'm a quick-twitch guy, so I can do whatever I want to the offensive guard. And I'm pretty strong, too, so I can get more power, I can get a pass rush, I can get pretty much anything."
Cornell, along with Garrett and Vincent, have sizable shoes to fill. Jones was a first-team All-Big Ten honoree last season, and College Football News named him a first-team All-American. He'll likely be chosen in the first three rounds of the NFL draft in April.
But Cornell, reinvigorated with his switch back to 3-technique, has no doubts he'll be able to impact games from the interior.
"They won't see most 3-techs like me because I'm so twitched up and so fast off the line," Cornell said. "It gives me a lot of different things. I can fit the run faster. I can go inside. I can do different types of pass rush. It just helps me a lot more."