With Jalyn Holmes, Sam Hubbard and Tyquan Lewis all departing Ohio State's defensive end rotation for the NFL after last season, there was reason to believe that the Buckeyes might have to shorten their rotation at the position this season.
Ohio State defensive line coach Larry Johnson says that's not his intent, however.
While the Buckeyes have only three returning scholarship players who played defensive end last season – Nick Bosa, Jonathon Cooper and Chase Young – Johnson said he still wants to have a four-man rotation at the position this year.
"We're going to try to stay four guys," Johnson said Thursday after the Buckeyes' second spring practice of the year. "We don't want to add more plays than we need to have. We don't want to put 90 plays on Nick all of a sudden. He'll play 60, 65 probably in a great game, but we're not going to give him 90, 95 plays. We want to still play fresh. That's why we're successful."
While Bosa is the only returning defensive end from last season's primary four-man rotation – in which Bosa, Holmes, Hubbard and Lewis all played a nearly identical number of snaps – Young and Cooper each saw their fair share of snaps as well (196 for Young, 172 for Cooper), especially in games where the Buckeyes had already built a comfortable lead. Each regarded as a top player in their respective recruiting classes, Young and Cooper have the talent to emerge as stars opposite Bosa in 2018.
The big question entering spring, though, was whether the Buckeyes would have a fourth defensive end who could be counted on for regular playing time in meaningful game situations.
Johnson believes he does in Jashon Cornell, who has moved outside to defensive end this spring after backing up Dre'Mont Jones at defensive tackle last season.
Cornell, a redshirt junior, was recruited to Ohio State as a defensive end in 2015, but moved inside to defensive tackle due to the defensive end talent in front of him when he arrived. But now that Holmes, Hubbard and Lewis are no longer playing for the Buckeyes, while the Buckeyes are loaded with depth at defensive tackle, Johnson felt it made sense for Cornell to move back outside.
"Instead of counting on maybe a freshman coming in, being ready to play early, we have a veteran player who's been here and knows the system, can give us immediate help in the first- and second-down packages that we're looking at," Johnson said. "And that's what we're trying to do. We're trying to teach him that."
Two practices into the spring, Johnson likes what he has seen from Cornell in his new but also old position.
"It's the position he's kind of used to playing, and so far, so good," Johnson said of Cornell. "Been really pleased. He's dropped about 15 pounds the right way. He's so strong, and really athletic. Those are things that we thought he would be. So far, with no pads on, he's looked pretty good."
Bosa has also been impressed with what he has seen from Cornell, who is now listed at 6-foot-3 and 274 pounds after leaning down this offseason, so far.
"He can do it all," Bosa said of Cornell. "He's fast, explosive and he's got a lot of power."
Cornell says the transition to defensive end has felt natural for him because of his past experience playing the position at Cretin-Derham Hall High School in St. Paul, Minnesota.
"Rushing off the edge, it feels like what I've done my whole life," Cornell said.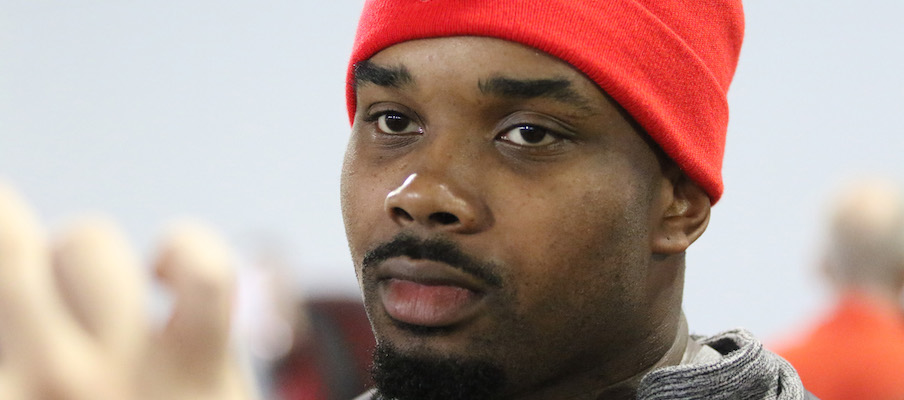 Even with Cornell's transition, defensive end depth remains a concern for Ohio State, as any injury could make it difficult for the Buckeyes to continue with a four-man rotation. The Buckeyes will have four freshman defensive ends coming in this summer, though, in Tyreke Smith, Tyler Friday, Alex Williams and Javontae Jean-Baptiste.
When Jones made the decision to return for his redshirt junior season instead of declaring for the NFL draft, he became a speculative candidate, as well, to potentially see some playing time at defensive end in addition to defensive tackle. Johnson said Thursday that he does not anticipate playing Jones on the outside. Johnson does anticipate, though, that Jones will be a part of the Buckeyes' third-down "Rushmen" package – in which the Buckeyes used all defensive ends last year – this year.
"He's probably the best 3-technique rusher, probably in the Big Ten, in my eyes," Johnson said. "So there's a good chance we add him, probably, to our Rushmen package. Instead of going off the field, he'll probably stay on the field now."
It's presumable that the Buckeyes' primary Rushmen package this season will consist of Bosa, Young, Cooper and Jones, but Johnson said Cornell could be used in that package as an inside pass-rusher, too.
All together, Johnson is confident that his Rushmen have the ability to be among the best in the country once again.
"We have to count on some young players coming in, but if they come in ready to go, I'll be really excited about our defensive end position, because I think we have some young guys who are coming in that are going to have a chance to add to what we have right now," Johnson said.