Over the summer, Eleven Warriors is taking a look at the state of every position on the Ohio State football team.
A new position coach, but largely the same personnel.
After a disappointing year in which the linebackers earned the brunt of criticism for a defense that allowed 400 yards per game, Ohio State returns all three starters, but they'll be coached by Al Washington instead of Billy Davis.
With Malik Harrison, Pete Werner and Tuf Borland back, along with a host of younger players pushing for playing time, Washington has some tough decisions ahead.
The Personnel
Ohio State expects to have 11 scholarship linebackers on the team this season. Of note, we're categorizing those playing the newly created Bullet position with the safeties for the purposes of the "State of the Position" series.
Justin Hilliard (RS-Sr.): Once again, Hilliard's career is on hold due to an injury. He had surgery this spring following an Achilles injury. Ohio State has not publicized an expected return date, though Lettermen Row originally reported he could plan to be back on the field in the middle of the 2019 season. Hilliard, who entered the program as a five-star recruit and the top-rated Ohioan in his class, missed his first two seasons with biceps injuries and spent the past two years mainly on special teams. It's unclear when – or if – he will return to the field this fall.
Malik Harrison (Sr.): Instead of leaving for the NFL after the 2018 season, Harrison opted to return to Ohio State for his senior season. Playing on a linebacker unit that endured plenty of struggles, he was a bright spot, earning honorable mention All-Big Ten recognition. He had a team-high 81 tackles, including 8.5 tackles for loss, along with an interception and a fumble recovery. Harrison, a Columbus native and Walnut Ridge graduate, will start at weakside linebacker in 2019.
Tuf Borland (RS-Jr.): In his first two playing seasons, Borland has already started 20 games. He was named a team captain last season, making it possible for him to follow J.T. Barrett and become just the second three-time captain in program history. Borland, who didn't miss a game last season despite returning earlier than expected from a spring Achilles injury, had 67 tackles and a linebacker-high nine tackles for loss in 2018. However, he was a frequent target of criticism from the fan base and, though he never admitted it, it appeared his injury might have affected his speed and agility. He was limited this spring due to a minor knee injury. He'll have to hold off Teradja Mitchell and Baron Browning this preseason to maintain his starting position at middle linebacker.
Baron Browning (Jr.): Since entering Ohio State as a five-star recruit and the top-ranked linebacker in his class, Browning has contributed as a reserve and on special teams but has not cracked the starting lineup yet. With all three starting linebackers returning, he'll once again face an uphill battle. At 6-foot-3, 248 pounds, he played middle linebacker last season and this spring, meaning he'll have to battle Borland and Teradja Mitchell for playing time. Since the defensive coaches eventually want the middle and weakside linebacker positions to be interchangeable, his future could also eventually lie as a weakside linebacker.
Pete Werner (Jr.): Already with one year of experience starting, Werner returns as the expected starter at strongside linebacker this fall. He's one of the top coverage linebackers on the team, though he drew criticism last year at times for his run-stopping abilities. Due to the implementation of the Bullet, Werner's snap count might decrease considering when the Bullet plays, the strongside linebacker will often come off the field. But he'll likely get a shot to start for the second year in a row.
Teradja Mitchell (So.): As one of the underclassmen who drew the most praise throughout spring practice, Mitchell will be hard to keep off the field in the fall, even though he's still the third-string middle linebacker. Mitchell moves well at 6-foot-2, 242 pounds. Washington said he wanted a "thumper" at middle linebacker, and Mitchell could certainly be classified as such. He played only two defensive snaps as a true freshman, spending the majority of his time on special teams, but he's expected to have a larger role on defense this fall.
Dallas Gant (So.): Though Gant played defensive snaps in only one game as a true freshman, he earned rave views this spring from both Washington and Ryan Day. His position of weakside linebacker is currently occupied by Harrison, but Gant will assuredly see an uptick in his importance on the defense. The 6-foot-3, 232-pound Toledo native is in line to be a primary backup to Harrison.
K'Vaughan Pope (So.): Pope pushed Werner for snaps at strongside linebacker this spring. And though he'll likely remain a backup at the position, he'll have a chance to play more than the two defensive snaps he took as a true freshman. The 6-foot-1, 231-pound Virginia native entered the program as a top-250 recruit.
Tommy Eichenberg (Fr.): One of two Ohioans who will be freshman linebackers this fall, Eichenberg graduated from St. Ignatius and is the No. 327 overall prospect in his class. The 6-foot-3, 235-pound hard-hitter likely gets his first snaps at middle linebacker. At one point, he was committed to Boston College. But he decommitted on Nov. 19 before committing to Ohio State on Dec. 6, just two days after Urban Meyer retired. He's the 19th-ranked inside linebacker and eighth-rated Ohioan in the class of 2019.
Cade Stover (Fr.): Though some view him as a potential defensive end if continues to grow, Stover will get his first shot at Ohio State as a strongside linebacker. At 6-foot-5, 235 pounds, he has the size to contribute relatively quickly. The Lexington High School graduate was the No. 114 overall prospect and the fourth-ranked Ohioan in his class.
Craig Young (Fr.): No one quite knows which position Young will play – hypothetically he could end up at linebacker or safety, and he played snaps on the defensive line in high school – but he'll likely begin his collegiate career at the second level of the defense. Young has impressive speed, but at 6-foot-4, 200 pounds, he could slot in at multiple positions. He's the No. 610 overall prospect and the 34th-ranked athlete in his class.
Ohio State does not have any linebacker commits.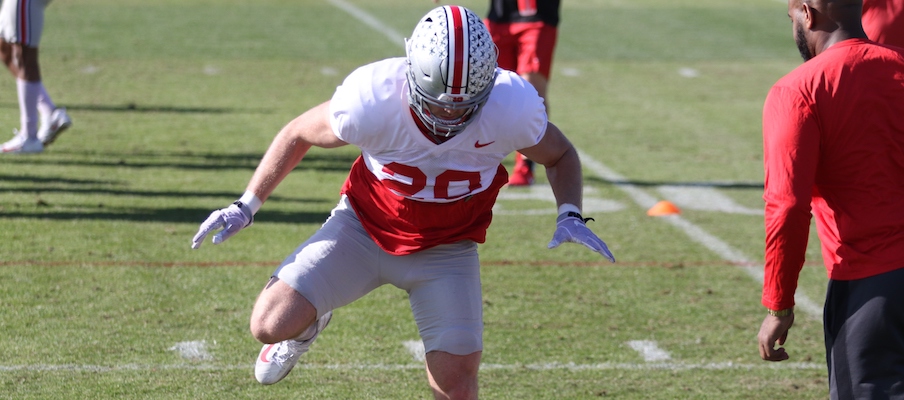 Outlook in 2019
Welcome to the most difficult-to-predict position group at Ohio State – even though every starter returns this fall.
State of the Position
Harrison will start at weakside linebacker. Werner will likely start at strongside linebacker. Borland at middle linebacker? Who knows. The implementation of the Bullet also complicates matters.
Let's start with the simplest part of the situation and work our way to what's happening at middle linebacker.
Harrison will unquestionably start at weakside linebacker, and it would be a surprise if he doesn't take the most snaps of any linebacker this fall. He's one of the most underrated players on the team, considering most of the focus on his position group last season was spent on the struggles with the defense – and, in particular, his unit.
If Harrison has an improved 2019 season, he could shoot himself up draft boards. As a once highly regarded basketball player at Walnut Ridge, he's supremely athletic at 6-foot-3 and 240 pounds.
At strongside linebacker, Werner appears to have a stranglehold on the starting spot. He spent the entire spring there, and though Pope's name was mentioned at times, he never seemed to be in line to supplant the returning starter. Stover could also get snaps at the position.
Brendon White, who's expected to play the Bullet position, could take snaps away from Werner. When the Buckeyes take a linebacker off the field in exchange for White, the strongside linebacker will likely head to the sideline. But considering Greg Mattison and Washington haven't shown the Bullet in a game, we can only speculate how much they'll rely on the hybrid position.
That leaves us with middle linebacker.
Borland returns as a starter and team captain. And though he struggled at times last season, it's hard to not start someone with his experience and leadership qualities. Plus, his Achilles injury could have hindered his play.
Borland started the past two seasons under a Billy Davis-run unit. Due to an injury, he was limited for much of this spring, not allowing him to practice with the first-team defense under Mattison and Washington. Preseason camp in August will be important for him to keep his spot as a starter.
Both Browning and Mitchell have made pushes to start at middle linebacker or to at least split snaps in the middle of the second level of the defense. Browning ran with the first-team defense this spring, and Mitchell garnered about as much praise from coaches this spring as any non-starting underclassman. Either or both could see significant snaps alongside Borland, and they could be used situationally. 
Strengths of the position
Having Harrison returning at weakside linebacker should give Washington and the rest of the coaching staff reassurance that they won't have to worry much about his position. He should provide them with an impact player who, given his ceiling, could become one of the better players on the defense.
With Harrison, Werner and Borland returning, the Buckeyes have a healthy amount of experience. They have more than 50 combined starts, which could benefit the entire unit.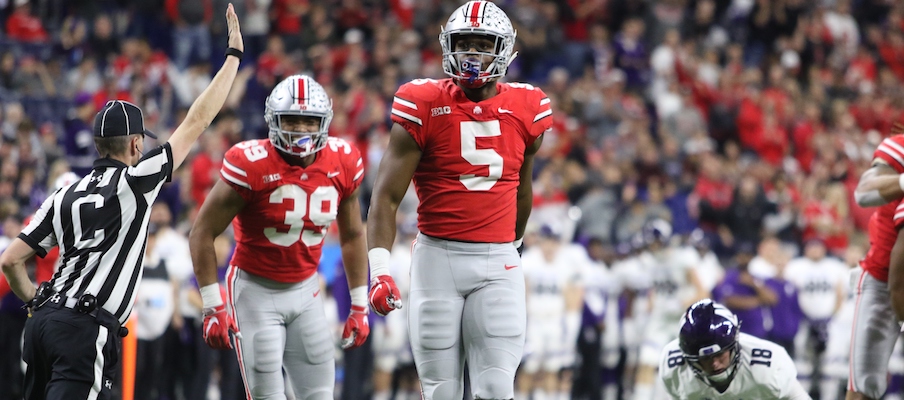 Behind the trio of returners, Ohio State has a healthy amount of depth. Browning, Mitchell, Gant and Pope each flashed enough for coaches to bring them up this spring. All four are former four- or five-star prospects who lack neither size nor athleticism. Specifically, the Buckeyes' trio of rising sophomores – Mitchell, Gant and Pope – give Washington both a few options for this fall and a promising outlook on his future options.
The effects of the change from Davis to Washington as linebackers coach can't be discounted either. With Davis and Greg Schiano having the most influence on the unit the past two seasons, linebacker play suffered. Washington is tasked with improving the unit to a level that wasn't seen last fall. 
Weaknesses of the position
Ohio State endured poor play on defense last season, including from its linebackers, and all three starters return. It's not a secret that in order to improve a defense that performed well below the program's expectations, the linebackers must play well.
Specifically, tackling and coverage proved to be constant issues for the unit. In multiple games, opponents picked on Ohio State's linebackers through the air. Inexplicably, tackling popped up as an issue, too. With largely the same personnel in 2019, the Buckeyes have to find a way to avoid those issues once again cropping up.
Although Washington is expected to be an upgrade from Davis, he's relatively inexperienced as a linebackers coach. He spent last season coaching the position group at Michigan, and his only other time as a linebackers coach came when he coached them at Elon for the 2011 season. Though changing the staff from last season was necessary, Washington must prove Day made the correct choice to hire him.
Long-Term Outlook
For the next couple of years, the Buckeyes won't be hurting for options.
They returned three starters from 2018, and only one of those players – Harrison – is a senior this fall. Familiar names will take the field each of the next two seasons, and their primary backups could be in line to start in 2021.
2019 Projected Depth Chart
Strongside linebacker: Pete Werner, K'Vaughan Pope
Middle linebacker: Tuf Borland, Teradja Mitchell, Baron Browning
Weakside linebacker: Malik Harrison, Dallas Gant
2020 Projected Depth Chart
Strongside linebacker: Pete Werner, K'Vaughan Pope
Middle linebacker: Tuf Borland, Teradja Mitchell
Weakside linebacker: Baron Browning, Dallas Gant
2021 Projected Depth Chart
Strongside linebacker: K'Vaughan Pope, Cade Stover
Middle linebacker: Teradja Mitchell, Tommy Eichenberg
Weakside linebacker: Dallas Gant, Craig Young
Let's get this out of the way first. The only thing more difficult than projecting who will start at middle linebacker in 2019? Projecting who will start at the position in 2020. 
How Washington uses Borland, Mitchell and Browning this fall will have a huge impact in his he divvies up playing time between them the following season. Any of the three of them could conceivably start in 2020. I'd bet on who starts the majority of games in 2019 as the following year's starter.
Browning has two more years of eligibility, and while Gant could start as a junior in 2020, Browning could move from middle linebacker to weakside linebacker to replace the outgoing Harrison after this season.
Eventually, both Mitchell and Gant seem likely to start. The only question is when. Pope and Stover will spend the next couple years jockeying for position once Werner's eligibility runs out. Young could fit into the picture at linebacker eventually, or he could end up at safety or Bullet.