Neither Teradja Mitchell nor Dallas Gant were ready to play immediately last year in their first season at Ohio State, and both rising sophomores would admit it.
Mitchell said he "struggled" early in his freshman season, feeling overweight and out of shape before developing improved work habits that led to him getting bigger and faster. He has cut about seven pounds and decreased his body fat percentage. 
Gant entered the program at just 202 pounds and a year later is 230 pounds.
Mitchell and Gant combined for just 10 snaps on defense last year, but both have flashed in spring practices. 
Due to injuries, Mitchell had an opportunity to spend most of the practice on March 21 with the starting defense and looked comfortable in the role. Ryan Day, when asked a week ago whether Mitchell could handle first-team reps at middle linebacker, said the rising sophomore "absolutely" has that level of ability. Day also highlighted Gant's "really, really physical play" that has led the coaches to be "really excited" about him. Al Washington had sung Gant's praises two days prior, saying he's "emerging."
"Dallas Gant, man, he has taken that and ran with it, has done a great job in his role as a linebacker," Washington said. "You watch the tape, he shows up. He's competing. And he's every day getting better. Really excited about him. He's done a great job."
Despite the compliments, how Mitchell and Gant fit into the defense is far from certain. 
All three starting linebackers from last year's team – Malik Harrison, Tuf Borland and Pete Werner – returned for the 2019 season. Baron Browning and K'Vaughan Pope are also in the mix for playing time. Justin Hilliard could factor into the rotation, but he suffered an Achilles injury recently. Plus, Greg Mattison and Washington have implemented the Bullet position, a hybrid safety/linebacker position that Brendon White, who started at safety last year, has taken over. Whenever the Bullet is on the field, the strongside linebacker will be forced to head to the sidelines, dropping the amount of linebackers on the field to just two.
Currently in front of Mitchell on the depth chart at middle linebacker are a two-year returning starter (Borland) and a former five-star prospect entering his third year in college (Browning). Only Harrison is in front of Gant at weakside linebacker, but he's Ohio State's best linebacker and figures to take the most snaps of anyone at his position on the team.
Could Mitchell pass Browning on the depth chart and begin to enter the mix at middle linebacker along with Borland? Sure. And could Gant take some snaps at weakside linebacker away from Harrison? It's possible. But neither are certainties, especially at this point in the year.
Gant hasn't expressed worry about having too many linebackers for just a couple spots.
"I mean, that's the question for the coaches," Gant said. "We're a very talented group, there's no doubt about that. You see that every day on the field, people flying around. I love those guys. They're great people more than they are football players. And I don't know how we're going to get on the field. We all deserve to be on the field, I know that. However coach Washington and coach Mattison decide to regulate it is how they regulate it."
Mitchell took a similar tact.
"That's why we came here," Mitchell said. "We came here to compete. We knew everybody was good. It helps us get better. That's not the thought process we're going through. We're just going out here every day, work to get better. The best plays."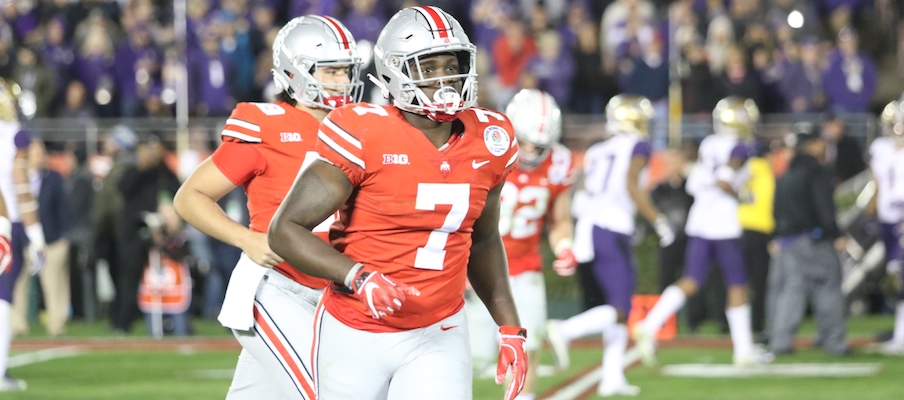 The turnover of the defensive coaching staff works to their advantage.
Had Billy Davis returned, along with Greg Schiano and the rest of the four coaches who did Day did not retain, the three returning starters would've been even more difficult to supplant. Though Washington all but guaranteed Harrison a starting job last week, the returners naturally don't have as much equity built up with the new staff.
"Nobody's comfortable, nobody's complacent," Washington said. "Everybody's growth-minded. Everybody's eager."
Even though Washington and Greg Mattison will at least partially take into account the experience of the trio of returning starters, both Mitchell and Gant said they view it as a competition, a word that Washington used to describe the situation this spring as well.
"I feel like that was the mindset for everybody," Mitchell said. "With a new coaching staff that didn't really know us well, don't how we play, so everybody's just starting at ground zero, and we're all here to show what we can do and improve ourselves. Like I said, the best plays."
In order to distinguish himself from the pack at linebacker, Gant said he has played as "violent and fast" as he can while he and the rest the players at his position learn the defense. Day noticed, saying last week that he had between five and seven knockdowns in the first three days of pads.
Mitchell, who said he likes to "thump" and play inside, has a similarly physical style. And while he hopes to pass up Browning and begin to cut into Borland's playing time, he understands what he got himself into by choosing to become a Buckeye.
"It's definitely important that you come in every day ready to work or your spot can get took, you can get lost in numbers," Mitchell said on March 21. "This is Ohio State. There's talent everywhere. So you've got to bring your A-game every day."
The numbers, as he called them, aren't overly favorable to either him or Gant.
Both rising sophomores have drawn considerable praise, but their paths to the field are currently impeded. So this spring they've tried to maximize their opportunities without knowing how the linebacker room will shake out for Washington and Mattison.
"In the room, we're just playing together," Gant said. "As a team, it's kind of difficult because you're competing against your room. But we view each other as brothers, so we're rooting for the next guy as well as ourself. So we just compete and then however it ends up it ends up."