Ohio State held its Student Appreciation Day on Saturday morning, which meant not only that Ohio State students had the opportunity to watch the second hour of practice, but members of the media had the opportunity to watch an entire practice – the Buckeyes' fifth practice of the spring – for the first time this year, after previously being allowed in to watch the first hour of the Buckeyes' first two practices of the spring earlier this month.
With members of the general student population and a multitude of top recruits in attendance, Ohio State practiced for just over two hours on Saturday morning – its third practice of the week, which was also its third padded practice of the spring – and included a pair of highly touted second-year players taking first-team reps for the entire practice in place of sidelined players who have been in front of them on the depth chart.
Petit-Frere, Mitchell practice as starters
With Thayer Munford out for the spring while recovering from back surgery and Joshua Alabi absent from practice Saturday due to flu-like symptoms, the door opened for Nicholas Petit-Frere to run with the first-team offensive line for the entirety of Saturday's practice.
Branden Bowen, who began the spring as the first-team right tackle, practiced at left tackle in Alabi's place on Saturday, while Petit-Frere stepped in on the right side. As has been the case all spring, the first-team interior offensive line consisted of Gavin Cupp at left guard, Josh Myers at center and Wyatt Davis at right guard.
Ohio State head coach Day praised all five of those offensive linemen in his press conference following Saturday's practice, starting with Bowen, who he said is valuable to the Buckeyes because of his versatility to play a multitude of positions up front.
"He's been playing at right tackle, he's played guard in the past, stepped in and played left," Day said. "It's not easy to do to jump around, he's pretty versatile though. And so that's really important to have guys who can jump around like that."
Petit-Frere, a redshirt freshman, and Myers and Davis, both redshirt sophomores, were named among the young players who have caught Day's eye through the first five practices of the spring.
"Nick Petit-Frere has really grown into his body, we're excited about him," Day said. "Wyatt Davis, you could say, well he's not a young guy because he played in the last two games but he is. He's only (started) in two games. So he's really done a good job in the offseason. Josh Myers has stepped up, I think he's got a chance to have a really good year this year."
Day said Cupp, a redshirt junior who has never started a game for the Buckeyes, has had a great offseason training with director of sports performance Mickey Marotti, earning him the opportunity to work with the first-team offensive line this spring (which could change when Jonah Jackson arrives this summer).
"He's kind of thrust into that role, and he's a guy who's been around for awhile and paid his dues," Day said. "He's a tough guy, and he's kind of a workmanlike attitude every day, and so he's getting better. And the more reps he gets, the better he'll be as well."
Petit-Frere continued to work in his usual place with the second-team offensive line on Saturday, too, with the rest of that unit consisting of Max Wray at left tackle, Kevin Woidke at left guard, Jack Jamieson at center and Ryan Jacoby at right guard. 
At linebacker, meanwhile, Baron Browning was sidelined from Saturday's practice with a hamstring injury while Tuf Borland was also held out for precautionary reasons after taking a shot to the knee. Justin Hilliard was also carted off the field after suffering an apparent injury during practice. 
With all of those players out, Teradja Mitchell took all the reps with the first-team defense at middle linebacker on Saturday, while Malik Harrison and Pete Werner – last year's starting outside linebackers – took the vast majority of reps alongside Mitchell. Brendon White, who has been practicing at the new Bullet position for much of this spring, practiced primarily at safety on Saturday.
There's still a long way to go in the competition at middle linebacker, so while Borland and Browning started the spring taking the first-team reps at that spot, Mitchell will have a shot to compete with them even when they are back on the field. Saturday shouldn't be taken as an indication of where he might stand in that competition, since Borland and Browning were both injured, but Day said he likes what he has seen from Mitchell and would be confident in Mitchell seeing significant playing time at the position this year.
"We're excited about Teradja," Day said.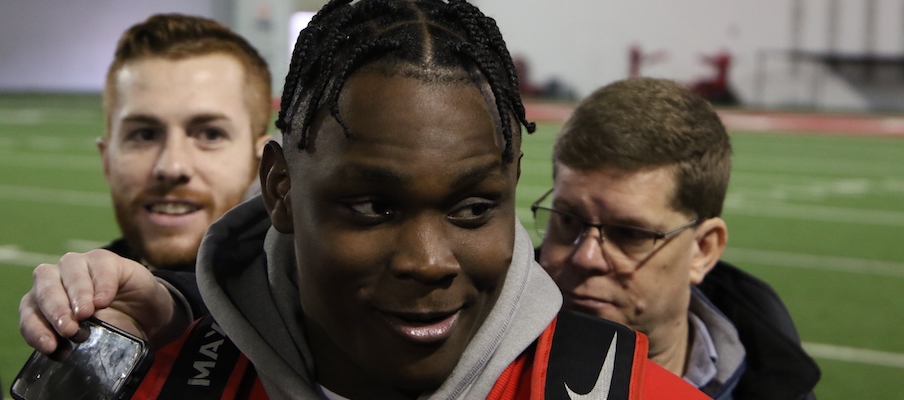 Fields leading the way
Although Day contends that there continues to be a battle at the quarterback position, Justin Fields appeared to take all the reps with the first-team offense on Saturday, with Matthew Baldwin taking all the reps with the second-team offense. That wasn't much different from the first two practices of the spring earlier this month.
Given that Fields is the presumptive frontrunner for the job, it makes sense for him to be taking most of the reps with the first-team offense – because if he's going to be the Buckeyes' signal-caller for their season opener on Aug. 31, less than eight months after he arrived in Columbus as a transfer from Georgia, he's going to need as many reps as he can get.
"There's a lot being thrown at the quarterbacks, and I think he and the other quarterbacks are handling it really well, putting it on the field," Day said. "It's hard to do something for the first time and you're really good at it. And so we just got to keep getting multiple reps and reps and reps and the more reps you get, the better off you are. But you can usually tell early on with the quarterbacks if they can pick things up quickly. Justin's done a good job with that."
When asked Fields taking all the reps with the first-team offense on Saturday, however, Day was adamant that is not always the case.
"He hasn't been taking all the reps with the ones. Matt's taken reps with the ones," Day said. "And so, yeah. It's one of those things we're going to try to split up the reps the best we can, and Matt has taken reps with the ones, and he will continue to take reps with the ones, and the guys have got to do a good job of taking those opportunities and being successful with them. It's like anything else: When you get into an opportunity, you got to take advantage of those things. So we'll continue to split the reps up and let those guys compete."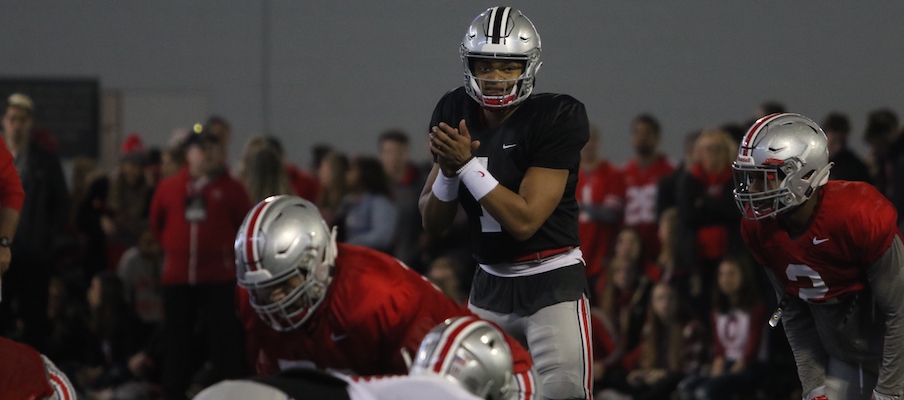 Lots of visitors
While the current Ohio State football players went through their fifth practice of the spring, the hundreds of visitors who watched practice inside the Woody Hayes Athletic Center on Saturday included a multitude of former Buckeyes and potential future Buckeyes.
Recruits who were on hand to get an up-close look at the Buckeyes on Saturday included some of the top prospects in the next two recruiting classes. Five-star wide receiver Julian Fleming, four-star cornerbacks Henry Gray and Lejond Cavazos and four-star all-purpose back Michael Drennen were among the top prospects on hand for the class of 2020, while wide receivers Emeka Egbuka and Beaux Collins and quarterback Miller Moss were among the 2021 prospects in attendance.
Because it was the Buckeyes' only Saturday practice other than the spring game, Day said it was a big opportunity for Ohio State to be able to welcome recruits and their families onto campus and give them a glimpse inside the program.
"Today was great, because we're attracting some of the best players in America to come visit," Day said. "A lot of people can get here on the weekends, and we're still having visitors during the week, but obviously weekends always work better for the families. So this was a big home run for us."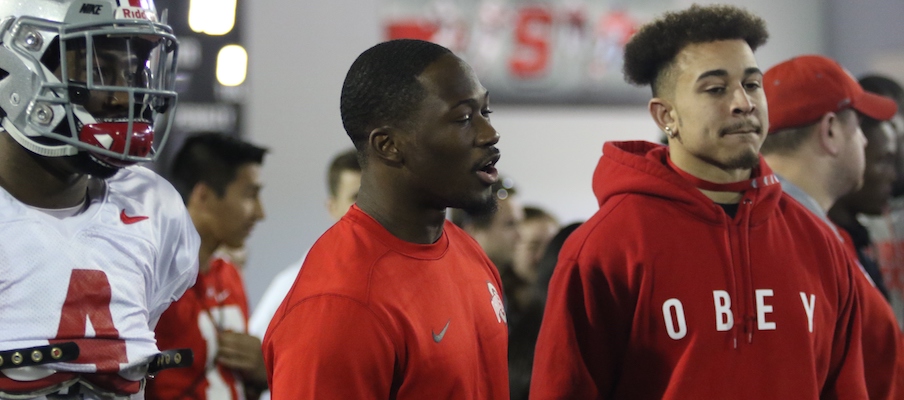 The Buckeyes also had many former players in the building for Saturday's practice, including wide receivers Terry McLaurin and Johnnie Dixon, offensive linemen Michael Jordan and Malcolm Pridgeon and linebacker Dante Booker – all members of last year's team – and quarterback Cardale Jones as well as offensive linemen Mike Adams and J.B. Shugarts, who are both noticeably slimmed down from their playing days.
More practice observations
Marcus Hooker was wearing an orange jersey during Saturday's practice, indicating that he is still limited by an injury.
Period 6 of Saturday's practice was the "Team Up North" period, when "It's Time For War" blared through the speakers and bulletin board material displayed on the video board – including Eleven Warriors' post from earlier this week about Ohio State opening as a 6.5-point underdog for this year's game at Michigan on the online sportsbook BetOnline.
Taron Vincent, Alex Williams and Master Teague were among the Buckeyes who were back on the practice field Saturday after being sidelined by minor injuries during the first two practices of the spring. Robert Landers, who Day said is battling issues with his shoulder, back and knee, and safeties Jordan Fuller and Ronnie Hickman were among those who remained sidelined, while Jahsen Wint also did not take live reps on Saturday.
Garrett Wilson made one of the most impressive plays of the day when he hauled in a leaping catch while being pressed against the sideline by coverage from Sevyn Banks. Day named Wilson on Saturday as a player who has "flashed" so far this spring, even though he is a true freshman who has only been on campus since January.
Demario McCall, C.J. Saunders, Jaelen Gill and K.J. Hill all took reps on kickoff return.