Saturday was a special day at Ohio Stadium for William White, for more reasons than one.
Regardless of what happened on the field during the Buckeyes' game against Nebraska, Saturday was going to be a meaningful day for White because of a video that played inside the Horseshoe during the game.
Featuring White, fellow former Ohio State players Chris Spielman and Archie Griffin, current Ohio State coach Urban Meyer, former coach Jim Tressel and his doctor at the Wexner Medical Center, Stephen Kolb, the video encouraged fans to donate to the William White Family Fund for ALS, which funds research for the disease White was diagnosed with in 2016.
Saturday became even more special for William White, however, when his son Brendon White was called upon to take Jordan Fuller's place in the lineup after Fuller was ejected during the second quarter of the game.
In his first significant playing time for Ohio State's defense, Brendon White excelled, recording 13 total tackles with two tackles for loss and putting himself in position to potentially make his first start at safety when the Buckeyes play Michigan State this weekend.
To have that happen on the same day his video was shown at Ohio Stadium – which William White said was originally scheduled to be shown at the Buckeyes' previous home game against Minnesota – was a concurrence that he could only attribute to an act of God.
"They showed my video, then he goes out on the field and he makes two or three tackles or something like that, and the performance that he had …  I was very proud of him that that opportunity finally came," William White told Eleven Warriors in an interview this week. "You just be very thankful, just very thankful for how all of that was able to happen."
Brendon White, a true sophomore, acknowledged while meeting with the media this week that before his opportunity came Saturday, he had gotten down on himself last season and earlier this season when he wasn't getting on the field.
"I'm really hard on myself," Brendon White said. "And so when I wouldn't understand plays, or not get the defense down right away, I'd get down on myself. And so that triggered with me not making the right plays I needed to make in practice just so I could be on the field."
Through all of that, William White encouraged his son to keep his head up and stay positive.
"As I've been telling him, 'Your chance is going to come, just be patient.' You just got to keep working, keep growing," White said. "I told him this a whole bunch … 'You're at Ohio State, you're not in high school or middle school.' Everybody here was the best player in their state or on their team, in their conference, things of that nature. So you got to stay consistent and do the hard work and your time will come."
That hard work paid off for Brendon White on Saturday, and he couldn't help but get emotional about it.
"After the game, I started tearing up, because I just couldn't believe, growing up in Ohio, went to Olentangy Liberty 15 minutes from here and always going to the games as a high school kid, and then being able to play at your dream school, that's pretty cool," Brendon White said.

William White has taken his own positive mindset to his battle with ALS. While there is no known cure for ALS (amyotrophic lateral sclerosis), a progressive neurodegenerative disease that causes gradual loss of muscle function, White says he is focusing on living every day to the fullest instead of worrying about what he cannot control.
"One of the things I always told my kids is things you can't control, don't worry about it. Things you can control, you go out there, you fight, you do all the hard work you can, to make that change, to make it right," White said. "There's nothing I can do to help cure this by tomorrow. There's no need to be worried about it or get mad or anything like that. You live your life. No one's guaranteed next year. So you live each day that you have and it will happen when it happens, but you do the work to help fight the cause.
"One phrase I'm trying to get all the doctors to stop saying is that when you're diagnosed with ALS, 100 percent of the people die," White continued. "Because everybody that's born, there's a 100 percent chance they're going to die. So I don't worry about that because that's going to happen to everybody. Everybody on Earth is going to die. They should never say that. And that's a lot of the things that causes people when they're diagnosed with this or cancer or something like that, they always start telling them how long they're going to live. Well, I could be going home today and get in a car accident and be dead. You never know, so you just live each day. Each day I have is a true blessing for me."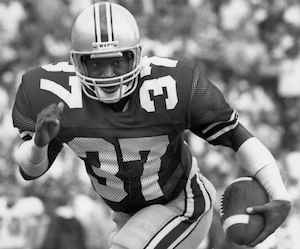 While there have been studies that have linked playing football to a higher risk of contracting ALS, White – who was a team captain and All-Big Ten cornerback for the Buckeyes before going on to play for 11 seasons in the NFL – said he has no regrets about playing the sport he loves, nor did he ever try to deter his son from playing the sport. There is no known cause for non-inherited cases of ALS, and White said he is currently the only former football player in a research group of 85 people who have ALS at Ohio State.
"It may have something to do with it, but hey, it don't matter," White said. "If I knew I would have got this, I would have still played the game, because I loved it, and smacking people in the mouth was fun to me.
"I'm not allowed to say that now," White said with a laugh, "but hey, that's why God made sure I was born in '66 instead of '86."
Instead of feeling down about his own situation, White is trying to use his situation to help everyone who has been diagnosed with ALS or could have to battle the disease in the future.
"I have a lot of people like that, they even cry and all that other stuff, and I say, 'Man, that's the last thing to do.' If you're really concerned about William White, text 41444 and donate $20 to $50," White said. "Because again, I look at this, this is not about William. There's 30,000 people with ALS in America. So it's about what can we do to come together."
"There's no need to be worried about it or get mad or anything like that. You live your life. No one's guaranteed next year. So you live each day that you have and it will happen when it happens, but you do the work to help fight the cause."– William White on battling ALS
White, who is now the director of community and corporate engagement for the Ohio State College of Engineering and Alumni Association, said everyone he asked to be a part of his outreach effort said yes, which he attributes to the familial bonds that Ohio State builds between members of its community.
"(Former Ohio State coach Earle) Bruce always told us, 'We're Buckeye family.' And family sticks together when something goes wrong," White said. "That brotherhood and that true support of we truly are a family ... It's not like other universities. There's something strong about being able to play at Ohio State, and I think that's one of the things my son understood, part of why he picked this place."
To donate to White's campaign against ALS, you can text 'KickALS' to 41444 or visit give.osu.edu/kickals. Donations are tax-deductible and can be applied to Ohio State's donor recognition programs.