Ohio State commit Jaxon Smith-Njigba told Eleven Warriors no one should forget his name, and he made it difficult to with his performance at The Opening Finals.
Jaxon Smith-Njigba is making sure no one forgets who he is.
The  No. 89 overall prospect in the 2020 class has been committed to Ohio State since Nov. 4, but as No. 1 wideout Julian Fleming and No. 14 wideout Gee Scott Jr. – who has been committed to Ohio State since Dec. 25 – continue to burst onto the scene as potential eventual All-Americans and the Mookie Cooper hype continues to become more of a reality, Smith-Njigba's name has become an ingrained part of the 2020 class.
But when the receiver made his way to The Opening Finals as a late addition, despite being a top-100 recruit, he made sure he emboldened his name within the Buckeye commits which was the second-largest committed base at the showcase, with seven representatives. 
"You shouldn't forget about me," Smith-Njigba said to Eleven Warriors on Monday. "I had the best stats in Texas. I can't control any of the media, the rankings – I just feel like I'm the top receiver and I don't get much respect, but I'm out here earning people's respect now."
Smith-Njigba absolutely deserves that respect too. He caught 97 passes for 1,828 yards and 20 touchdowns in just 11 games as a junior in 2018. But with Fleming posting ratings that rank second overall at The Opening, including a 4.45-second 40-yard dash, and Scott Jr. on Twitter bench pressing NFL Combine-equivalent numbers and dropping only one pass at The Opening Finals, Smith-Njigba's name hasn't rung in as much excitement – especially since he was rated as the No. 287 overall recruit when he committed.
He gave Ohio State fans something to be excited about with his performance in 7-on-7 play in Frisco. Smith-Njigba quickly became the go-to guy in the offense for Team Pressure, almost immediately taking the role as the No. 1 wideout for a team that had No. 44 overall prospect Jermaine Burton, top-200 overall recruit Michael Redding, 2021 No. 1 Kentucky wideout Dekel Crowdus and top tight end Theo Johnson.
This is a good representation of how @jaxon_smith1 wowed people at The Opening Finals this week. pic.twitter.com/NEuhrr7rrD

— Taylor Lehman (@TaylorRLehman) July 4, 2019
He made the effort plays – the tough catches, the difficult routes up the middle, the crucial plays throughout the game for his offense – and when he wasn't in the game, the offense was stagnant. Only Mookie Cooper's presence in Team Drip's offense seemed to have a similar effect at the showcase.
"People don't really know my name, but I'm just here competing hard and doing my thing," Smith-Njigba said. "I know it happens for a reason and it's a marathon, and I know it's going to come. So I'm just out here controlling what I can control."
He's quickly meshed with Fleming and Scott Jr., as well as the other commits, like Lejond Cavazos, to form what is the tightest group among the commitments – a bond they hope spreads throughout the class.
"We're focused on individual, of course, but we're just focused on getting better as a group," Smith-Njigba said. "You could ask any one of us who we think the best is, and we would say each other. We're just trying to get a bond that can't be broken."
SPACE JAM #zone6 pic.twitter.com/RJXuwmZni8

— Jaxon Smith-Njigba (@jaxon_smith1) June 24, 2019
During Ohio State's Buckeye Bash & Barbecue, those four recruits were inseparable. Smith-Njigba stayed in the same room as Cavazos and Fleming, while Scott Jr. hung out at night and they all met up at the facilities during the days. They also enjoyed the Ohio-themed photoshoot together as well, taking several photos together.
"It's not even making him feel like part of the family. He is part of the family," Fleming told Eleven Warriors on Tuesday. "He committed before I even committed. It's been a really welcoming thing with all of us together. "
While Smith-Njigba's athleticism doesn't pop off a ratings sheet, he is one of the strongest competitors on the field and has an instinct for the position that few receivers have at his age. He said that he believed he shouldn't have been a late addition to The Opening Finals, that he should've been invited from the start. 
The Texas receiver carried that chip into the event, prepared to prove why he believed that. And from the beginning, during individual-turned-one-on-one workouts, there was no mistaking, Smith-Njigba was going to be a force all week.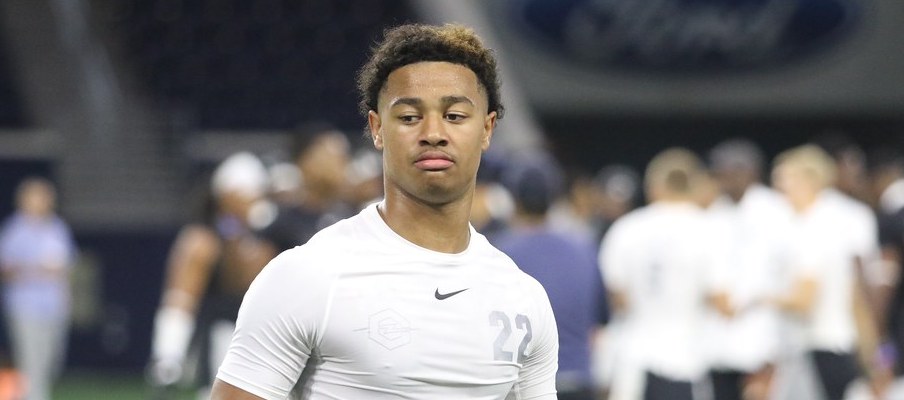 He made a hesitation step, cut up the sideline, then cut back toward the outside. As the ball came in, he reached up with one hand and made the grab with ease. But after the catch, as someone from the crowd cheered, "Rep those Buckeyes!" Smith-Njigba looked back at the defensive back as to say he shouldn't be doubted. 
"I was late, so I'm coming here just to eat," Smith-Njigba said. "I feel like I've got to prove something, with me being late. I feel like I'm one of the best receivers here."