The Hurry Up is your nightly dose of updates from the Ohio State football recruiting trail, keeping tabs on the latest from commits and targets from around the country.
Julian Fleming Backs Up No. 1 Rating
The Opening Finals was one of few occasions that Ohio State wide receiver commit Julian Fleming was able to showcase his skills since his commitment May 31. But he wasn't alone. Gee Scott Jr. and Jaxon Smith-Njigba also stole the show, as the three wideouts swept the three slots in 247Sports' Dream Team from the week's events.
"You have to take pride in it. It's Zone 6. It's a brotherhood," Fleming told Eleven Warriors about being committed to Ohio State. "They've got a great tradition up there. They've always had a great tradition up there. We've got to keep it going."
Fleming got it all started on Day One, when he blew away the field with his combine numbers. He placed second overall at the event and tested in the 99th percentile in all five tests, including a 4.45-second 40-yard dash and a 40-inch vertical.
Then in 7-on-7 play, he and Scott Jr. made it nearly impossible to be stopped on offense for Team Savage, while Smith-Njigba emerged as the primary target on offense for Team Pressure. 
Ohio State fans were finally able to see what Fleming can bring to the Ohio State program – a tall yet fast frame, smooth hips, reliable hands and a competitive motor. 
"I definitely had something to prove," Fleming said. "If you want to keep that spot (No. 1 wide receiver), you've got to come in with a chip on your shoulder every day. My regional times – I came in right after a track meet when I pulled a hamstring – so that was a little rough. Coming here, I was fresh. I was ready to go."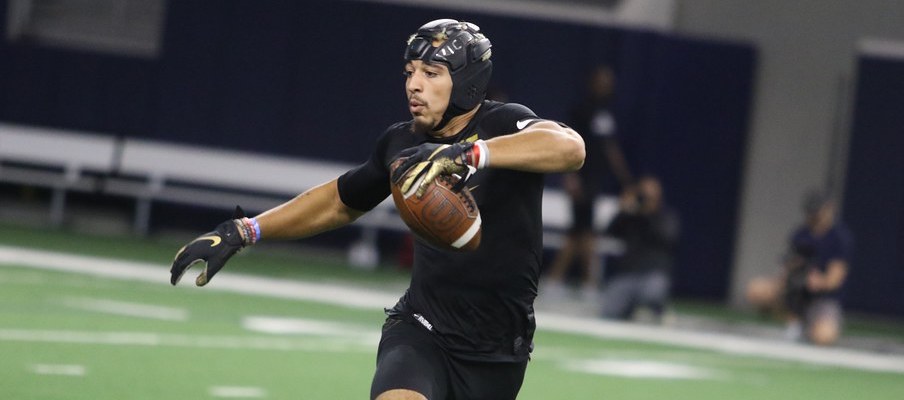 Fleming scored two touchdowns in the championship round of the tournament, and after his first, he paid homage to Brian Hartline by putting the ball with the pylon, like Hartline did with the Miami Dolphins – a GIF that is frequently used on Twitter when referring to success from the new wide receivers coach.
"I just talked to him," Fleming said. "I sent him my numbers yesterday. I was excited, and he was excited. We keep in touch every day."
Cam Martinez Feels "At Home" At Ohio State
Three-star Michigan athlete Cam Martinez committed to Ohio State on Thursday, and even though it seemed like Ohio State might eventually earn his commitment before the June 21 barbecue, that event sealed the deal for him, he told Eleven Warriors on Friday.
"A couple days after my official visit," Martinez said. "I prayed about and thought about it a lot. And that was the school I felt 100-percent for sure about."
Martinez had narrowed his decision down to Ohio State, Northwestern, Penn State and Minnesota, and he really liked Northwestern, but Ohio State provided fertile soil for both of the positions he will potentially be playing – safety and wide receiver. 
With Hartline coaching the receivers and Hafley coaching the secondary, Martinez saw a win-win scenario for himself. 
"That's one of the reasons why I chose them too," Martinez said. "I just felt like it was the best all-around fit for me."
If Mookie Cooper does choose to commit to Ohio State, it might be tough for the Buckeyes to find a spot in the wide receivers room for Martinez, but Martinez told Eleven Warriors in March that he believes his skillset best fits the safety position anyway.
He said Friday that it is still unclear where he will be beginning his Ohio State career.
But what makes him comfortable are the conversations he's been able to have with players like Chris Olave, Kamryn Babb and Garrett Wilson, as well as his relationships with Lejond Cavazos, Julian Fleming and Clark Phillips. 
"Just building relationships and talking to the players," Martinez said. "Being there, it felt the most at home for me."
Cincinnati Quartet Makes Commitments
There was a time when Ohio State was in close discussion with Cincinnati 2020 prospects JuTahn McClain and Miyan Williams. As recently as April, the two running backs were considered as legitimate in-state takes for the Buckeyes, but as conversations with other backs in the class ramped up, that momentum died.
Cincinnati safety Miquan Grace arranged a Fourth of July barbecue to celebrate the commitments of Williams, McClain, DeMeer Blankumsee and his own. They were all scheduled to announce their commitments at the event, but McClain announced his early, committing to Kentucky in early-June. 
McClain seemed most likely among the four to pick Ohio State, so when he chose the Wildcats, it seemed like they'd all either be going to Kentucky or going separate ways. Eventually, they all went their own ways.
...... pic.twitter.com/48skVzy3uw

— MiQuanGrace4 (@MiquanGrace3) July 4, 2019
Williams elected to commit to Iowa State, while Grace chose Rutgers and Blankumsee chose Toledo.