As a first-time head coach, Ryan Day kept five assistant coaches from the Urban Meyer era and hired five assistant coaches. 
Each coach – both new and returning – has a set of objectives they want to accomplish with Ohio State opening spring practice this week. We took a look at what each of their main tasks will be this spring.
Ryan Day (head coach)
Spring practice objective: Figure out the best way to use himself during practices and lead the Buckeyes into the 2019 season as a College Football Playoff contender.
Urban Meyer always lurked. He was always around during practices overseeing drills, often just standing and watching in the middle of the field. He'd spend some time with the quarterbacks and offense, involving himself with special teams, too.
Day has to find out what he should do during practices. He's no longer the offensive coordinator and quarterbacks coach, but he has that skillset so he'll certainly use that to Ohio State's advantage. Day just won't spend as much time with those players, so he must determine the correct balance. He has to learn how best to lead the team through spring practice while it starts to head toward the 2019 season as a championship contender.
Kevin Wilson (offensive coordinator and tight ends coach)
Objective: Determine how to mesh with Ryan Day and Mike Yurcich on the offensive coaching staff.
Spring Previews
When Urban Meyer hired Wilson in 2017, the former Indiana head coach's title was offensive coordinator. Meyer hired Day to be co-offensive coordinator alongside Wilson. The next year, Wilson remained offensive coordinator, and Day earned a promotion to offensive coordinator, effectively meaning there were two co-offensive coordinators whose titles were each offensive coordinator.
This spring, Wilson is still offensive coordinator, but Day climbed all the way up the ladder to head coach. In his place as passing game coordinator and quarterbacks coach sits Mike Yurcich. 
Wilson must figure out how he fits into the offensive puzzle. Ohio State has a passing game coordinator, so it would make sense that Wilson leads the rushing attack ever though he's not technically the run game coordinator. What are his responsibilities? Who's calling the plays and how much input does he have during games? How have his duties changed from last season to this spring? 
Mike Yurcich (passing game coordinator and quarterbacks coach)
Objective: Prepare Justin Fields and Matthew Baldwin – neither of whom has taken a snap as a Buckeye – for the fall while overseeing a healthy competition.
Moving from Oklahoma State to Ohio State stripped Yurcich of some of his authority as a coach due to Day's background leading both the team's passing attack and the quarterbacks, but it put him right in the spotlight.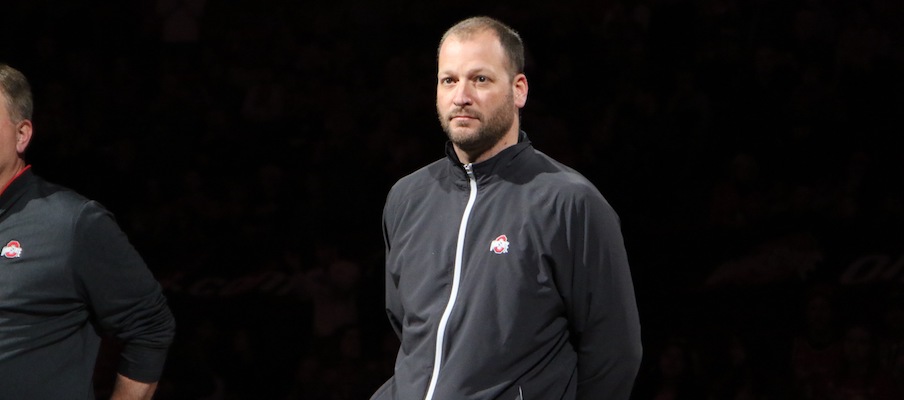 Now, he will preside over the most important position battle of the spring. Fields is the presumed winner, but Day has indicated he intends to not hand him the job, instead treat it like a competition. If that's true, it'll minimize the first-team reps for the eventual winner – likely Fields – which will make Yurcich's job more difficult. But regardless of who starts on Aug. 31, Yurcich needs to have them prepared, and spring practice will be an important part of that.
Tony Alford (running backs coach)
Objective: Figure out who will back up J.K. Dobbins.
Alford doesn't have to spend a single second considering who will start at running back. He already knows Dobbins has the spot locked up. Behind him? Questions remain.
Demario McCall and Master Teague appear to be the most likely candidates to serve as Dobbins' backup, but both have drawbacks. McCall doesn't yet have a defined position, bouncing between H-back and running back, and Teague had just 17 carries while redshirting as a freshman. Marcus Crowley, an early enrollee, also will be in the mix this spring.
Alford must find out the best option behind Dobbins and prepare them for the fall.
Brian Hartline (wide receivers coach)
Objective: Ensure a couple freshmen or sophomores step up to help fill the void left by Parris Campbell, Terry McLaurin and Johnnie Dixon.
Urban Meyer could never stop talking about Campbell, McLaurin and Dixon. They're gone now, and Hartline's job just got that much tougher.
K.J. Hill, Chris Olave, Binjimen Victor and Austin Mack will return this spring, but Ohio State needs a couple other wideouts to step up and enter the receiver rotation. C.J. Saunders, Jaelen Gill and Demario McCall appear to be the most likely candidates at H-back. Garrett Wilson is an intriguing option at one of the outside receiver positions, but he'll have to compete with Jaylen Harris, Ellijah Gardiner, Blue Smith and Kam Babb for a spot.
Hartline has ample options, and he has to mold some of the more inexperienced players into contributing roles this spring.
Greg Studrawa (offensive line coach)
Objective: Replace four starters on the offensive line.
Ohio State lost more starting offensive linemen than it lost starters at any other position this offseason, and Studrawa will have his first opportunity to find out who will replace them in spring practices.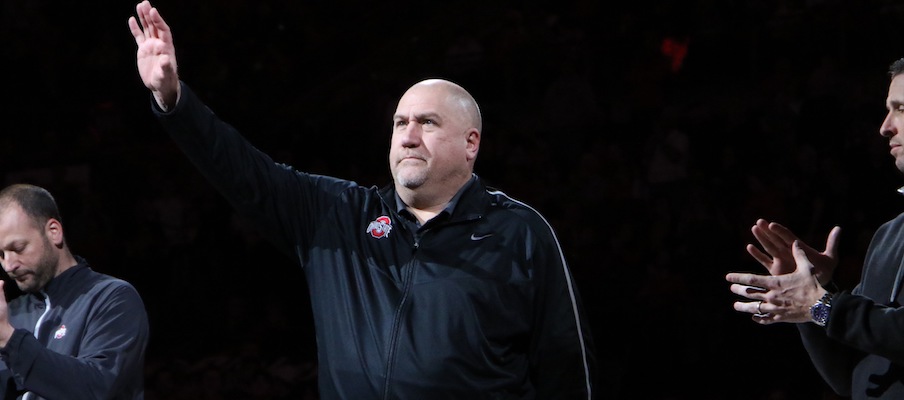 Thayer Munford is the sole returning starter at left tackle, but he reportedly won't be ready to play in spring practice due to an injury. That could give more opportunities for reps to those competing for the starting right tackle for reps in practice. Nicholas Petit-Frere, Joshua Alabi and Branden Bowen will battle to be right tackle.
Wyatt Davis likely has the starting right guard spot locked up after a solid couple performances in the Big Ten championship and Rose Bowl. Jonah Jackson and Josh Myers will compete at center, and one of Jackson, Bowen and Gavin Cupp will likely be the left guard.
Greg Mattison (co-defensive coordinator)
Objective: Determine how to split his time during practices while implementing the framework of the defense.
When Day hired Mattison, the first question was obvious: where position the longtime defensive line coach spend most of his time?
On Feb. 6, Mattison said he will be "helping out wherever needed." He noted he'll spend a lot of time with Al Washington and the linebackers, but also said he'll assist Larry Johnson at times.
Mattison has to figure out how to best use himself at practices while also putting in the intricacies of his defense. 
Jeff Hafley (co-defensive coordinator and secondary coach)
Objective: Figure out how best to use Damon Arnette, Jeffrey Okudah and Shaun Wade while locking down the safety spot opposite Jordan Fuller.
Meet Ohio State's New Coaches
Ohio State has significant talent returning in the secondary despite the unit's poor results last season.
Okudah is a potential star, Arnette has loads of experience and Wade made strides throughout the 2018 season. Hafley could rotate them at cornerback, or he could make one of them nickelback and play two at cornerbacks. He has to figure out how to maximize production at the position.
Fuller will return as a starting safety, but the Buckeyes are in the all-too-familiar place of figuring out who will start next to him. If White becomes a hybrid linebacker-safety, Hafley will have a gaping hole at safety. Isaiah Pryor, Josh Proctor, Amir Riep and Jahsen Wint are the candidates.
Larry Johnson (defensive line coach)
Objective: Find a replacement at defensive tackle for Dre'Mont Jones.
Chase Young, Jonathon Cooper and Robert Landers return, each with one more year of eligibility, and all three are expected to start as seniors. Dre'Mont Jones headed to the NFL, though, opening up a starting spot on the defensive line that Johnson must fill.
Haskell Garrett, Taron Vincent and Davon Hamilton are the most likely candidates to replace Jones. Garrett and Vincent are formerly highly regarded recruits, while Hamilton has most of his experience at nose tackle but could scoot over and play three-technique. It'll be up to Johnson to figure out who would be most impactful replacing Jones.
Al Washington (linebackers coach)
Objective: Determine who will start and prepare them to make significant strides after a disappointing 2018 season.
In a defense bereft of many negatives last season, the linebackers stood out as one of the rockier units. Day hired Washington to fix what went wrong under Billy Davis.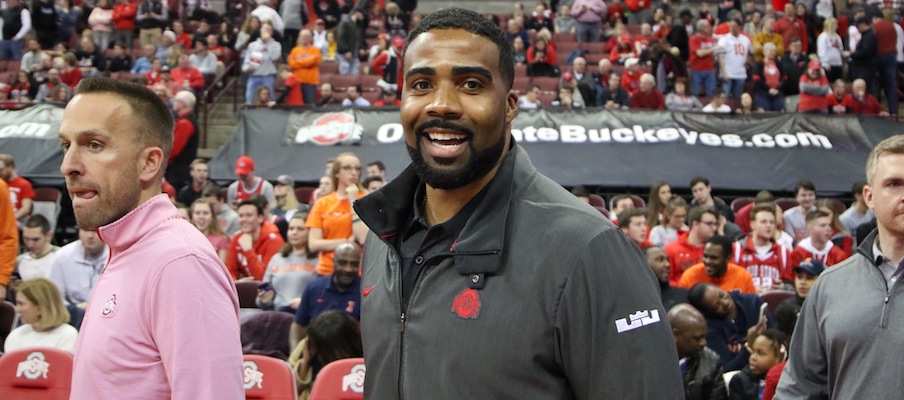 All three starters – Tuf Borland, Malik Harrison and Pete Werner – returned for the 2019 season. Harrison will start, but questions remain with Borland and Werner. And if the Buckeyes trade in one linebacker for a hybrid linebacker-safety, one of the returning starters might be out of a starting spot. Washington must determine who are the best options this spring.  
Matt Barnes (special teams coordinator and assistant secondary coach)
Objective: Impress the importance of special teams upon the team while figuring out how to split his time working in the secondary with Hafley.
Ohio State knew the importance of special teams under Meyer and Jim Tressel. Both coaches consistently raised awareness about the unit, noting how crucial it can be.
Day doesn't have a special teams background, so maintaining the level of focus on the unit will be pertinent to Barnes. He has Blake Haubeil and Drue Chrisman returning as kicker and punter, respectively, which will help the transition. While Barnes coaches special teams, he also has to figure out how much time to spend with the defensive backs. He'll begin to find that out this spring.