With spring football set to begin at Ohio State on March 6, Eleven Warriors is taking a position-by-position look at how the Buckeyes' roster is shaping up entering the year's first practices.
The four quarterbacks who will be throwing passes for Ohio State this spring are completely different than the four who took competitive reps for the Buckeyes last spring.
Last spring, the Buckeyes had a three-way starting quarterback competition between Dwayne Haskins, Joe Burrow and Tate Martell, while walk-on quarterback Kory Curtis also saw some work in practice.
None of those quarterbacks are still at Ohio State. Haskins declared for the 2019 NFL draft after a record-setting season as the Buckeyes' starting quarterback. Burrow left for LSU as a graduate transfer after Haskins beat him out for the starting job last spring. Martell transferred to Miami and Curtis transferred to Bryant this offseason.
Instead, the Buckeyes' quarterback roster this spring will consist of Justin Fields, who transferred from Georgia to Ohio State in January; Matthew Baldwin, who was on the team last spring but was sidelined after undergoing knee surgery; Chris Chugunov, who came to Ohio State as a graduate transfer from West Virginia last summer; and Daniel Vanatsky, who joined the Buckeyes as a walk-on last summer.
All of them will be participating in spring practice for the first time as Buckeyes when the team returns to the field on March 6, making the next two months crucial for all of their development.
What We Know
Spring Previews
The big thing we know is something we weren't sure we would know going into spring practice until a couple weeks ago: Fields is eligible to play this season after receiving a legislative relief waiver from the NCAA, allowing him to play immediately instead of sitting out a year under transfer rules.
That makes the Buckeyes' quarterback competition this spring much simpler than it could have been, as they can now proceed forward knowing that Fields will be eligible to play instead of having to prepare for the contingency that he might not be.
Fields enters spring as the clear favorite to win the job. The No. 2 overall recruit in the class of 2018, Fields is one of the most physically gifted quarterbacks in all of college football. He possesses both an excellent arm and elite athleticism for a quarterback. In limited action off the bench last season at Georgia, Fields completed 27 of 39 passing attempts for 328 yards and four touchdowns with no interceptions while running for 266 yards and four touchdowns on 42 carries.
Baldwin, the 12th-ranked quarterback in the class of 2018, also has a big arm and should also see a significant share of the practice reps this spring. He didn't see any playing time as a true freshman, in part because of the practice time he missed due to injury, but he is the only quarterback on the roster who has been at Ohio State for a full calendar year at this point.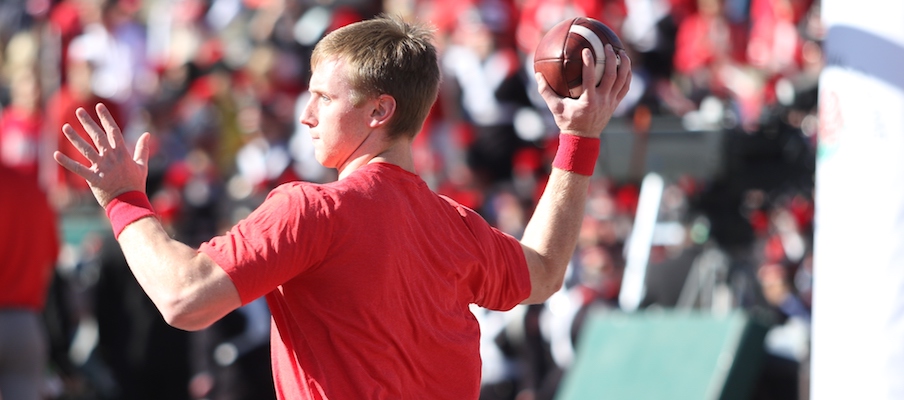 Chugunov, who joined the Buckeyes last August, is the only quarterback still on the roster who appeared in a game for Ohio State last season. He checked into the game for four snaps against Rutgers. The fifth-year senior is also the only quarterback on the roster who has started at the collegiate level – Chugunov started two games for West Virginia in 2017, when he completed 43 of 90 passing attempts for 536 yards and three touchdowns with two interceptions. He is expected to be the No. 3 quarterback on the Buckeyes' depth chart.
Vanatsky, a product of Cincinnati Hills Christian Academy, rounds out this spring's quarterback roster.
What We Don't Know
Even though the depth chart at the position appears to be fairly clear-cut, Ohio State enters the spring with a lot of unknowns at the quarterback position – not only because the Buckeyes' roster of quarterbacks is completely different from last year, but also because they have a new quarterbacks coach in Mike Yurcich, with Ryan Day now leading the entire roster as head coach.
Considering the success that Haskins and Ohio State's offense had under Day's leadership last season, the Buckeyes shouldn't be looking to make any huge changes this season. Fields has a level of athleticism that Haskins does not, which could make the quarterback running game a bigger element of Ohio State's offense. Yet it's uncertain how that might be counteracted by the retirement of Urban Meyer, who was a huge advocate of the quarterback running game, and the arrival of Yurcich, whose offenses at Oklahoma State were typically pass-heavy.
Both Day and Yurcich have said they want to adapt the offense to fit their quarterback's strengths.
"As we move forward with our new quarterback, we figure out what he does best, we'll emphasize that," Day said on National Signing Day.
Yurcich said even he won't be sure what that will look like, though, until the Buckeyes get going on the practice field and he has a chance to evaluate his new quarterbacks.
"I think it's really important as a coach when you're trying to develop an offense that you don't compare it necessarily one year to the next. I think you can be setting yourself up," Yurcich said. "What we have to do is take this group of guys and see where our strengths are, where our weaknesses are, where we can grow the most and try to become the best offense we can be in maximizing our personnel."
The other big question, of course, is whether Fields will be truly ready to lead Ohio State's offense this fall after just arriving on campus in January. The spring is going to be a crucial time for Fields to pick up the Buckeyes' offensive playbook and for the coaches to evaluate his strengths and weaknesses, so that they can figure out how to adapt the offense to him and what he will most need to work on in fall camp.
The same questions apply to Baldwin, who will need to be prepared to play even if Fields starts. It's important to have a third-string quarterback who can play if needed, too, so Ohio State's coaches will also want to see what Chugunov and Vanatsky can do this spring.
Players to Watch
Ohio State's Spring Quarterback Roster

| No. | Name | Ht. | Wt. | Year | Hometown (High School) |
| --- | --- | --- | --- | --- | --- |
| 4 | CHRIS CHUGUNOV | 6-1 | 203 | RS SR | Skillman, N.J. (Montgomery) |
| 10 | DANIEL VANATSKY | 6-2 | 195 | SO | Cincinnati, Ohio (Christian Academy) |
| 12 | MATTHEW BALDWIN | 6-3 | 205 | RS FR | Austin, Texas (Lake Travis) |
|   | JUSTIN FIELDS | 6-3 | 225 | SO | Kennesaw, Georgia (Harrison) |
No Ohio State player will garner more attention this spring than Fields, who is among the early betting favorites to win the Heisman Trophy even though he's never played a snap for his new team. He has the potential to be one of the most exciting players in college football, and this spring should provide a glimpse of what he can bring to the Buckeyes' offense. His development is crucial to Ohio State's championship hopes, and with less than eight months from when he arrived on campus to the Buckeyes' season opener, every practice will be important.
Baldwin will also be among the players in the spotlight this spring, as he will get a shot to compete for the starting job and offers the potential to be a future starter for the Buckeyes even if he does not top the depth chart this year. He drew praise from his coaches and teammates for his performance on the practice field and in the meeting rooms in his first year at Ohio State, but this spring will be his opportunity to really show what he can do while taking reps with the Buckeyes' first- and second-team offenses.
Position Outlook
Although Ohio State will conduct a quarterback competition this fall, and it's unlikely a starter will be named until after the spring game, Fields should be Ohio State's starting quarterback this season as long as he is healthy. That's not a slight on Baldwin, but a reflection of reality: Ohio State didn't recruit Fields to be a backup, and though he says he hasn't been promised anything, he certainly wouldn't have chosen to transfer to Ohio State if he didn't expect to be the starter right away.
With the addition of Fields but the departures of Haskins and Martell, Ohio State's quarterback outlook is promising, yet the question remains one of the biggest question marks. Fields' potential is sky-high, which makes it possible the Buckeyes' offense won't miss a beat. But he's still entirely unproven as a starter, and depth is a concern, too.
Baldwin should be ready to move into the No. 2 quarterback role now that he's been on campus for a year, but he's never seen live action at the collegiate level. And while Chugunov's experience makes him a solid option for emergency depth, the Buckeyes certainly don't appear to be in a position like they were in 2014, when their third-string quarterback Cardale Jones led them to a national championship.
Day has said that he would like to have four scholarship quarterbacks on his roster, but the Buckeyes' lack of optimal depth at the position is understandable; in an era where backup quarterbacks transferring to become starters elsewhere has become commonplace, it's going to become increasingly difficult for teams to maintain deep numbers at the quarterback position. Ohio State's combined lack of depth and experience at the position, though, makes this spring an important spring for every single quarterback on the roster.
Projected Depth Chart
1. Justin Fields
2. Matthew Baldwin
3. Chris Chugunov