There might not be a positional outlook as foggy as the offensive line heading into spring practice.
Ohio State returns just one starter from last season's first-team offensive line, and it's the one who had the least experience heading into the 2018 season. Outside of Thayer Munford – the lone returning starter – the Buckeyes have a number of players with meaningful in-game experience, but no obvious way the depth chart will shake out.
In addition to the cloudy nature of the first-team offensive line, depth is a concern at the backup positions as well. With few proven players behind the starters, the Buckeyes will need some unproven players to step up when given the chance in spring practice.
There are certainly concerns, and Ryan Day still may be in the midst of solving those problems by addition with his pursuit of a graduate transfer offensive lineman. So far, there seems to be mutual interest between Ohio State and Rutgers graduate transfer Jonah Jackson as well as Virginia graduate transfer R.J. Proctor.
But however it all shakes out, Ohio State is going to have a new-look offensive line next season and will desperately need some young players to emerge behind the starters.
What We Know
Thayer Munford is the unit's lone starter, starting 13 of 14 games last season as a first-year starter, missing only the Rose Bowl due to injury.
Spring Previews
Munford was quietly one of the most consistent and reliable members of the offensive line, holding down the ever-important left tackle position. He'll likely be the anchor of the unit this season as the coaching staff looks to fill out the other four spots.
Aside from Munford, the Buckeyes do have a few players with quality first-team experience.
Branden Bowen earned a starting spot at guard ahead of the 2017 season and started six games before a broken leg cost him the remainder of the 2017 and most of the 2018 season. Though he started at guard previously, he has the skillset and frame to play tackle, and that may be his preferred position. 
Wyatt Davis was never supposed to start a game last season, but he was ready when his time came. When starter Demetrius Knox went down with foot injury in the final two minutes of Ohio State's blowout win over Michigan, Davis was the next man up and started both the Big Ten Championship Game and the Rose Bowl Game at guard, doing a fine job in both games.
Joshua Alabi was also thrust in to the starting lineup late in the season, filling in for an injured Munford in the Rose Bowl, and performing well. Alabi, a converted defensive end, saw action previously as a reserve tackle but figures to be in the thick of starting tackle race.
What We Don't Know
Ohio State's Spring Offensive Line Roster

| No. | Name | Ht. | Wt. | Year | Hometown (High School) |
| --- | --- | --- | --- | --- | --- |
| 50 | NATHAN BROCK | 6-4 | 288 | SR | Powell, Ohio (Olentangy Liberty) |
| 52 | WYATT DAVIS | 6-4 | 313 | SO | Bellflower, California (St. John Bosco) |
| 54 | MATTHEW JONES | 6-4 | 299 | RS FR | Brooklyn, New York (Erasmus Hall) |
| 58 | JOSHUA ALABI | 6-5 | 305 | SR | Detroit, Michigan (Cass Tech) |
| 61 | GAVIN CUPP | 6-4 | 308 | JR | Leipsic, Ohio (Leipsic) |
| 62 | BRANDON PAHL | 6-2 | 299 | SR | Cutler, Ohio (Warren) |
| 63 | KEVIN WOIDKE | 6-6 | 250 | RS JR | Cleveland, Ohio (St. Ignatius) |
| 64 | JACK JAMIESON | 6-2 | 280 | SO | Cleveland, Ohio (St. Ignatius) |
| 71 | JOSH MYERS | 6-5 | 308 | SO | Miamisburg, Ohio (Miamisburg) |
| 74 | MAX WRAY | 6-7 | 305 | RS FR | Franklin, Tennessee (Franklin) |
| 75 | THAYER MUNFORD | 6-6 | 319 | JR | Cincinnati, Ohio (Massilon Washington) |
| 76 | BRANDEN BOWEN | 6-7 | 312 | RS SR | Draper, Utah (Corner Canyon) |
| 77 | NICHOLAS PETIT-FRERE | 6-5 | 288 | RS FR | Tampa, Florida (Berkley Prep) |
|   | RYAN JACOBY | 6-5 | 270 | FR | Mentor, Ohio (Mentor) |
There seem to be more questions than there are answers  heading into spring practices.
One of the biggest and most pressing unknowns is who – if anybody – will be added to the roster. Both graduate transfers Jackson and Proctor have shown interest in the Buckeyes and Ohio State certainly seems interested in adding a graduate transfer offensive lineman, but no formal decisions have been made, nor does a formal timetable exist for those decisions. Even if there was a roster a addition, at this point it seems unlikely the transfer would be in Columbus in time for spring practice, given the academic calendar. Though it's not impossible, given Kendall Sheffield enrolled in March and was available for spring practice.
Beyond that, Ohio State has a number of questions regarding the makeup of the offensive line and the development of players who have not yet seen meaningful action.
One big unknown is where Bowen will line up. The senior will almost certainly be featured in the starting rotation somewhere, it's just a matter whether he'll play guard or tackle. He may be better suited and prefer to play tackle, but the reality is that the Buckeyes are so thin and unproven on the inside, he may play guard once again.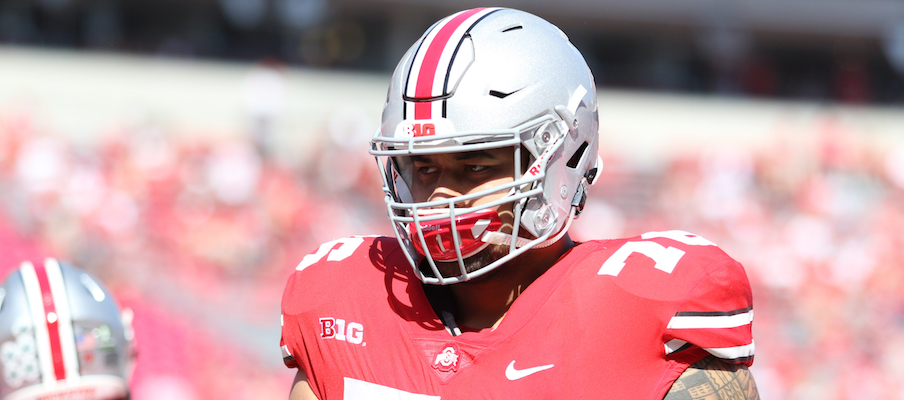 Regardless of where Bowen lines up, Ohio State will need players to emerge on the interior line, specifically at the center position. Davis played well in his two games as a starter and figures likely to start at guard this season. Josh Myers seemed to be the next-man-up at center towards the end of the season, but he has yet to play meaningful action in his career. Outside of Myers and Davis, the Buckeyes have highly-touted redshirt freshman Matthew Jones as well as more veteran unproven interior lineman Gavin Cupp.
On the outside, Munford is the returning starter with Alabi as the only other player with meaningful game experience. Nicholas Petit-Frere played well and often towards the beginning of the season, but never saw action after his fourth game and ended up redshirting. Munford seems in no danger of losing his starting spot, but the other spot is up for grabs and looks to be a race between Alabi and Petit-Frere.
Players to Watch
Outside of Munford, nearly the entire unit has something to prove, but the biggest players to watch are Petit-Frere, Alabi and Myers.
All three players have positioned themselves as frontrunners to win starting jobs in the spring or fall, but it will come down to their performance. And in Petit-Frere and Alabi's cases, there's only one spot between them.
Another player to watch is Jones. Jones came into Columbus as the top center prospect in the 2019 class and the No. 68 player in the class overall, but did not play a single snap in the 2020 season and risk being passed on the depth chart without a solid spring and fall.
Position Outlook
There are many unknowns and depth concerns throughout the unit, but Ohio State should be able to piece together a talented and stout offensive line, particularly at the top. And if the Buckeyes can add a plug-and-play starter with a graduate transfer, the outlook looks even brighter.
While they will have four new starters on the offensive line, three of those positions could be filled by players who've already seen starting action and have proven themselves in meaningful game situations.
The larger concern is at the bottom of the depth chart. Though the talent should exist at the top, the depth is not there at the moment, which could prove problematic for a unit that has seen at least one significant injury the past two seasons.
Projected Depth Chart
Tackle 
1. Thayer Munford
2. Joshua Alabi
3. Nicholas Petit-Frere
Guard
1. Wyatt Davis
2. Branden Bowen
3. Gavin Cupp
Center
1. Josh Myers
2. Matthew Jones