With spring football set to begin at Ohio State on March 6, Eleven Warriors is taking a position-by-position look at how the Buckeyes' roster is shaping up entering the year's first practice.
As the 2018 season closed, Ohio State seemed poised to lose both Damon Arnette and Kendall Sheffield as early entrants to the NFL. In the locker room after the game, Arnette told reporters he was leaning toward leaving, and he didn't even fly back to Columbus with the rest of the team.
But after conversations with former Buckeye wideout Cris Carter and co-defensive coordinator and secondary coach Jeff Hafley, Arnette opted to return for a fifth season at Ohio State, giving his new defensive back coaches – Hafley and assistant secondary coach Matt Barnes – a veteran to pair with an enticing group of young cornerbacks prepared for more responsibilities.
Under Kerry Coombs, the team's cornerbacks were among the best in the country almost every single year. He produced five first-round cornerbacks – Marshon Lattimore, Gareon Conley, Eli Apple, Bradley Roby and Denzel Ward – in his six years on the coaching staff, setting an incredibly high standard of play.
Hafley and Barnes surely won't have five cornerbacks in six years – that's a monumentally impressive task – but they have plenty of talent to work with, beginning with Arnette, Jeffrey Okudah and Shaun Wade.
Let's take a look at the cornerbacks as our position-by-position Spring Preview continues.
What We Know
Arnette, Okudah and Wade each played extensively in 2018. Sheffield played the most snaps, but they were second, third and fourth on the team, each earning at least 500 defensive snaps. No other cornerback had more than 42 snaps on defense. 
Spring Previews
Thus, all three are in a good position to again play the majority of snaps in 2019.
Arnette has battled inconsistency for much of his career, but he put together a solid redshirt junior campaign that had him wondering whether he should test the NFL draft waters. He returned, though, with hopes of improving his stock under Hafley, who spent more than half a decade coaching defensive backs in the NFL.
In his final year, Arnette is expected start at cornerback on the outside, and he should be joined by Okudah, who arguably has the highest ceiling of any returning defender on the team.
Okudah entered Ohio State with a wealth of potential. He was a top-10 overall recruit and the top-ranked cornerback prospect in his class. With Arnette, Sheffield and Ward rotating in 2017, he didn't play a significant role until Ward sat out the Cotton Bowl. But as a rotation cornerback in 2018, Okudah steadily improved and, by the end of the season, looked like the type of player who could take a drastic leap in 2019. His spectacular Rose Bowl performance sent him out of his sophomore season with plenty of momentum.
If Hafley and Barnes can maximize Okudah, the rising junior could be in line for a special season. He has All-American potential.
As a redshirt freshman playing significantly more snaps than he ever had before, Wade had bumps early in the 2018 season, including getting beat inside by Penn State's K.J. Hamler and allowing a 93-yard touchdown. But he showed progression as the season went on. Now a redshirt sophomore, Wade will be among the top three cornerbacks on the team.
Junior Marcus Williamson, sophomore Sevyn Banks, sophomore Cameron Brown and redshirt freshman Tyreke Johnson will compete this spring for snaps. They're all relatively inexperienced, so spring practice will play a large role in determining which players have an edge entering the fall.
What We Don't Know
Under Urban Meyer, cornerbacks rotated. There wasn't a consideration to not do that. It happened under Kerry Coombs, then Taver Johnson rotated last season.
Hafley, who spent the past seven years in the NFL, said he didn't quite understand why Ohio State rotated, then realized the Buckeyes did so because the depth of talent was strong enough to do so.
Ohio State's Spring Cornerback Roster

| No. | Name | Ht. | Wt. | Year | Hometown (High School) |
| --- | --- | --- | --- | --- | --- |
| 1 | JEFFREY OKUDAH | 6-1 | 199 | JR | Grand Prairie, Texas (South Grand Prairie) |
| 3 | DAMON ARNETTE | 6-0 | 195 | RS SR | Fort Lauderdale, Florida (St. Thomas Aquinas) |
| 12 | SEVYN BANKS | 6-0 | 195 | SO | Orlando, Florida (Jones) |
| 13 | TYREKE JOHNSON | 6-1 | 193 | RS FR | Jacksonville, Florida (Trinity Christian Academy) |
| 21 | MARCUS WILLIAMSON | 5-11 | 186 | JR | Westerville, Ohio (IMG Academy) |
| 24 | SHAUN WADE | 6-1 | 195 | RS SO | Jacksonville, Florida (Trinity Christian Academy) |
| 26 | CAMERON BROWN | 6-0 | 185 | SO | St. Louis, Missouri (Christian Brothers College) |
| 28 | ALEX BADINE | 5-11 | 186 | SR | Brooklyn, New York (Monroe College) |
| 42 | LLOYD MCFARQUHAR | 5-10 | 159 | SO | Cleveland, Ohio (Brush) |
| 49 | XAVIER JOHNSON | 6-3 | 205 | SO | Cincinnati, Ohio (Summit Country Day) |
When asked whether he would do what his predecessors did and rotate cornerbacks, Hafley was non-committal. 
"If a guy is good enough to play, we have to get him on the field," Hafley said on Feb. 6. "And if he's doing everything right, we have to find a role for him. So if we've got three first-round picks at corner, and I'm not saying we do, we'd better find a way to use him, right? So I think we'll figure that out. We'll figure it out."
Whether Ohio State rotates cornerbacks or not could affect the nickelback position, too.
Last year, Sheffield, Arnette and Okudah typically rotated at the two cornerback positions, and Wade played the majority of nickelback snaps. If Hafley and Barnes opt to rotate three cornerbacks again, a trio of Arnette, Okudah and Wade makes sense, leaving an opening for a younger player to play nickelback. But the coaches could opt to play Arnette and Okudah the majority of the time at cornerback and Wade at nickelback. 
If Wade rotates at cornerback, is one of the more inexperienced cornerbacks – Williamson, Johnson, Brown or Banks – ready to become a full-time nickelback? The coaches will find that out this spring.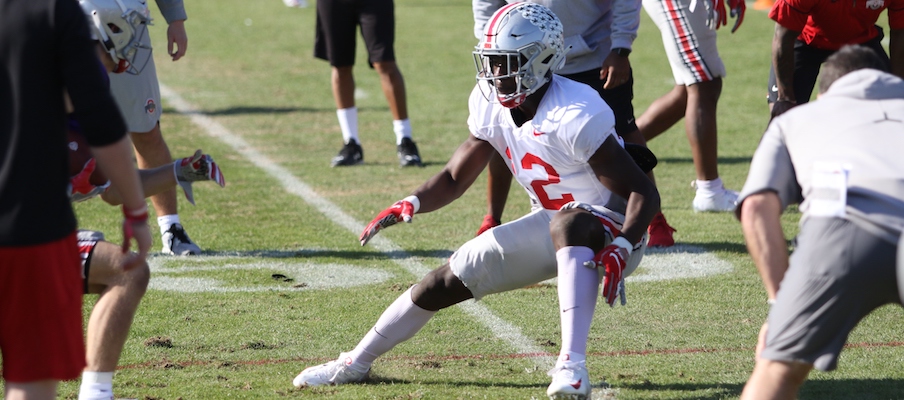 They'll also get a glimpse at just how good Okudah will be.
We know Okudah is good. How good? He has the potential to be one of the best cornerbacks in the country, and if that happens, Ohio State's defense would get a huge boost.
Players to Watch
During the Rose Bowl week, Sevyn Banks' name kept surfacing as someone who was standing out during bowl practices. 
"I think Sevyn Banks is doing excellent things," former defensive coordinator Greg Schiano said during the week of the Rose Bowl. "He's really improved. He could be the next big-time corner here if he keeps developing."
Banks didn't play a single defensive snap in 2018, so he'll have to combat a notable lack of experience. But he could be someone who takes a leap in the spring and jump into the two-deep depth chart. Banks is known as the player who snagged the ball out of the air and scored when Chris Olave blocked a Michigan punt, but he now has a chance to become a part of the Buckeyes' defense.
Williamson has spent two season at Ohio State and hasn't had much of an opportunity to play on defense. With Sheffield gone and only three cornerbacks with ample experience returning, he has a shot to make a jump, especially if the coaches decide to rotate Okudah, Wade and Arnette and go searching for a nickelback. Williamson is only 5-foot-11 and could be a fit.
In his first year as a Buckeyes, Johnson played just two defensive snaps and redshirted. He's a former five-star prospect who we haven't heard much from. Brown is in the same spot, having dealt with an injury that held him out of some games in the fall. Both will have opportunities to earn more playing time this spring.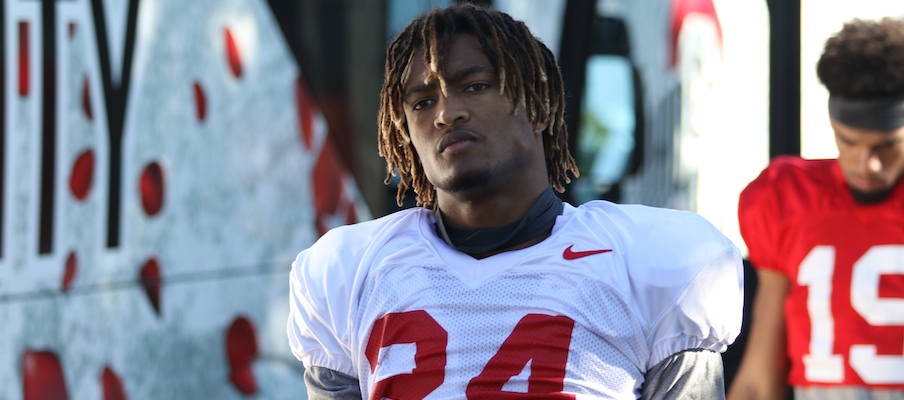 Position Outlook
Ohio State is on its third position coach in three years, but that hasn't diminished the talent at cornerback.
Arnette will be the veteran with multiple years of experience both playing cornerback and nickelback, and he'll be joined atop the depth chart by Okudah and Wade, both of whom were once five-star prospects. Hafley and Barnes walked into a good situation that has some similarities to the veteran-laden room that Brian Hartline got to coach in his first year.
The Buckeyes' cornerbacks – with a mix of experience and younger players ready for more playing time – posses the potential to have a special season. 
Projected Depth Chart
Cornerback
1. Damon Arnette
2. Sevyn Banks
Cornerback
1. Jeffrey Okudah
2. Cameron Brown
Nickelback
1. Shaun Wade
2. Marcus Williamson