With spring football set to begin at Ohio State on March 6, Eleven Warriors is taking a position-by-position look at how the Buckeyes' roster is shaping up entering the year's first practice.
Ohio State's linebacker corps is an interesting group.
After subpar performances the past two seasons, Ohio State and coach Bill Davis parted ways, and new head coach Ryan Day poached Al Washington from Michigan in an attempt to overhaul the group and make it one of Ohio State's best once again.
Ohio State returns every player at the linebacker position who played there a year ago, including Malik Harrison, who passed up on the NFL to return to Columbus for one more season.
The Buckeyes also feature veterans Pete Werner and Tuf Borland, players with incredible athleticism (but who haven't put it all together yet) such as Baron Browning, and young guns like Teradja Mitchell, K'Vaughan Pope and Dallas Gant.
All of them will be participating in spring practice when the Buckeyes return to the field next week.
What We Know
Spring Previews
Ohio State's depth chart is not set, so we don't really know a whole lot. Harrison should be in the starting lineup, likely at the weakside linebacker spot, but the other two spots could be wide open. 
Borland, now fully recovered after battling an Achilles injury last year, returns as the starting middle linebacker, and Werner returns as the starting strongside linebacker.
Of course, that's not to say there won't be stiff competition from others. Browning earned a lot of playing time a season ago, and he will push for action either in the middle or the outside. Mitchell could be the next man up in the middle, while Gant and Pope will certainly be in the mix as well.
Veteran Justin Hilliard returns to the room for one final season as well. The former five-star product has yet to earn a significant role on defense, but he'll get one more shot. 
The point is: other than Harrison, these spots are up for grabs. Ohio State's linebackers were not good whatsoever a year ago, and Day and Washington will likely look at that as a chance to retool the room and the rotations.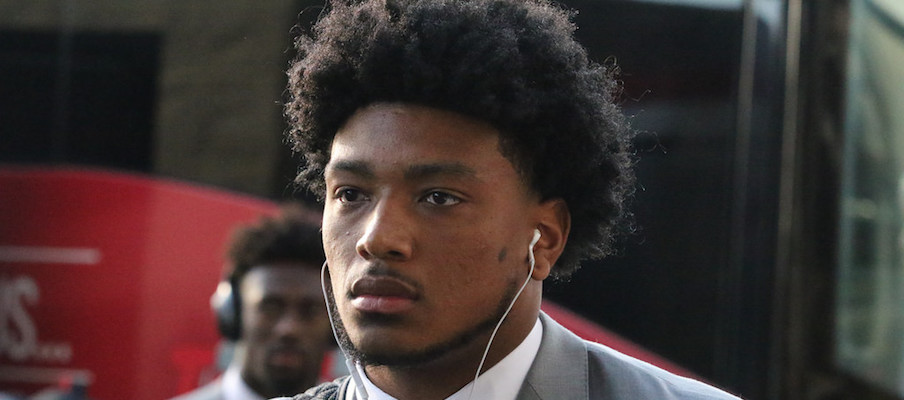 It will certainly be interesting to see how Washington uses his depth. Washington's linebackers unit at Michigan, led by All-American Devin Bush, was one of the best in the country a year ago, and there is definitely hope that he (and new co-defensive coordinator Greg Mattison, also from Michigan) can bring some of that magic down to Columbus.
Walk-ons Trayvon Wilburn, Ben Schmiesing, Cade Kacherski, and Logan Hittle round out the spring linebacker room, with freshmen Tommy Eichenberg, Cade Stover and Craig Young set to arrive this summer.
What We Don't Know
Ohio State enters the spring with a lot of unknowns at the linebacker position, simply due to the ineffectiveness of the room last season.
The depth chart is not set in stone, outside of Harrison being a starter.
There are simply so many lineup combinations that Day, Washington, Mattison and co-defensive coordinator Jeff Hafley can tinker with, making it almost impossible to predict what could happen. 
Another key factor is the growth that some of the younger guys in the room could display. If Mitchell, Pope, and Gant look good throughout spring practice and into the summer, it could prove hard to keep them off the field. Similarly, if Borland and Werner continue the struggles they displayed a year ago, it could open the door for someone else to step through.
The emergence of the young guys as a quality secondary option (or even a primary option) will be paramount for Ohio State's linebacker room to be the best it can be. 
Players to Watch
Ohio State's Spring Linebacker Roster

| No. | Name | Ht. | Wt. | Year | Hometown (High School) |
| --- | --- | --- | --- | --- | --- |
| 5 | BARON BROWNING | 6-3 | 240 | JR | Forth Worth, Texas (Kennedale) |
| 7 | TERADJA MITCHELL | 6-2 | 236 | SO | Virginia Beach, Virginia (Bishop Sullivan) |
| 19 | DALLAS GANT | 6-3 | 225 | SO | Toledo, Ohio (St. John's Jesuit) |
| 20 | PETE WERNER | 6-3 | 236 | JR | Indianapolis, Indiana (Cathedral) |
| 32 | TUF BORLAND | 6-1 | 230 | RS JR | Bolingbrook, Illinois (Bolingbrook) |
| 36  | K'VAUGHAN POPE | 6-1 | 226 | SO | Dinwiddie, Virginia (Dinwiddie) |
| 37 | TRAYVON WILBURN | 6-0 | 212 | SO | Cincinnati, Ohio (Mt. Healthy) |
| 39 | MALIK HARRISON | 6-3 | 245 | SR | Columbus, Ohio (Walnut Ridge) |
| 44 | BEN SCHMIESING | 6-1 | 225 | SO | Piqua, Ohio (Piqua) |
| 46 | CADE KACHERSKI | 6-2 | 200 | FR | Dublin, Ohio (Jerome) |
| 47 | JUSTIN HILLIARD | 6-1 | 230 | RS SR | Cincinnati, Ohio (St. Xavier) |
| 48 | LOGAN HITTLE | 5-11 | 198 | SR | Nashport, Ohio (Tri-Valley) |
As bad as this unit was last year, every player has really become one to watch.
Harrison is the only player that has definitively, 100 percent locked down a role in the rotation. Outside of him, everyone else pretty much has a question mark next to their name.
Borland and Werner were not good a season ago, and that's not really a secret. Browning has all the athleticism in the world, and hopefully a new coaching staff can help him harness all his talent. 
Mitchell, Pope and Gant have potential, but they are all still young, and that could work against them.
And, of course, Hilliard rounds out the room (and his career) with one last chance to figure it all out. 
Position Outlook
As stated above, Malik Harrison is the only player who has a definitive starting role. Outside of him, nobody has locked anything down. Spring practice will be absolutely crucial for these coaches to see who has improved and who hasn't, and they will of course use that to determine who has the upper hand at the jobs heading into fall camp.
Projected Depth Chart
Strongside Linebacker
1. Baron Browning
2. Pete Werner
Middle Linebacker
1. Tuf Borland
2. Teradja Mitchell
Weakside Linebacker 
1. Malik Harrison
2. Dallas Gant