With spring football set to begin at Ohio State on March 6, Eleven Warriors is taking a position-by-position look at how the Buckeyes' roster is shaping up entering the year's first practice.
Without losing a single tight end to graduation or an early exit to the NFL, Ohio State enters the spring with a strong mix of experience and upside at a typically overlooked position.
Between Luke Farrell, Rashod Berry and Jeremy Ruckert, Ohio State has a trio of intriguing options at tight end entering the spring. Both Farrell and Berry have been around the program for at least four years, and Ruckert is entering his second season as a Buckeye after not factoring much into the offense last season. Plus, it's a make-or-break year for Jake Hausmann, who is entering his fourth season in college.
Tight end at Ohio State has always been a bit of a nebulous position with no one knowing quite how much to expect from the unit in the passing game. A similar sentiment remains as the program enters the Ryan Day era, and the newest head coach makes his adjustments to the offense. There's uncertainty surrounding how he intends to use the position group.
But with whatever alterations Day makes, he'll be able to get creative with how he uses the tight-end position. Farrell, Berry and Ruckert each offer the coaching staff different, fascinating ways to attack defenses.
What We Know
Though it seemed like Berry would get the majority of the tight-end snaps as Ohio State entered the 2018 season, Farrell took over midway through the season and had the majority of the playing time as the year progressed.
Spring Previews
With Farrell returning from his 20-catch, 205-yard, 1-touchdown season, he'll be expected to earn his first full season of reps as a starter. He went under the radar last season, for he doesn't have the explosiveness of some of Ohio State's top wideouts, but he was steady both as a receiver and as a blocker.
Farrell will have a high floor in Day's offense. He's a solid pass-catcher and a solid blocker. As the 2018 season progressed, he earned praise from Urban Meyer for his play, and that should propel him into 2019 viewed as a starter without much downside. 
Alongside Farrell, Berry played 403 snaps but had just nine catches for 78 yards and two touchdowns. He hasn't risen to become much of a threat as a receiver, but there's no doubting his athletic potential. Berry is one of the most athletically gifted players on the team and is a former defensive end, so he's able to use his physicality as a blocker.
What We Don't Know
Ohio State's Spring Tight End Roster

| No. | Name | Ht. | Wt. | Year | Hometown (High School) |
| --- | --- | --- | --- | --- | --- |
| 13 | RASHOD BERRY | 6-4 | 259 | RS SR | Lorain, Ohio (Lorain) |
| 37 | DERRICK MALONE | 6-5 | 245 | SR | Dayton, Ohio (Thurgood Marshall) |
| 81 | JAKE HAUSMANN | 6-4 | 245 | RS JR | Cincinnati, Ohio (Archbishop Moeller) |
| 84 | BROCK DAVIN | 6-3 | 235 | SR | Cincinnati, Ohio (St. Xavier) |
| 88 | JEREMY RUCKERT | 6-5 | 240 | SO | Lindenhurst, New York (Lindenhurst) |
| 89 | LUKE FARRELL | 6-6 | 250 | RS JR | Perry, Ohio (Perry) |
Though the Buckeyes' tight end room doesn't look appreciably different entering the spring than it did in the fall, there's more unknown than known about the position group.
Day likely won't change up the offense too much since he had ample control of how it operated last season. But there's a mix of different types of players on the offense.
Farrell is a classic tight end who can operate in different formations and is experienced both as a blocker and receiver. Berry hasn't found his true strength as a tight end, but the coaches have used him largely as an on-the-line block-first player who can surprise defenses when targeted in the passing game. Ruckert is a pure catch-first tight end who was different than almost every player Meyer ever recruited at the position. Cormontae Hamilton, a three-star tight end from Memphis, will join the team this summer and was described by Day as a "tight end, off the ball, fullback, H-back" who can "do a lot of things."
There's not a ton of consistency in the archetype of each player, which gives the coaching staff a lot of ways to use the players, but leaves outsiders wondering whether Day and Kevin Wilson have a preference for the type of tight end they'll target and how they'll use the position.
Though Farrell is one of the more underrated, highest-ceiling players on the team, Berry, Ruckert and Hausmann have quite a few uncertainties.
Berry has never truly settled into a position, though last season as a tight end was as close as he has come to doing so. But even still, speculation remains that he could possibly return to defensive end if it makes sense for both the player and the team. Provided that doesn't happen, Berry has one final year to combine his physical gifts and become an impact player on offense. He struggled with penalties last season and, in his fifth year, that can't happen again. Whether he can finally maximize his potential remains an unanswered question.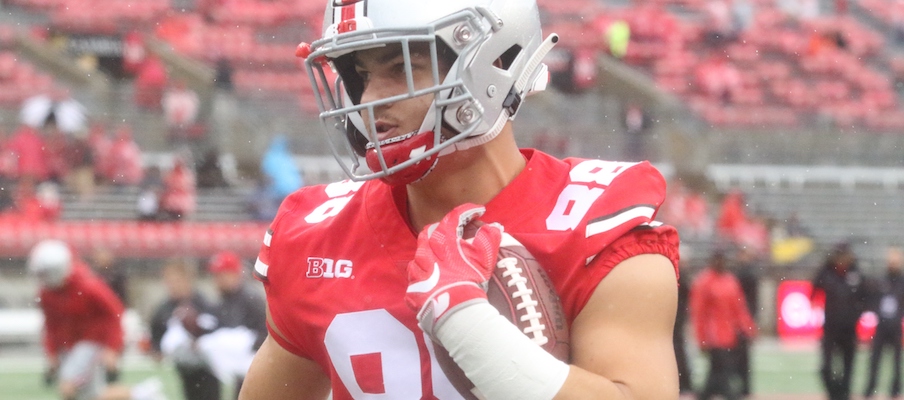 Ruckert entered the program with tons of hype. At his signing day press conference in December 2017, Meyer said Ruckert "might be the best tight end prospect that I've ever seen and recruited." That didn't coalesce into production as a true freshman, but a full season in the program should have him prepared for more snaps.
Hausmann got lost in the shuffle the past couple years. He played just 11 snaps as a redshirt sophomore last season and has to break through this spring or he might remain fourth on the depth chart in his fourth year at Ohio State.
Players to Watch
Both Ruckert and Hausmann have something to prove for different reasons.
Ruckert was arguably the most hyped tight end to commit to Ohio State in the past decade. But tight end has historically been a position that is tough for freshmen to make impacts at, and Ruckert was no different. However, with a full season of experience, might he be able to take a leap and become the team's top receiving threat at tight end? Don't rule it out. He has all the physical talent necessary. The spring will go a long way to determining how quickly he can become involved in the passing game.
Hausmann, entering his fourth year in the program, is running out of opportunities. He and Farrell were in the same recruiting class, and not only did Farrell surpass him, but Ruckert leapt him on the depth chart last year. Expectations for Hausmann aren't high, so it would be a plus if the former top-150 recruit managed to do much in the spring.
Position Outlook
Though tight end hasn't been discussed much, considering how much of the team was in flux this offseason, Ohio State is in good standing with the position.
It knows what it has with Farrell. Berry is a solid second tight end who mainly impacts games as a blocker, yet can catch passes, as seen with his fourth-down conversion against Maryland. Ruckert is one of the most intriguing second-year players on the team and might be ready to make a jump into a significantly bigger role. 
The Buckeyes and Wilson should be pleased with tight end entering the spring, yet there's still a lot of room for growth.
Projected Depth Chart
1. Luke Farrell
2. Rashod Berry
3. Jeremy Ruckert
4. Jake Hausmann