With spring football set to begin at Ohio State on March 6, Eleven Warriors is taking a position-by-position look at how the Buckeyes' roster is shaping up entering the year's first practice.
As Larry Johnson enters his sixth season as Ohio State's defensive line coach, he has a lot of talent to work with once again.
Nick Bosa and Dre'Mont Jones are now pursuing careers in the NFL, but every other defensive lineman who saw the field for Ohio State last season is back on the roster for 2019, and the Buckeyes have plenty of young defensive linemen who could make a push this spring to play bigger roles this fall.
The defensive line has been one of Ohio State's strongest units throughout Johnson's tenure in Columbus. With returning starters Chase Young, Robert Landers and Jonathon Cooper leading the way, the pieces are in place for the Buckeyes to have one of the best defensive lines in the country once again.
We take a pre-spring look at that unit now as our position-by-position Spring Preview continues.
What We Know
Ohio State's 2019 roster will be deep with experienced defensive linemen.
Spring Previews
In total, the Buckeyes return 10 defensive linemen who played in at least 10 games last season: Young, Cooper, Jashon Cornell, Tyreke Smith and Tyler Friday at defensive end, and Landers, Davon Hamilton, Haskell Garrett, Tommy Togiai and Taron Vincent at defensive tackle.
Young, who led the team with 14.5 tackles for loss and 10.5 sacks last season despite battling through ankle injuries, is the star of the group. He's one of the most physically gifted pass-rushers in the country, and could set himself up to be a top pick in the 2020 NFL draft if he plays up to his potential in his junior season.
Cooper, who will be a senior leader for the Buckeyes in 2019, started every game for the Buckeyes at defensive end last season. Cornell, who is also a senior, was also a regular in the defensive end rotation last year after moving outside from defensive tackle. Smith, who played 183 defensive snaps last season (most among all true freshmen) and Friday, who played 83 snaps as a freshman, will be looking to earn bigger roles in their sophomore seasons.
Four other scholarship defensive ends will also be competing for playing time this summer: redshirt freshmen Javontae Jean-Baptiste and Alex Williams (though Williams is now listed as an athlete on Ohio State's roster, and could potentially be a candidate to play other positions as well), and early enrollee true freshmen Zach Harrison and Noah Potter.
Landers and Hamilton, who rotated at the nose tackle position last year, are positioned to lead the defensive tackle group this season. Togiai, who saw playing time in every game but one last season as a true freshman, will also be pushing to earn more playing time at that spot.
Garrett, who is entering his junior season, and Vincent, who is entering his sophomore season, are the leading candidates to replace Jones as the starting 3-technique defensive tackle after playing some snaps at that position last season. Vincent also saw increased playing time down the stretch of last season as a nose tackle in three-man fronts.
Redshirt junior Antwuan Jackson and redshirt sophomore Jerron Cage will also compete for playing time at defensive tackle this spring, with incoming freshman Jaden McKenzie set to join the Buckeyes this summer.
What We Don't Know
The biggest question mark for the Buckeyes' defensive line is at the 3-technique tackle spot, where Jones – a first-team All-Big Ten selection and Ohio State's most disruptive interior defensive lineman last season – leaves big shoes to fill. Garrett and Vincent both offer the upside to be difference-makers at the position, too, but they haven't played enough to show what they are capable of yet. The Buckeyes could also consider moving Cornell back to that position, where he backed up Jones in 2017, if they believe he could provide more value there.
Ohio State's Spring Defensive Line Roster

| No. | Name | Ht. | Wt. | Year | Hometown (High School) |
| --- | --- | --- | --- | --- | --- |
| 2 | CHASE YOUNG | 6-5 | 265 | JR | Upper Marlboro, Maryland (DeMatha Catholic) |
| 6 | TARON VINCENT | 6-2 | 288 | SO | Baltimore, Maryland (IMG Academy) |
| 9 | JASHON CORNELL | 6-3 | 273 | RS SR | St. Paul, Minnesota (Cretin-Derham Hall) |
| 11 | TYREKE SMITH | 6-4 | 255 | SO | Cleveland, Ohio (Cleveland Heights) |
| 17 | ALEX WILLIAMS | 6-6 | 260 | RS FR | Pickerington, Ohio (North) |
| 18 | JONATHON COOPER | 6-4 | 257 | SR | Gahanna, Ohio (Lincoln) |
| 38 | JAVONTAE JEAN-BAPTISTE | 6-5 | 235 | RS FR | Oradell, New Jersey (Bergen Catholic) |
| 53 | DAVON HAMILTON | 6-4 | 308 | RS SR | Pickerington, Ohio (Central) |
| 54 | TYLER FRIDAY | 6-3 | 255 | SO | Ramsey, New Jersey (Don Bosco Prep) |
| 56 | AARON COX | 6-3 | 255 | JR | Mantua, Ohio (Crestwood) |
| 67 | ROBERT LANDERS | 6-1 | 283 | RS SR | Dayton, Ohio (Huber Heights Wayne) |
| 68 | ZAID HAMDAN | 5-11 | 265 | SO | Mason, Ohio (Mason) |
| 69 | CHRIS KUHN | 6-5 | 260 | SO | Sandusky, Ohio (St. Mary Central Catholic) |
| 70 | NOAH DONALD | 6-1 | 263 | SR | Uniontown, Ohio (Walsh Jesuit) |
| 72 | TOMMY TOGIAI | 6-2 | 300 | SO | Pocatello, Idaho (Highland) |
| 90 | ANTWUAN JACKSON | 6-2 | 300 | RS JR | Ellenwood, Georgia (Cedar Grove) |
| 92 | HASKELL GARRETT | 6-2 | 293 | JR | Las Vegas, Nevada (Bishop Gorman) |
| 98 | JERRON CAGE | 6-2 | 290 | RS SO | Cincinnati, Ohio (Winton Woods) |
|   | ZACH HARRISON | 6-5 | 243 | FR | Lewis Center, Ohio (Olentangy Orange) |
|   | NOAH POTTER | 6-5 | 250 | FR | Mentor, Ohio (Mentor) |
Beyond that, the biggest question is how deep the rotation will go and how much playing time will be divided up.
Young and Cooper should play the majority of snaps at defensive end once again in 2019, but their playing time could decrease some if younger players emerge. Johnson likes to rotate regularly in order to keep his defensive linemen fresh, and Smith and Friday should be real candidates to earn more snaps, while Harrison and Potter could also push for immediate playing time.
The same questions linger at defensive tackle. It's likely Garrett and Vincent will both see playing at the 3-technique spot regardless of who starts, but it could become a three-deep rotation if Jackson emerges or Cornell moves inside. Landers and Hamilton should continue to see the majority of snaps at nose tackle, but Togiai could eat into their snaps.
With Jones gone, the Buckeyes will also have to decide whether to go back to a four-defensive end "Rushmen" package like they used in their nickel defense two years ago. Smith saw some playing time as a defensive tackle in that formation alongside Jones, Young and Cooper last season, and Cornell, Friday and Harrison could be among the other candidates to play in that package this year – but it's uncertain, with a brand new defensive coaching staff outside of Johnson, whether Ohio State will continue to use that package and what new wrinkles the Buckeyes could look to implement up front.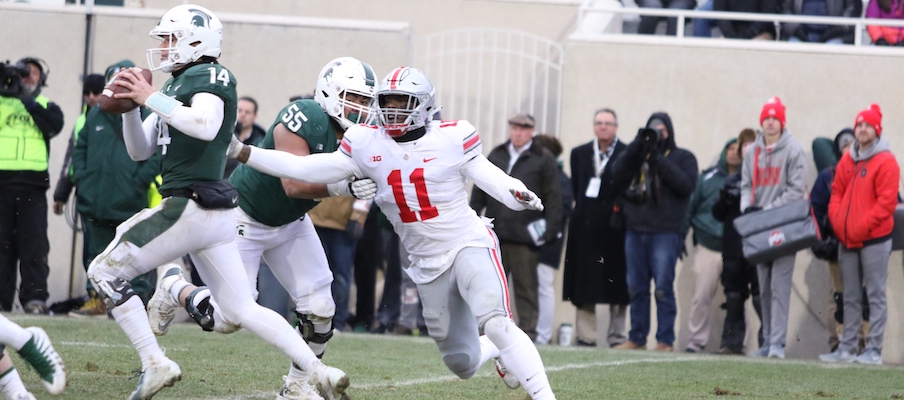 Players to Watch
While Young is the star of the defensive line, it's likely the Buckeyes will limit his reps this spring – much like they did with Bosa and Jones last year –  in order to keep him fresh and healthy for the fall. Other experienced upperclassmen, like Landers and Cooper, could also potentially fit into that category.
The sophomore quartet of Smith, Friday, Togiai and Vincent – who were all top-100 recruits in the class of 2018 – will all be defensive linemen to watch, as any one of them could be ready for a breakout season now that they have a year as Buckeyes under their belts. In particular, Smith is a prime candidate to add a spark to the Buckeyes' pass-rush, while Vincent has the tools to be Jones' heir apparent as a disruptive interior penetrator.
The defensive lineman who will likely draw the most attention this spring, however, is Harrison, the top-ranked prospect in Ohio State's 2019 recruiting class. Harrison shouldn't be expected to play a huge role this season, as Johnson prefers to ease freshmen into the rotation, but he has as much upside as anyone on the roster. Being on campus this spring will give Harrison the opportunity to flash his ability immediately, and he could quickly climb the depth chart if he performs up to his potential.
Position Outlook
With the returning experience and talent that the Buckeyes have at both defensive end and defensive tackle, Ohio State's defensive line enters the spring with a high floor for the 2019 season. They should have at least two players who are ready for significant playing time at every defensive line spot, and with all of those players getting another year of tutelage from Johnson, there's reason to believe the defensive line will be better in 2019 than it was in 2018 – when it was already solid, despite the overall struggles of the Ohio State defense.
What remains uncertain entering this spring is whether Ohio State's 2019 defensive line will have the star power, outside of Young, to go from being good to great. The Buckeyes' defensive line was never quite the same after Bosa's season was over in just three games, and that was with Jones – who led the Buckeyes in snaps played and was one of their two best defensive linemen last year.
Landers, Cooper, Hamilton and Cornell are a strong group of senior leaders, but none of them have a track record of regularly making game-changing plays. So the Buckeyes' potential to have an elite defensive line could lie in how much production they can get out of their younger, less experienced players like Smith, Vincent, Togiai, Friday and Harrison, among others.
This spring should give us a better of which players are ready to take on bigger roles and what they could bring to Ohio State's defensive line this season.
Projected Depth Chart
Defensive End
1. Chase Young
2. Tyreke Smith
3. Zach Harrison
Defensive End
1. Jonathon Cooper
2. Jashon Cornell
3. Tyler Friday
Nose Tackle
1. Robert Landers
2. Davon Hamilton
3. Tommy Togiai
Defensive Tackle
1. Taron Vincent
2. Haskell Garrett
3. Antwuan Jackson