With spring football set to begin at Ohio State on March 6, Eleven Warriors is taking a position-by-position look at how the Buckeyes' roster is shaping up entering the year's first practice.
There is now clarity into Ohio State's running back situation heading into the year.
Last spring, the Buckeyes had a two-way competition between J.K. Dobbins and Mike Weber to determine which would be the lead back for Ohio State in 2018. As it turned out, neither of them really pulled away from the other and the Buckeyes used both extensively all season as they tried to figure out a running game that wasn't performing very well.
Now, we have clarity. With Mike Weber leaving school early to head to the NFL and Brian Snead transferring out of Columbus, the clear 1-2 at Ohio State this fall (barring injury) will be Dobbins and Master Teague.
The Buckeyes' scholarship running back roster this spring will consist of Dobbins, Teague, true freshman Marcus Crowley, who enrolled early, and potentially Demario McCall, depending on whether the coaches use him as a running back or a wide receiver (or some kind of hybrid).
All of them will be participating in spring practice when the Buckeyes return to the field.
What We Know
Spring Previews
We know how the depth chart should stack up. Dobbins will be the clear number one option in the backfield after being the head honcho at Ohio State basically both of the last two seasons. 
After rushing for 1,403 yards on 7.2 yards per carry as a freshman, Dobbins regressed a little bit in his sophomore campaign, totaling just 1,053 yards on 4.6 yards per carry. If there's a bright side, it's that Dobbins found the end zone three more times in 2018 (10) than he did in 2017 (7).
Master Teague will run as the number two option. In limited playing time last season, Teague looked solid. He rushed for 106 yards on 17 carries (6.2 yards per carry) and added a touchdown. After playing in three of the Buckeyes' first four games, Teague redshirted to preserve an extra year of eligibility. 
Marcus Crowley enters the running back room fresh out of high school in Florida, where he starred at Trinity Christian Academy (Jacksonville) en route to becoming the Florida Gatorade Player of the Year. He was rated as a four-star prospect coming out of high school, and will be a solid addition to the running back room in future seasons.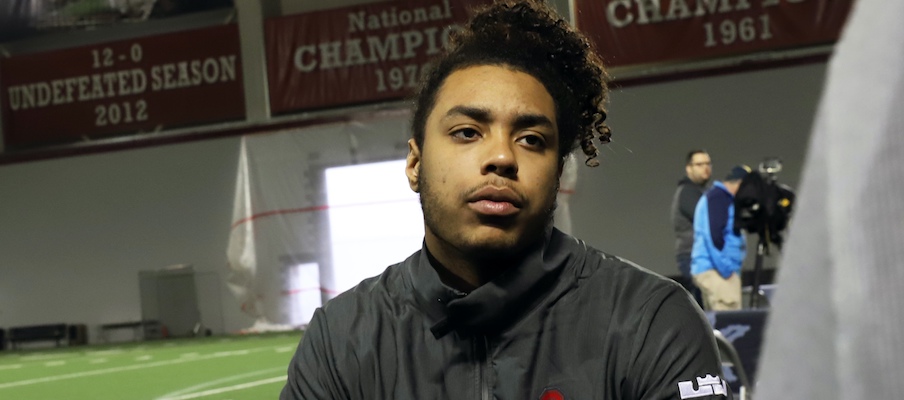 McCall rounds out the scholarship running backs on Ohio State's roster. Every year, it seems that people (including Eleven Warriors, we're certainly not innocent) predict McCall to have a significant breakout, and it doesn't happen. Now entering his junior season, time is running out for the Cleveland native. 
It will be interesting to see if Ohio State even uses McCall as a running back, however. He has split time with the running back and receiver rooms in the past, and could be used as a Curtis Samuel-hybrid kind of option. McCall has seen his carries dip each year at Ohio State, as he had 49 as a freshman in 2016, but just eight last year. 
Walk-ons Mitch Rossi, Amari McMahon, and Robert Cope round out the room. 
What We Don't Know
Even though the depth chart at the position appears to be fairly clear-cut, Ohio State enters the spring with a lot of unknowns at the running back position, simply due to the ineffectiveness of the room last season.
With the absence of a running-capable quarterback (as the Buckeyes had for years with Braxton Miller and J.T. Barrett) the running game struggled, as defenses did not have to prepare for Dwayne Haskins to run the football. 
With Justin Fields now at quarterback, and his ability to run the football, Ohio State's rushing attack will hopefully improve.
Another key factor, of course, is the offensive line. Ohio State will return just one full-time starter (although they will have Branden Bowen and Joshua Alabi – two players who have started a significant amount of games in the past – returning), and the Buckeyes have to deal with the turnover at the offensive line spot. At the time of this article's release, the Buckeyes are still pursuing grad transfer options, including Rutgers departee Jonah Jackson. 
The other big question, of course, is whether Dobbins will be able to handle a full-time load. In the past two seasons, Dobbins has split time with Mike Weber. Now, with Weber (and Brian Snead) gone, the running back room is thin in Columbus, and Dobbins will have to handle most of the carries himself. Whether he can do it well is another question. 
The emergence of Teague as a quality secondary option will be paramount for Ohio State if they want to keep Dobbins any sort of fresh and rested.
Players to Watch
Ohio State's Spring Running Back Roster

| No. | Name | Ht. | Wt. | Year | Hometown (High School) |
| --- | --- | --- | --- | --- | --- |
| 2 | J.K. DOBBINS | 5-10 | 214 | JR | La Grange, Texas (La Grange) |
| 28 | AMARI McMAHON | 6-0 | 205 | SR | Dublin, Ohio (Scioto) |
| 30 | DEMARIO MCCALL | 5-9 | 193 | RS JR | North Ridgeville, Ohio (North Ridgeville) |
| 33 | MASTER TEAGUE | 5-11 | 215 | RS FR | Murfreesboro, Tennessee (Blackman) |
| 34 | MITCH ROSSI | 6-1 | 235 | JR | Franklin, Tennessee (Franklin) |
| 43 | ROBERT COPE | 5-11 | 195 | SO | Dublin, Ohio (Jerome) |
|   | MARCUS CROWLEY | 6-1 | 200 | FR | Jacksonville, Florida (Trinity Christian) |
With the departures of Weber and Snead, Ohio State's running back room is admittedly thin. Thus, every player becomes one to watch. With Dobbins taking the lead, it will be interesting to see how Teague fits in. His development and potential emergence is crucial for an Ohio State offense that will feature a lot of new faces.
Crowley will also be one to watch this spring. Ohio State hasn't shied away from using true freshman running backs to carry a large load in the past (See: Dobbins, 2017), so it will be interesting to see how Crowley can handle the college game early. 
Position Outlook
Dobbins will be the starting running back for the 2019 Ohio State Buckeyes so long as he is healthy. This is a fact.
Teague should be the No. 2 running back for the Buckeyes so long as he is healthy. 
Crowley should be the No. 3 running back for the 2019 Ohio State Buckeyes so long as he is healthy and the coaching staff decides to keep McCall as a hybrid.
It will be interesting to see how Ohio State's running back room develops this spring ahead of a season in which each of the top three backs could be crucial, with Steele Chambers set to join the position group this summer.
Projected Depth Chart
1. J.K. Dobbins
2. Master Teague
3. Marcus Crowley