As new Ohio State head coach Ryan Day has assembled his first coaching staff in Columbus, he's moved primarily toward hiring young coaches.
New passing game coordinator and quarterbacks coach Mike Yurcich is 43 years old. New co-defensive coordinator and secondary coach Jeff Hafley is 39, the same age as Day. Brian Hartline, promoted to wide receivers coach after holding that position on an interim basis this past season, is only 32.
In seeking a co-defensive coordinator to team with Hafley, however, Day decided to put a premium on experience by hiring 69-year-old Michigan defensive line coach Greg Mattison, who comes to Columbus after eight years in Ann Arbor and with more than four decades of coaching experience, including time as a defensive coordinator for multiple major college football programs as well as in the NFL.
Greg Mattison's Coaching Experience

| Year | Team | Position |
| --- | --- | --- |
| 1971-73 | Riverdale High School (WI) | Head Coach |
| 1974-75 | Logan High School (WI) | Head Coach |
| 1976 | Illinois | Graduate Assistant |
| 1977 | Cornell | Defensive Line |
| 1978-80 | Northwestern | Defensive Line |
| 1982-84 | Western Michigan | Defensive Line |
| 1985-86 | Western Michigan | Defensive Coordinator, Defensive Line |
| 1987-88 | Navy | Defensive Line |
| 1989-91 | Texas A&M | Defensive Line |
| 1992-94 | Michigan | Defensive Line |
| 1995-96 | Michigan | Defensive Coordinator, Defensive Line |
| 1997-2001 | Notre Dame | Defensive Coordinator |
| 2002-04 | Notre Dame | Recruiting Coordinator, Defensive Line |
| 2005-07 | Florida | Co-Defensive Coordinator, Defensive Line |
| 2008 | Baltimore Ravens | Linebackers |
| 2009-10 | Baltimore Ravens | Defensive Coordinator |
| 2011-2014 | Michigan | Defensive Coordinator |
| 2015-18 | Michigan | Defensive Line |
| 2019 | Ohio State | Co-Defensive Coordinator |
In a news release announcing the hirings of Hafley and Mattison on Monday, Day indicated that mix of youth and experience was by design.
"I like having a diversity of opinion, but even more I like the expertise and experience that Jeff has in the secondary coupled with the expertise that Greg brings to the front seven," Day said.
Now, Mattison will be expected to play a leading role in turning around an Ohio State defense that is coming off one of its worst seasons in school history, ranking 71st in total defense (403.4 yards allowed per game) and 50th in scoring defense (25.5 points allowed per game).
On the Field
While Mattison might not be the flashiest hire for Ohio State's defense, there's no denying that he knows what it takes to be a defensive coordinator at a college football powerhouse. Mattison's resume includes stops running the defense at Notre Dame for five years, at Florida for three years and twice at Michigan – first for two years in 1995-96, then again for four years in 2011-14.
Mattison, like Day and Hafley, also brings NFL coaching experience to the staff, having been the Baltimore Ravens' defensive coordinator for two seasons (and linebackers coach for one season prior) before joining the staff at Michigan.
While Mattison's Michigan defenses and defensive lines didn't perform particularly well against Ohio State, they were generally strong. Over the past four seasons, he's coached numerous defensive linemen who have either played in the NFL or will head to the league soon, including Taco Charlton, Chris Wormley, Maurice Hurst, Rashan Gary and Chase Winovich. All of those defensive linemen earned either first-team or second-team All-Big Ten honors, and led the way for defenses that tied for the national lead in tackles for loss in 2017 (114) and ranked third nationally in the same category in 2016 (120).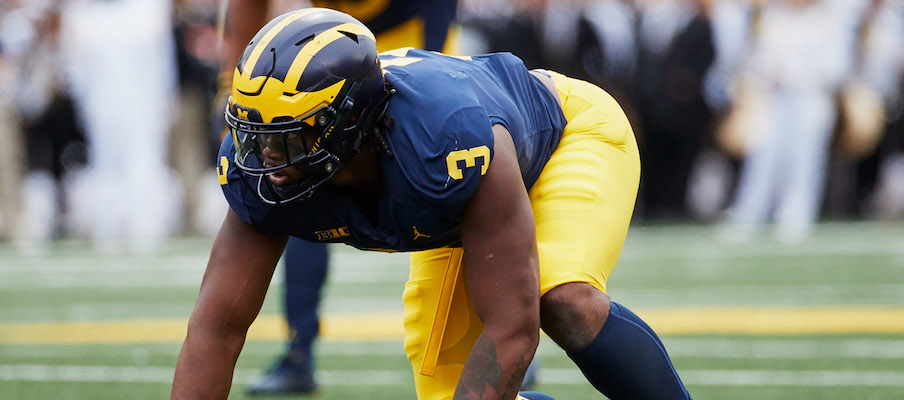 In Mattison's four most recent seasons as the Wolverines' defensive coordinator, Michigan ranked in the top 20 in total defense and top 30 in scoring defense in 2011, 2012 and 2014. His worst season in that role came in 2013, when the Wolverines finished 41st in total defense and 66th in scoring defense.
While he didn't have much success against Ohio State at Michigan, he certainly did at Florida in 2006 – as a member of former Ohio State coach Urban Meyer's staff – where he was the co-architect of a defense that ranked sixth in the nation in both points and yards allowed per game and held Ohio State to just eight first downs and 82 yards in a 41-14 national championship game win.
In his two seasons leading the Ravens defense, they ranked third in the NFL in both total and scoring defense in 2009, and third in scoring defense and 10th in total defense in 2010.
Mattison brings a total of 47 seasons of coaching experience to the Buckeyes, including 39 seasons at the collegiate level, all on the defensive side of the ball. He has been in the midwest for 30 of those seasons, including 17 seasons at Big Ten schools, and has 18 total seasons of experience as a defensive coordinator or co-defensive coordinator.
That experience was ultimately what made Mattison an attractive enough candidate to Day that he made the move to lure him away from the Buckeyes' biggest rivals.
"Greg is a terrific coach," Day said. "His experience as a coordinator and his knowledge of the Big Ten is extremely important to me."
On the Staff
Meet Ohio State's New Coaches
While Greg Schiano essentially had free reign over Ohio State's defense for the past two years, as he was the only true defensive coordinator while Meyer worked mostly with offense and special teams, it appears that Ohio State's 2019 defensive coaching staff will take on a more collaborative approach.
Mattison is the only coach currently confirmed for Ohio State's 2019 coaching staff who has experience as a defensive coordinator, so he'll certainly play a key role in leading the unit. That said, Hafley should also be expected to take on a leadership role in the room, as will defensive line coach Larry Johnson, who was promoted to associate head coach on Monday.
Having co-defensive coordinators is nothing new at Ohio State, as the Buckeyes previously had such arrangements when Luke Fickell was on the staff with Everett Withers, Chris Ash and Schiano each sharing defensive coordinating responsibility with him at various times.
As Day noted, Mattison's experience is in working with the front seven of the defense while Hafley's experience is in working with the secondary, which could mean that Mattison leads the way in scheming up the Buckeyes' run defense with Hafley leading the way in scheming up the pass defense.
Regardless of how the roles ultimately balance out, Mattison – like Johnson – will bring a veteran presence to the staff that should complement the younger coaches on staff well.
Just as important as his ability to coach defenses on the field, Mattison also brings a strong track record as a recruiter to Ohio State's coaching staff. Among others, Mattison played a leading role in recruiting Tim Tebow to Florida and Rashan Gary and Jabrill Peppers to Michigan – all five-star recruits in their respective classes – during his time at those schools.
"Tim will be the first one to tell you a big reason why he chose Florida was the relentless pursuit Greg Mattison put on him and his family," Meyer told ESPN's Michael Rothstein about Tebow's recruitment in 2011. "Absolutely relentless in recruiting Tim, and he did that on many, many occasions."
Given that he will turn 70 next year, it's fair to wonder how many years of coaching Mattison has left in him. In tandem with Johnson, though, he'll provide an experienced hand to both play a leading role in attempting to turn around Ohio State's defense and in providing guidance to Day as Day begins his head coaching career.