While Al Washington spent the last year wearing maize and blue, he grew up dreaming of being a Buckeye.
As a kid in Columbus whose father, Al Washington Sr., was a linebacker for Ohio State from 1977 to 1980, Washington had visions of donning the scarlet and gray himself.
"You grow up in Columbus, you're born with a Buckeye in your crib. My father played for Woody Hayes, so you could imagine (what it was like)," Washington said last year in an interview with 247Sports' Sam Webb.
Now, Washington will get the opportunity to wear the scarlet and gray – as a coach.
Al Washington's Coaching Experience

| Years | Team | Position |
| --- | --- | --- |
| 2007 | RPI | Defensive Line |
| 2008 | North Carolina State | Graduate Assistant (Defense) |
| 2009-10 | Slippery Rock University | Defensive Line |
| 2011 | Elon University | Linebackers |
| 2012 | Boston College | Asst. Special Teams/Asst. Defensive Line |
| 2013-15 | Boston College | Running Backs |
| 2016 | Boston College | Special Teams Coordinator/Defensive Line |
| 2017 | Cincinnati | Defensive Line |
| 2018 | Michigan | Linebackers |
| 2019 | Ohio State  | Linebackers |
Ohio State hired Washington on Tuesday as its new linebackers coach and recruiting coordinator, bringing the Columbus native and Bishop Watterson High School alumnus back to his hometown after one season as Michigan's linebackers coach.
The second assistant coach in two days to cross rivalry lines and leave Michigan for Ohio State, Washington will now be charged with turning around an Ohio State linebacker group that struggled in its two seasons of being coached by Bill Davis. Washington is also likely to play an integral role in the Buckeyes' recruiting efforts.
On the Field
Although Washington is only 34 years old, he already has nearly a decade of experience coaching at the Division I level.
He's only been a linebackers coach for two of those seasons, but in his lone season coaching the position at Michigan last year, Devin Bush earned consensus All-American honors as the Wolverines' middle linebacker. His unit played a key role in the Wolverines finishing the season second in the entire Football Bowl Subdivision in yards allowed per game (275.2) and tied for 16th in points allowed per game (19.4).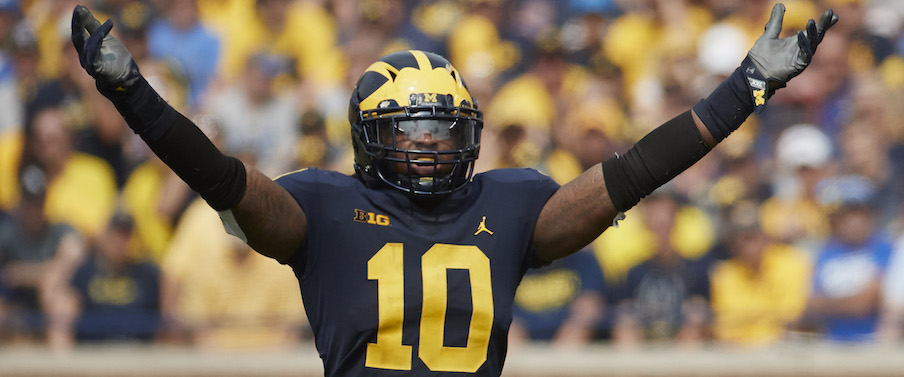 In his lone season coaching linebackers at Elon University in 2011, Washington coached an FCS All-American in Joshua Jones and a freshman All-American in Jonathan Spain.
Between those two jobs, Washington spent three years coaching defensive linemen, including two separate years at Boston College – with three years of coaching running backs in between – and one season at Cincinnati. Washington also has experience as a special teams coordinator from his time at Boston College.
While coaching linebackers will be his top priority for the Buckeyes, his varied experience could give him the opportunity to help out in other areas, too.
Washington played defensive tackle at Boston College from 2002 to 2005, and briefly played in the Canadian Football League with the Saskatchewan Roughriders and Hamilton Tiger-Cats.
On The Staff
As Ohio State's new linebackers coach, Washington takes on an important role. The Buckeyes' linebackers were generally viewed as a weak link for the team over the past two seasons, so Washington will be tasked will elevating their play back to the elite level that Ohio State fans have grown accustomed to over the years.
Meet Ohio State's New Coaches
With Greg Mattison and Jeff Hafley already hired as Ohio State's new co-defensive coordinators, and defensive line coach Larry Johnson becoming associate head coach, Washington should be able to focus on his primary responsibility of coaching the linebackers and how they fit into the defense as a whole.
Given that Ohio State has not yet named a special teams coordinator for the 2019 season, though, the Buckeyes could also opt to make Washington a leader in that phase of the game, where it's likely that position coaches will take on more responsibility with Urban Meyer no longer coaching the team.
Perhaps the biggest area in which Washington could make an impact, though, will be recruiting. The 34-year-old is highly regarded for his ability to connect with young football players, and could potentially take a leading role among the coaching staff in that area, too.
During his one year at Michigan, Washington played a leading role in recruiting the state of Ohio, leading the way for the Wolverines to sign six players from the Buckeye State in December. Washington also built a close relationship on the recruiting trail with five-star defensive end Zach Harrison, who ultimately signed with Ohio State in December but not before giving serious consideration to the Wolverines, in part because of his connection with Washington.
In his one year at Cincinnati, Washington notably led the way for the Bearcats to land a commitment from Fairfield, Ohio defensive end Malik Vann over offers from powerhouse programs like Alabama, Florida State, Notre Dame and Oklahoma. During his time at Boston College, Washington identified and successfully recruited players like Harold Landry and John Johnson who went on to become the stars for the Eagles and are now playing on NFL defenses.
Washington already has a close relationship with new Ohio State head coach Ryan Day, who was a graduate assistant at Boston College when Washington was playing for the Eagles in 2003 and 2004, and later coached alongside Washington when he was the offensive coordinator and quarterbacks coach at Boston College in 2013 and 2014.
Their time together at Boston College made Washington a prime target for Day as he rebuilds Ohio State's defensive coaching staff.
"Al Washington is going to be a terrific addition to our coaching staff," Day said Tuesday in a statement. "I've known him as player and as a coach and I know his family very well. I think his familiarity with this region as a coach and as a recruiter is going to be very impactful, as will his leadership with our linebackers unit."  
Of course, Washington also spent last season working with Mattison, who was Michigan's defensive line coach before Ohio State hired him on Monday. While Mattison's position coaching responsibilities have not yet been determined, he is expected to work with the defensive front seven, meaning Washington and Mattison will likely be working in close tandem once again.
With those existing ties to the coaching staff, his roots within the state of Ohio and his experience recruiting the area, Washington should be able to quickly mesh within the Ohio State football program – even though he just spent a year with the Buckeyes' bitter rivals – and make his presence felt on the field and on the recruiting trail.