Three years into Demario McCall's enigmatic career, Ohio State hasn't figured out the optimal way to deploy him, even though he knows exactly what he wants to be.
He essentially believes he was put on Earth to play running back, and that's only a slight exaggeration. McCall began playing the position as a 5 year old.
"I don't know how many years that is, I don't really feel like counting, but every single year I've played football, I've been a running back," McCall said after the Rose Bowl on Jan. 1.
But ever since enrolling at Ohio State, McCall has bounced between running back and H-back, never quite finding a home. A combination of injuries, unfortunate timing, lack of positional focus, a slight frame and other factors have played a role in stifling his growth and keeping him off the field.
With Mike Weber locked in at running back and Curtis Samuel playing H-back during the 2016 season, McCall spent his freshman season as backup running back, taking 49 carries for 270 yards and three touchdowns and catching four passes for 84 yards.
After the year, Samuel departed for the NFL, which opened a spot at H-back. That, McCall thought, could be his opening into the regular rotation.
"Back then, we talked about me playing a bigger role at the H-back, filling Curtis Samuel's shoes," McCall recalled after the Rose Bowl on Jan. 1. "It didn't go as planned."
McCall didn't switch positions, though. He stuck with Tony Alford and the running backs throughout 2017 spring practice. In the fall, with Weber, J.K. Dobbins and Antonio Williams competing with him for reps, McCall moved to the wide receiver room. He didn't get much playing time at either position, racking up just 14 rushes and two catches during an injury plagued season that ended with him taking a redshirt.
One promising season followed by one disappointing season. The next year, McCall believed, would be the one he'd been waiting for.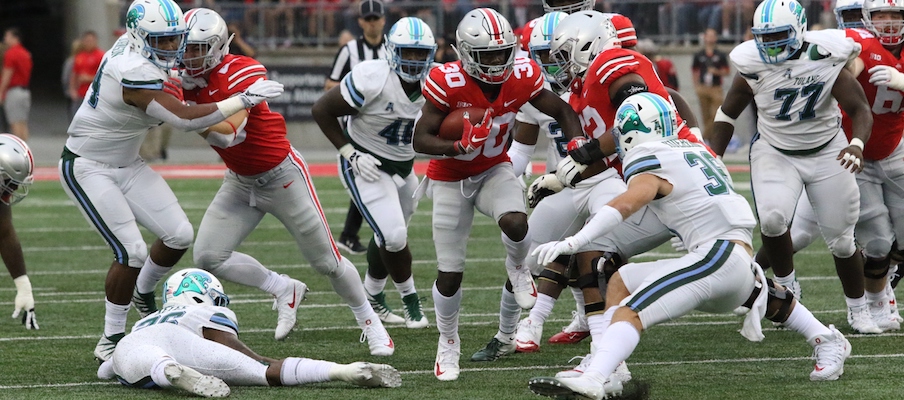 After the Cotton Bowl, he rattled off the things he was doing to improve his skills as a receiver, hoping to get on the field at the H-back position. Time with the jugs machine, route-running drills, all the things many wide receivers spend their entire lives perfecting. As he detailed what he was working on, he admitted he needed to change his longtime mindset of "once a tailback, always a tailback." McCall understood the rawness of his techniques, but felt prepared to work on them and earn his way onto the field.
With Parris Campbell and K.J. Hill returning at H-back and Weber and J.K Dobbins manning the running back position, though, playing time wasn't readily available. McCall rushed four times and caught five passes in the first two months of the season, not playing a single snap against TCU, Penn State, Indiana and Minnesota.
"It was frustrating," McCall said. "I mean, let's go back to high school. Coming from high school being the guy. I was the guy – everybody was the guy in high school – to not playing football. I feel like I haven't played football in a very long time."
Midway through the season, he made another switch, this time returning to running back.
No one can be quite sure whether McCall's musical chairs have ended. Might he return to H-back at some point? Who knows. At one point in his Ohio State career, McCall thought he'd be a running back until his time in college came to an end. At a different moment, he imagined his career would take off as a wide receiver. Neither happened. One thing's certain: he's at ease returning to running back.
"It just feels so comfortable and so home to me that it feels like it's natural," McCall said. "I'm not going to lie, receiver was something I had to work at. It was something I could do, but at the end of the day, that's a position that you have to work at to become good. So, I feel like I'm a tailback who can do receiver things."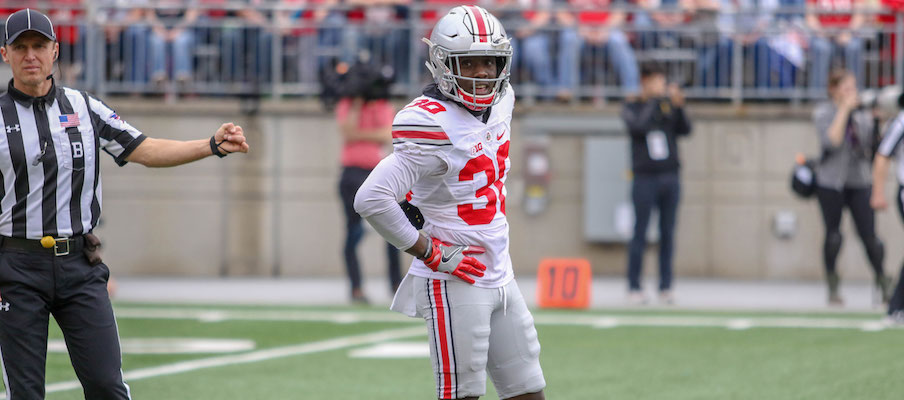 Finally, McCall might have a path to the field. With Parris Campbell graduating and Weber leaving Ohio State to the NFL, both of his potential positions – running back and H-back – have openings.
McCall's groin injury that sidelined him for the majority of the 2017 season set him behind Weber, Dobbins, Campbell and Hill. All four of them returned in 2018, relegating him to the bench once again.
"To be honest, if we'll be real with ourselves, let's talk about the depth we had this year," McCall said. "The guys, the athletes we had. It's crazy. From J.D. to Parris to K.J. to C.J. (Saunders) to Mike Weber, J.K. We had athletes. This is the Ohio State University. And that's what we breed: athletes. Sometimes, you've got to wait your turn. I feel like my time was coming."
Weber's exit leaves a running back position with only Dobbins, Master Teague, Marcus Crowley and Brian Snead. Dobbins will be the bellcow in the backfield, but Ohio State will still need a backup, and McCall might be that guy. His skillset could allow him to effectively serve as third-down back.
With Campbell gone, a spot is also open at H-back. Hill will return and start at the position, but behind him, uncertainty resides. Jaelen Gill and Saunders appear to be the most likely to back him up, so McCall could factor into the equation.
McCall ended the season spending his time in the running backs room, but he's not entering spring practice imagining himself at either position. He believes he will impact games at both running back and H-back, finally ascending to the level of player many people imagined he'd be at the past two seasons.
"I see my role expanding a lot, a whole lot, because I feel like the role that I played this year, I build it to be a bigger role, a real bigger role next year," McCall said. "And that's all over the place. H, tailback. J.K. the only other tailback. I believe I'll be able to help him out. The H's, we've got me, K.J., C.J., J Gill. Just be all over the place, to be honest."