A lot can change in just a few months. 
During spring practice, Demario McCall was working solely with the Ohio State running backs, despite an opening at H-back with Curtis Samuel gone to the NFL. 
The decision to keep McCall in Tony Alford's running back unit was surprising not only to casual observers, but to McCall as well, who said in the spring that he expected to get time at H-back. 
Despite staying with the running backs throughout spring, McCall said March 30 that he envisioned himself moving to H-back come fall practice. 
"The tailback stuff that we do, it goes along with the H-back stuff. I am learning them both, but I am not actually in the slot yet," McCall said. "I feel like more during fall camp they will probably move me into the slot, get more reps in the slot."
As it turns out, McCall was right.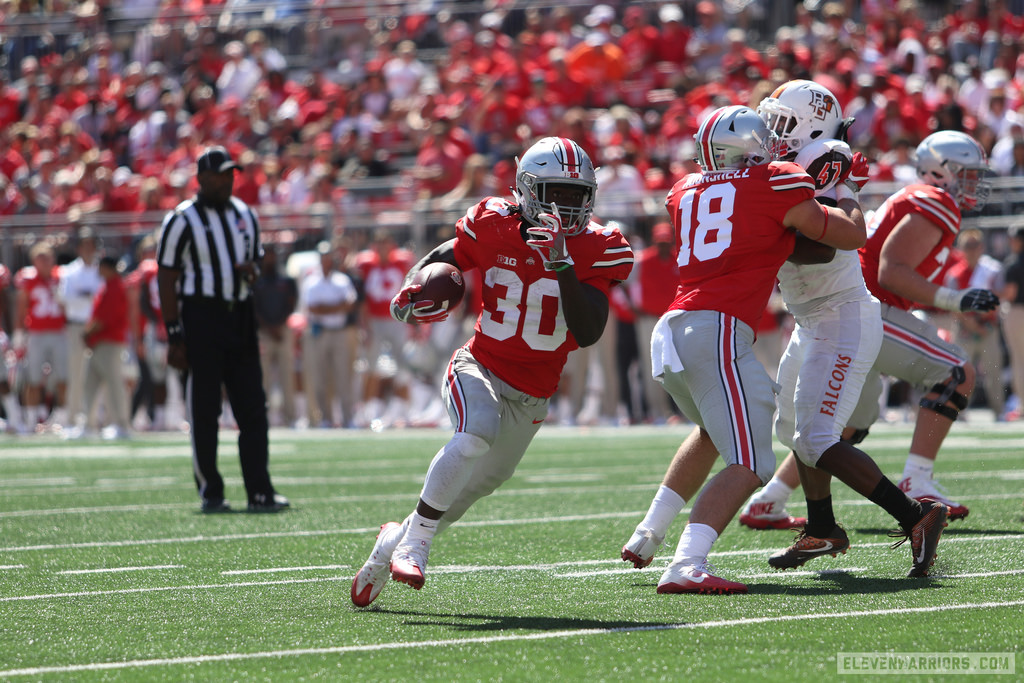 McCall confirmed Friday that he has spent the majority of fall camp in the wide receiver room, working as Ohio State's H-back. The move was able to be made in large part because of the progress of the Buckeyes' backup running backs, J.K. Dobbins and Antonio Williams. 
"A lot of that had to do with (McCall's) skill traits and skill sets," Alford said Friday. "I think the production of the other guys certainly led to him being able to make the move too."
In addition to being moved into the wide receiver unit, McCall also said he is currently practicing as one of two punt returners for the Buckeyes. McCall hinted at the fact that Ohio State could set two players back on punt returns to create more explosive plays. 
"I am actually starting on punt return right now," McCall said Friday. "We are going (with) two returners, so it will be me and K.J. Hill. The most dangerous thing for a punt returner is space, so what we did this year was go two returners to basically create space."
McCall added that he is Hill's backup on kick return, with Hill and Parris Campbell the leading return men. 
As for his new role within the offense, McCall said he is still getting adjusted to learning both H-back and running back in new offensive coordinator Kevin Wilson's system.
"At some times I get frustrated because now that I am a receiver, I might forget a play, but I go hard," McCall said. "If you want to be an athlete and get on the field, you gotta do what you gotta do."
McCall is one of three H-backs that figure to compete for significant playing time. While Campbell and Hill have more experience in terms of years, McCall touched the ball more than the two veterans combined in 2016. 
McCall tallied 49 carries for 270 yards and three touchdowns as a true freshman, adding four receptions for 84 yards and another score through the air, mostly in mop-up duty. Campbell and Hill combined for 35 offensive touches and each scored just once in 2016.
The North Ridgeville, Ohio native said he learned a lot about how to play the H-back position by watching Samuel last season. 
"Me and Curt talked a lot. That is one of the Cadillac positions here," McCall said. "The H-back spot, you get a lot of space out there, a lot of opportunities, so I hope to do good things at that spot."
Entering 2017, McCall said he has gained about 20 pounds since he arrived in Columbus during the summer of 2016, which could allow him to take more hits in his second year. 
All things considered, McCall said he is excited about where he stands entering the new season. 
"I like the position I am in right now," McCall said. "I am still working at tailback, but I am in the receiver room. I am in a great position right now."