No one could quite replace Nick Bosa when the third-year defensive end went down with a season-ending injury in the third week of Ohio State's season. Months later, Urban Meyer admitted he didn't fully grasp the enormity of the loss until after Bosa's departure.
Dre'Mont Jones softened the blow, though. After opting to return to school for a fourth year rather than enter the NFL draft after three seasons with the Buckeyes, Jones played at a first-team All-Big Ten level, racking up 43 tackles, including 11 tackles for loss and nine sacks. He added five quarterback hurries, three fumble recoveries, two touchdowns, an interception and a forced fumble.
Next fall, Ohio State won't have Jones, either. He left to fulfill his dream of playing in the NFL. In Jones' stead, Haskell Garrett could get the first crack as the team's starting three-technique, the position Jones manned the past two seasons.
"They're just big shoes," Garrett said at Rose Bowl media day on Dec. 30. "You've got to always be ready, always prepare. (Jones is) a great player, and he's a great student of the game. He's always on point, always watching film, always critiquing his craft, fine-tuning his toolbox. They're big shoes to fill, but I feel more than confident that I'll be able to fill them."
Larry Johnson has his process down to a science.
Recruit. Develop. Perform. Reload.
Over and over, Ohio State's esteemed defensive line coach has replaced high-level college players who entered the program as well-regarded high school prospects and left as potential NFL draft picks.
"You can't replace Dre'Mont, you can't replace Nick Bosa," Johnson said at Rose Bowl media day on Dec. 30. "We didn't think we'd replace Joey Bosa, you know what I mean. Look at it. Next year, the next guy goes up."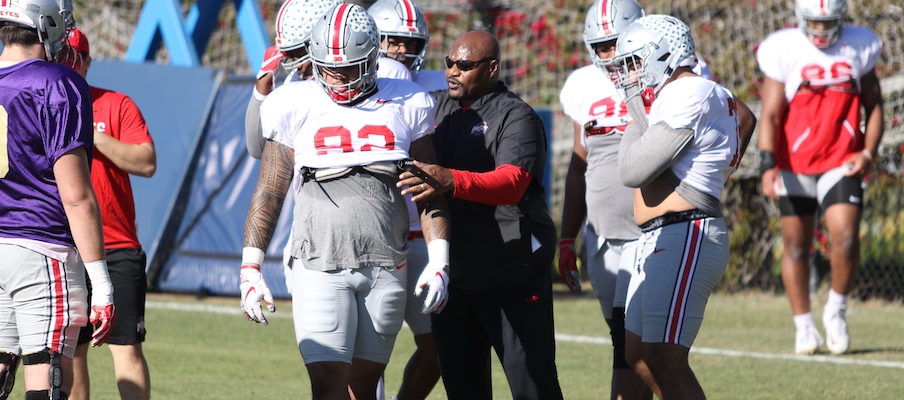 At defensive end, Joey Bosa and Steve Miller turned into Tyquan Lewis, Sam Hubbard and Jalyn Holmes. Johnson added Nick Bosa to the mix. Then came Jonathon Cooper and Chase Young. Tyreke Smith and Tyler Friday wait in the wings.
A similar path – with fewer NFL draft picks, though – exists at defensive tackle. First, there was Michael Bennett and Adolphus Washington. Tommy Schutt and Joel Hale joined the mix, followed shortly by Michael Hill. Dre'Mont Jones, Davon Hamilton and Robert Landers were next.
Hamilton and Landers will return for their fifth seasons in the fall, possibly rotating at nose tackle. But the loss of Jones, who has a chance to become the program's first defensive tackle selected in the first round of the NFL draft since Ryan Pickett in 2001, opened up a spot at the three-technique.
Garrett is next in the lineage of Johnson's defensive tackles. Once a top-100 overall recruit from Bishop Gorman, the same high school in Las Vegas that Tate Martell attended, Garrett will be in his third year with the program.
"I want to help Haskell get better because I know coach J expects him to be the guy," Jones said on Dec. 27. "I mean, he's my backup, he's younger, and I just want to help him because I want all those people to go pro. I definitely see him as a guy, being the guy next year. And if he's not, I'll be very surprised."
Not long into his time at Ohio State, Garrett realized where his collegiate trajectory headed. With Jones almost certainly leaving early after either the 2017 or 2018 seasons, Garrett knew an opening would eventually materialize.
Thus, he focused on learning as much from Jones as possible in the past two years.
"Throughout the process, I've just kind of been under his wing, learning from him constantly, always getting ready, always being prepared," Garrett said. "My freshman year was a learning process getting ready for this. And my sophomore year was really getting ready for that opportunity and getting ready to take on that role. We always say we don't replace, we reload. When he leaves, it's just going to stay the same. Nothing's going to change in the course of play from me or our unit."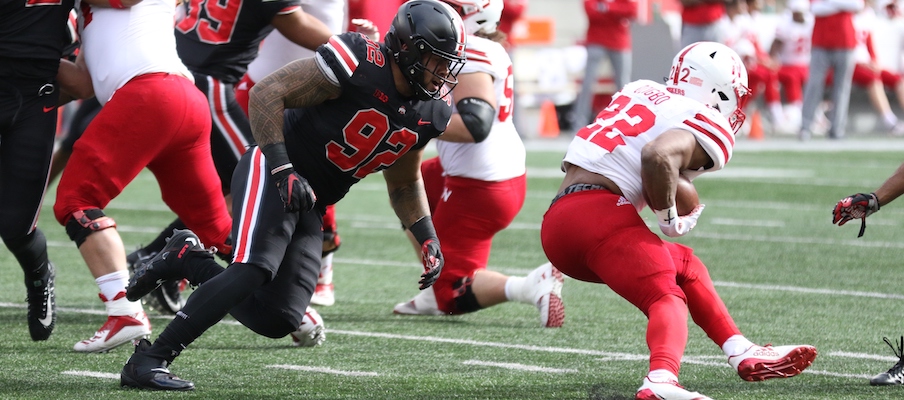 Garrett's main competition to become the starting three-technique will likely come from Taron Vincent, a five-star prospect who played nearly as many snaps as Garrett did this past season despite being just a true freshman. Johnson could also move Hamilton back to three-technique if he prefers maximum experience.
Even if Johnson goes with a rotation, though, Garrett should be heavily involved. Now standing 6-foot-2, 293 pounds, Garrett believes the mental aspect of his game has caught up to his physical abilities.
"I feel like when I came in (as a freshman), I was ready, but I wasn't textbook ready," Garrett said. "The language was different. The type of studying was different. In terms of physicality, I felt ready, but in terms of going out there and reading stuff, I was not ready. So, I feel like this year, I'm more than prepared."
Jones agreed with Garrett's assessment, noting that "his knowledge has grown a lot" with assistance from Johnson and himself. He also noted that Garrett, who has not recorded either a sack or tackle for loss in his two years at Ohio State, has improved his ability to get to the quarterback.
"He's definitely grown as a pass-rusher," Jones said. "From the beginning of the season to now, it's night and day. He's really just changed. I would expect him to be the guy next year."
Garrett won't be Jones – at least, not immediately. Garrett is bigger than Jones, which could serve him well against the run, but could limit his pass-rush success.
Regardless of how the rising junior impacts games, Johnson is optimistic about his long-term future, and he expects Garrett to earn a substantial uptick in playing time next season.
"I think Haskell's going to be a surprise once he gets to play the 35-40 plays that he's not playing now," Johnson said. "He's playing about 15 plays a game. You take that number, plus 15. He'd bring a lot to the table. He's athletic. He can run. He's stronger, bigger. So, it'll be a different kind of breed going into the fall."